Sirius XM's (NASDAQ:SIRI) share price has increased by 4.65% in one year. After the failed merger attempt with Liberty Media (NASDAQ:LMCA) the share price of the company has dropped severely. Adding further sorrows, hearsay about Apple (NASDAQ:AAPL) gaining a bigger position in the car entertainment market has contributed to the disposing of the company's stock by investors; but none of this means that Sirius is slow on growth. Last year its results beat expectations and the guidance given by the company.
In this article, we will be examining the company's performance. We will then see what prospects Sirius offers and whether it still remains a good buy.
2013

Source: 10K
During 2013, Sirius' total revenue reached $3.8 billion reflecting a 12% increase from 2012. Subscriber revenue was $3.3 billion and grew by 11%. This was a healthy sign since more than 85% of Sirius' revenue comes from the subscriptions. There were many reasons for this growth and a breakdown will tell you that all of the elements gave favourable postings.
First, subscribers grew by 9% measured through the daily weighted average number. Second, more customers migrated to plans on which Sirius raised its subscription rate bringing double benefit to the company. Third, an increase in subscriptions to premium services, premier channels and Internet streaming brought an additional positive impact. Last, the inclusion of connected vehicle subscription revenue for the year remained strong.
These increases were partially offset by subscription discounts offered through Sirius' customer acquisition and retention programs and an increasing number of lifetime subscription plans that reached their full revenue generation potential during 2013.
Advertising grew 8% as a result of more spots being sold together with higher rates charged per spot. Similar events happened elsewhere and greater royalties brought about increases to the top line.
Cost of operations cumulatively rose 9% to $2.8 billion. Events worth noting within the cost structure were those related to marketing, royalties, and depreciation. Additional subscriber communication and retention programs associated with a greater number of subscribers and promotional trials caused marketing costs to rise 17% to $291 million. Revenue share and royalty grew 23% to $678 million as a result of a 12.5% increase in the statutory royalty rate for the performance of sound recordings.
A positive contribution came from the depreciation expense that was reduced by 5% last year freeing up nearly $13 million as certain satellites reached the end of their estimated service lives. This was reduced to a lesser extent by additional assets being placed in-service. All the other expenses were not materially important, stayed in line, or were smaller than the sales growth.
Excluding the tax benefit that Sirius enjoyed in 2012 and assuming a tax rate of 41% for 2012, net income grew nearly 35% in 2013 bringing a diluted EPS of $0.06 for investors and the company also has good long-term prospects.
More Cars Equal More Business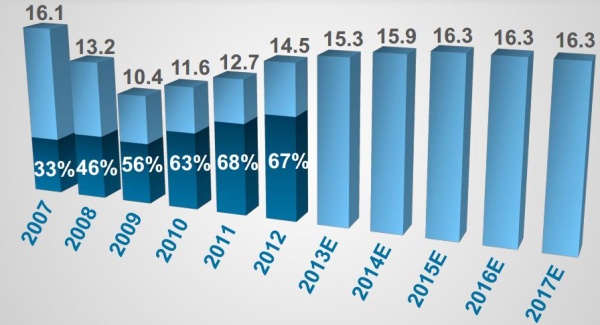 Source: Presentation
Sirius' top line growth is structured around automobile sales of the used and new car markets. The company has seen a growing auto sales trend since 2010 with an increasing penetration ratio (see graph above). The process normally begins with satellite receivers being installed within cars that offer a trial package just like streaming sites. After the trial ends, customers either continue their subscriptions or cancel it. This cycle is generally found within new cars. Fortunately, the improving economic environment now reveals that automobile sales are going to hit the pre-recession 16 million level.
Last year, Sirius announced increased penetration in Toyota and Honda and the company recently extended its agreement with Nissan to 2018. Nissan will now be expanding the satellite radio penetration across its entire model line. The company's products continue to be in high demand by OEMs and their customers as well. It is estimated that the sale of new cars with a satellite radio will reach 11 million this year increasing from 10.7 million last year and 9.6 million in 2012. Over the next five years, the present 60 million vehicles on the road with a factory installed satellite radio will nearly double reaching 110 million.
Subscriber Growth
The company grew its subscriber base by 1.66 million to over 25.5 million in 2013. With the positive performance of the car market and increased advertising (discussed below), Sirius' subscriber count should increase by 1.25 million according to the company's guidance in 2014.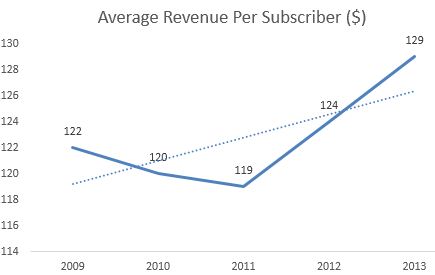 Source: Trefis
Also, the rising Average Revenue Per Subscriber "ARPS" (see graph above) with customers being happy to pay more for services offered means this will be a win for Sirius from every angle.
Bottom Line
Sirius' price only decreased because of the recent merger that failed to come to fruition and led to a decline in investor sentiment. Other than that, there is nothing wrong with the company. The company has given a return of more than 800% in 5 years. Therefore, the downturn is just temporary putting investors at an advantage. With rental companies such as Avis (NASDAQ:CAR) introducing satellite radio service as a premium add-on across a majority of its fleet, Sirius will also be receiving prominent advertising for sure. Based upon the above prospects and present price decline, I recommend investors to buy Sirius' stock as soon as possible.
Disclosure: I am long SIRI. I wrote this article myself, and it expresses my own opinions. I am not receiving compensation for it (other than from Seeking Alpha). I have no business relationship with any company whose stock is mentioned in this article.