Last week the Association of American Railroads [AAR] released data that showed that carload volumes were higher than the corresponding week in 2008. Several bulls seized on this data as an indication that things were getting better, whereas realists had a more measured interpretation of the data. You see last week the AAR release was for the week ending July 3. In 2008 the data was for the week ending July 5, i.e. it included the July 4 holiday. Naturally, anyone who wasn't searching for data to fit a narrative would have expected that data from a week that included a July 4 holiday would be lower than the weeks on either side of the release. It follows that it was a no brainer to predict that volumes this week would be significantly down on 2008, and that is what has eventuated. As the AAR said in their press release:
WASHINGTON, D.C. – July 15, 2010 – The Association of American Railroads (AAR) today reported a decline in rail traffic for the week ending July 10, 2010, with U.S. railroads originating 252,963 carloads, down 3.5 percent compared with the same week in 2009 and down 20.8 percent from 2008. The July 4 Independence Day holiday did not affect comparison weeks in 2008 or 2009. In order to offer a complete picture of the progress in rail traffic, AAR reports 2010 weekly rail traffic with comparison weeks in both 2009 and 2008.
The following charts show intermodal and carloads freight volumes since 2007. Growth in carload volumes has stalled now for several weeks and currently shows no signs of reaching pre-crash levels. (Click charts to enlarge)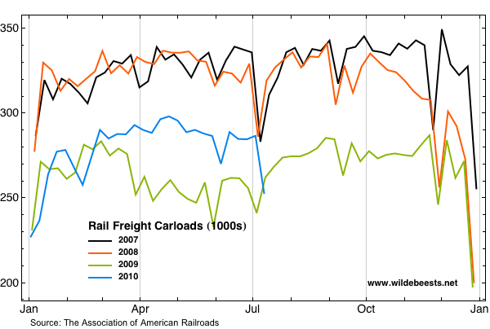 Click to enlarge
Intermodal rail freight has been stronger than carloads this year, i.e. closer to pre-crash volumes than carloads.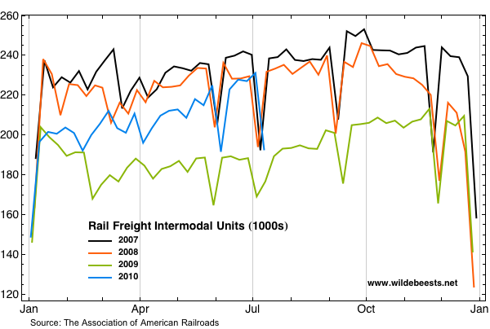 Click to enlarge
Based on what we know about intermodal freight there should be some sort of correlation between container activity at our ports and intermodal rail freight, i.e. containers coming and going from ports have to be transported. The chart below shows moving averages of intermodal rail freight and total container movement at the ports of Los Angeles and Long Beach and New York/New Jersey -- a 52 point moving average of the weekly intermodal freight data and a 12 point moving average of the monthly port data.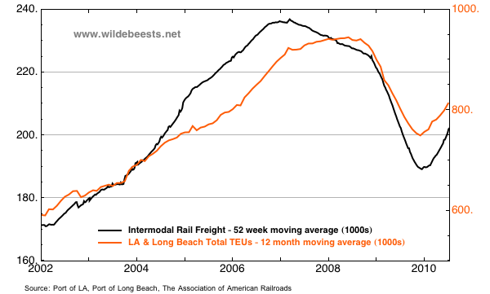 Click to enlarge
The carload data is divided by the AAR into 18 specific categories (plus a 19th called "other"). Below are the charts for each of the 18 individual categories. The same color coding used in the first two charts above applies: black -- 2007; orange -- 2008; green -- 2009; blue -- 2010.
Please click on the images below to enlarge them.

Click to enlarge

Click to enlarge

Click to enlarge
Disclosure: No positions