Intel (NASDAQ:INTC) is breaking out from a multi-year slump recently hitting a 52-week high. We believe Intel is poised to go even higher based on a compelling valuation and growth opportunities in its data center group.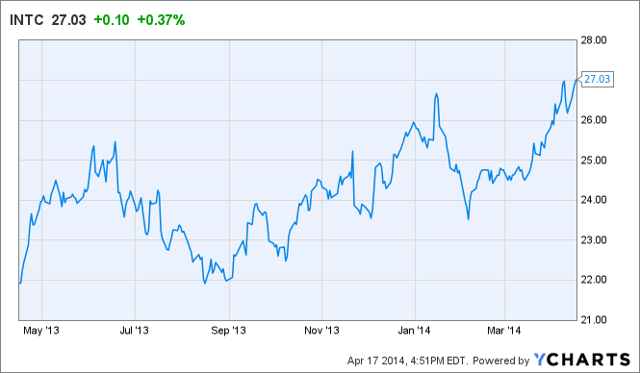 Click to enlarge
Looking at the below table, Intel is inexpensive when compared to the market on both a current and forward earnings basis. Intel trades at an 18.9% discount to the current S&P 500 (NYSEARCA:SPY) multiple and 12.6% discount on a forward basis. We expect this discount to narrow as INTC reinvigorates its product set beyond the PC market. INTC also sports a higher than market dividend of 3.4% versus 1.99% for the S&P 500, a 70.9% premium.
Intel By The Numbers

INTC

Market

Premium/Discount

Market Cap ($B)

134.32

Enterprise Value ($B)

123.62

Trailing P/E

14.29

17.61

-18.85%

Forward P/E

13.5

15.44

-12.56%

EBITDA

10.56

EV/EBITDA

6.01

Dividend Yield

3.40%

1.99%

70.85%

Dividend & Buyback Yield

3.97%

Source Yahoo Finance & Wall Street Journal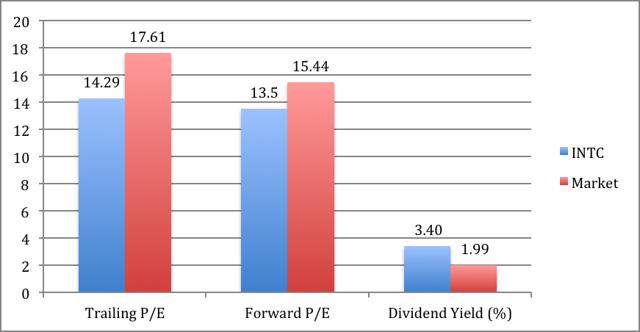 Click to enlarge
We all know INTC as the PC chip maker and that the market is in decline as the world shifts to mobile, tablets, and the cloud. Intel has pivoted its strategy to capture upside from these trends and in particular, the data center group is performing well. INTC's revenues in this sector were $11.5 billion and up 9% year on year. Operating margins are healthy at 47% of revenue. The group represented $5.3B of INTC's $12.3B operating income in FY2013.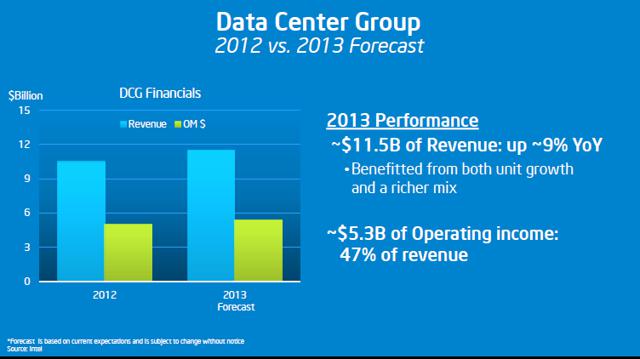 Click to enlarge
We recommend INTC shares as the stock begins to break out to new highs. INTC is finally dusting off the market's perception as a PC chip maker and making inroads as a chip maker capturing the upside in data centers, tablets and mobile.
Disclosure: I am long INTC. I wrote this article myself, and it expresses my own opinions. I am not receiving compensation for it (other than from Seeking Alpha). I have no business relationship with any company whose stock is mentioned in this article.