McDonald's (NYSE:MCD) is one of the world's biggest fast food chains - with over 35,000 locations globally and sales of over $35 billion last year alone.
McDonald's has traded relatively stagnantly over the last year, showing little to no movement in either direction over the span of 2013. The question of whether or not the company can buck new trends within its industry was hung over the head of the company's stock for the year. McDonald's, however, paid dividends upwards of 3% for the year.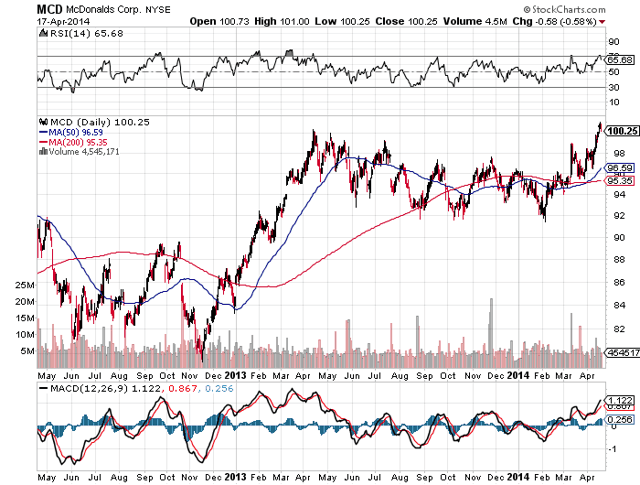 The technical picture is being cited now as the most bullish it has been since the end of 2012. With the 50DMA crossing up through the 200DMA, McDonald's now looks like it's ready to take the next leg up from the levels it has been at.
The question of whether or not the company sees this catalyst soon is likely going to rely on what the company's earnings show. The last few earnings reports for McDonald's have done very little to move the stock.
McDonald's is set to report earnings next Tuesday, in what is likely to be another in a string of pivotal quarters for the fast food giant.
Analysts are expecting $1.24/share on revenues of $6.73 billion - compared to the numbers it posted in the same quarter one year ago of $1.26/share on $6.61 billion.
(source - Yahoo Finance)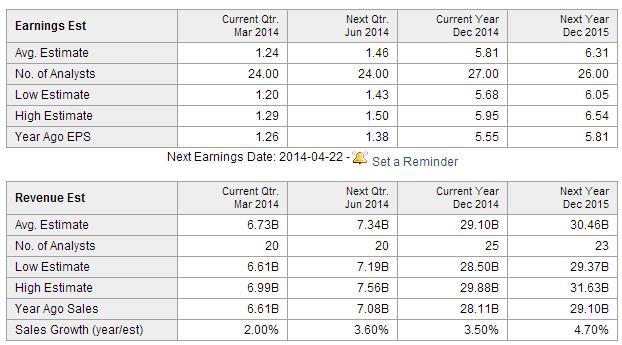 Recent news around McDonald's has revolved around the company fighting the recent health trend that is taking over in the U.S. As places with organic focus and healthy food like Whole Foods (NASDAQ:WFM) continue their meteoric ascents, companies like McDonald's are being painted as unhealthy and being left behind by many consumers.
Additionally, the company continues to fight the breakfast battle. Companies like Taco Bell (NYSE:YUM), which traditionally never did breakfast, are now stepping in and trying to take market share from McDonald's in the morning. Taco Bell's recent "Ronald McDonald" commercial takes shots directly at McDonald's. McDonald's is trying to fight back by using its rapidly growing McCafe brand.
Restaurant traffic was light throughout most of the winter months as the weather kept people in the house and mall traffic declined as well - impacting retailers like Starbucks (NASDAQ:SBUX) alongside fast food companies.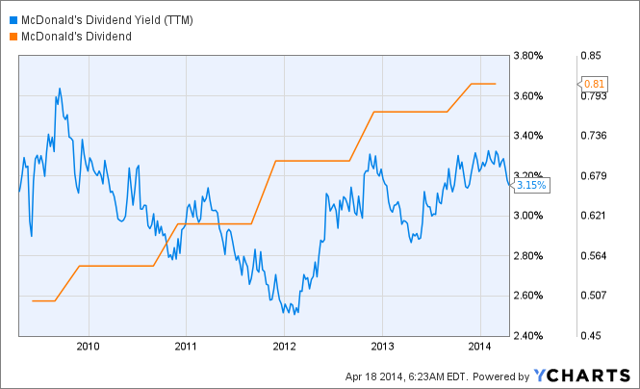 MCD Dividend Yield (TTM) data by YCharts
One of the advantages that McDonald's has going for it is that its stock is commonly seen as a safe haven for investors who are looking to take their money out of high flying momentum stocks and put it into something conservative that pays a dividend and offers growth.
Investors are going to be looking at these earnings as much more than the number - they're going to be looking for details as to whether or not the end of an era is at stake for the fast food company. McDonald's isn't going anywhere anytime soon, but the giant risks some short-term recession if it can't continue to innovate in manners that are going to drive people through their doors.
I'll be focused on the call next week. I expect McDonald's to meet its numbers and for the numbers to have little material effect on the company's stock this quarter. My main focus will be on the color out of management with regard to continued strategy changes and innovation going forward.
Disclosure: I have no positions in any stocks mentioned, and no plans to initiate any positions within the next 72 hours. I wrote this article myself, and it expresses my own opinions. I am not receiving compensation for it (other than from Seeking Alpha). I have no business relationship with any company whose stock is mentioned in this article.