As in our recent articles, we went back on the high dividend trail, looking for outperforming dividend stocks which have outperformed the S&P 500 so far in 2014 and have good prospects for future dividend growth.
We've found another relatively new stock, Delek Logistics Partners MLP, (NYSE:DKL), which has outperformed the market so far in 2014:

Profile: DKL, headquartered in Tennessee, is a growth-oriented master limited partnership (MLP) formed by Delek US Holdings, (NYSE:DK), in 2012 to own, operate, acquire and construct crude oil and refined products logistics and marketing assets.
A substantial majority of DKL's existing assets are integral to the success of Delek's refining and marketing operations. DKL gathers, transports and stores crude oil and markets, distributes, transports and stores refined products in select regions of the southeastern United States and west Texas for Delek and third parties, primarily in support of Delek's refineries in Tyler, Texas, and El Dorado, Arkansas.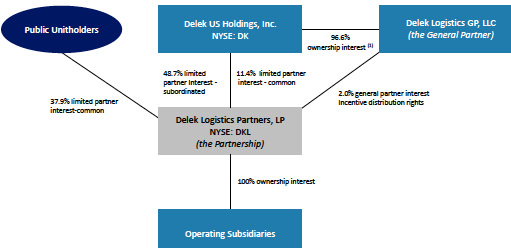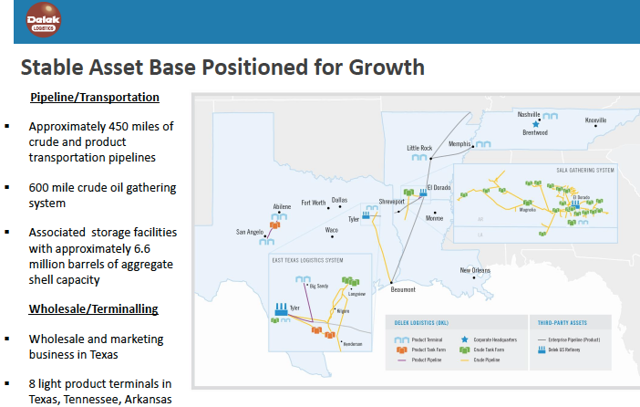 (Source: DKL March 2014 Investor Presentation)
Dividends: Since its November 2012 IPO, DKL has increased its quarterly distributions 5 straight times, from the initial $.224 in February 2013 to the present $.415. It also averaged a conservative dividend coverage of 1.35x, even with its steady raises.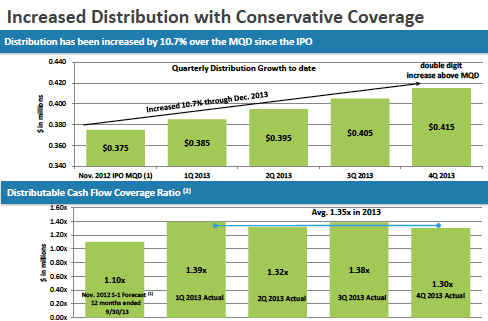 (Source: DKL March 2014 Investor Presentation)
Judging by past history, DKL should be announcing its next quarterly distribution this week, and should go ex-dividend in early May. We've added it to our High Dividend Stocks By Sector Tables in the Energy section:

Options: DKL does have options, but we haven't yet added any put or call trades to our Covered Calls Table or our Cash Secured Puts Table since its options yields aren't currently that attractive. In addition, they're very thinly traded.
Earnings: Part of the attractiveness of DKL is its use of long-term contracts for its various services. As of 12/31/13, they mostly ranged from around 5 to 15 years: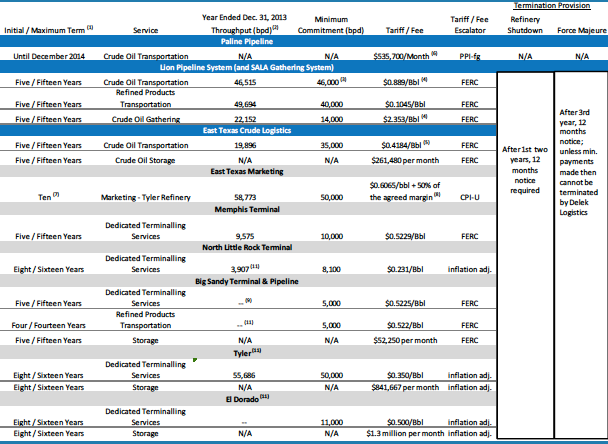 (Source: DKL March 2014 Investor Presentation)
Another attraction is DKL's Right Of 1st Offer - ROFO - arrangement with sponsor DK to purchase any logistics assets valued above $5 million which DK builds until 2022.
Indeed, DKL expects $5 to $10 million EBITDA to be dropped down over the next 12 months from its sponsor, Delek US.
Is this a big, undervalued EPS growth story? Not exactly. Like many MLPs and LPs, DKL's story is more about the ability to grow its distributions via cash flow, as you saw in the chart above.
Analysts are estimating just under 12% 2014 EPS growth, and nearly 14% 2015 EPS growth.

DKL's terminal throughput and wholesale volumes have both had good growth over the past few years, even though wholesale gross margins declined from 2012 to 2013: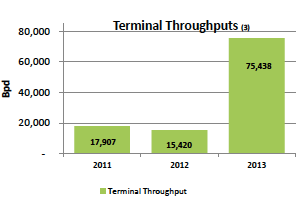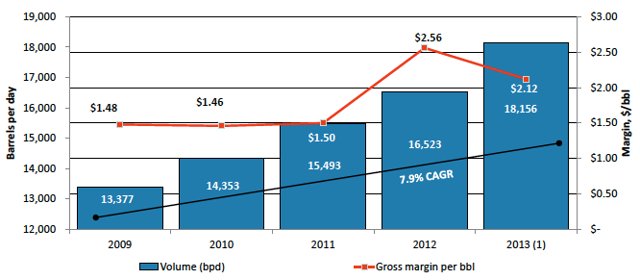 (Source: DKL March 2014 Investor Presentation)
Valuations: However, DKL does look cheaper than industry averages on a P/E and P/S basis, but it's much higher valued for Price/Book, and is also higher on a Price/Free Cash Flow basis. But, DKL's very supportable near-5% dividend yield is over twice as high as the Oil and Gas Transport services average dividend yield of 2.28%.

Upcoming Earnings Release: DKL will issue a press release summarizing first quarter 2014 results after the U.S. stock market closes on Tuesday, May 6, 2014. A conference call to discuss first quarter 2014 results is scheduled to begin at 9:00 a.m. CT (10:00 a.m. ET) on Wednesday, May 7, 2014.
Financials: DKL wins on Management Efficiency ratios but has a much lower Operating Margin and carries higher-than-average debt. In July 2013 it amended its credit facility to increase lender commitments to $400 million from $175 million. DKL's Interest Coverage looks better than average for its industry:

Disclosure: Author had no positions in DKL as of yet, at the time of this writing.
Disclaimer: This article was written for informational purposes only.
All tables in this article are furnished by DoubleDividendStocks.com, except where otherwise noted.
Disclosure: I have no positions in any stocks mentioned, but may initiate a long position in DKL over the next 72 hours. I wrote this article myself, and it expresses my own opinions. I am not receiving compensation for it (other than from Seeking Alpha). I have no business relationship with any company whose stock is mentioned in this article.