It's always a slippery slope doing research on a company around the time of their earnings call, but I couldn't help but dig deep into Rock-Tenn Co (RKT) and their financials when I saw the comparable multiples of this stock. The company is set to release their Q2'14 earnings on April 28, 2014 and I believe there may be an opportunity to get in before that release and possibility buy the momentum. For some investors, this might seem too risky but nonetheless the overall long-term prospects of this company are too solid to ignore and there is no time like the present to invest. When a valuation looks too good to be true, I've found through trial-and-error that it's important to pay attention to how the ratios fundamentally shift from before to after the company releases their results and I intend on using my analysis and comparing before their earnings call and after to see how those ratios may have moved once Q2 '14 results are announced later in April. That being said, Rock-Tenn seems poised to gain some momentum after it has traded relatively sideways over the past few months.
Company Background
Rock-Tenn is a manufacturer of corrugated and consumer packaging in the North American market, with operations spanning through the US and Canada, as well as Mexico, Chile, Argentina, Puerto Rico, and China.
In their 2013 annual report, the company boasted record net sales of $9.5B as well as adjusted EPS of $7.30 while also speaking to its use of FCFs for dividends, debt repayment, and investments. In the first quarter of 2014, the company also mentioned the use of their free cash flows to repurchase over $50 million in shares; this type of move generally signifies that the company believes their shares are undervalued. Although it can be said that a company has the ability to craft the message in their annual report, it definitely speaks to the financial health of a company when they are using their cash flows effectively to both increase shareholder value and grow their business.
The company has also continued some cost-cutting measures by closing plants while increasing production volumes and also investing in equipment to boost the overall quality of their outputs. These types of moves cannot be ignored and in my opinion help make the case that there will be more solid earnings and growth for the company in the future. Late in December of 2013, they also submitted financial results adjusting for the realignment of their operations and the market reaction to that has been relatively neutral.
One of the potential drivers of this increase in cash flows could come from the acquisitions that the company has done over the past few years. Although some have been small in nature, one significant purchase was Smurfit-Stone for just south of $5B. The company has mentioned in their 2013 Annual Report that they have achieved their goal of "$550 million in annual run rate of synergies and performance improvements by the end of December 2013". When you look at the success of such a significant acquisition, it's clear that it was worth the investment and the company continues to accumulate cash that it is returning to investors and investing in the future of the company. It's always a great sign to see such a lofty strategy pull through and be successful and I have no doubt in management's ability to continue to use their free cash flows to grow the company while also increasing overall shareholder value.
Earnings
One of the factors that I believe is attributing to the lower performance of RKT is some weaker earnings as of late, coupled with the company's recent miss in the earnings estimates on their most recent quarterly results. Prior to that, the company has actually had four consecutive positive earnings results showing that this quarter could be up in the air. They do have a tendency to outperform those estimates, but the recency effect has me a bit cautious on their results. In addition, the poor weather over the past few months that has negatively affected economic indicators leads me to believe that the results may not be as stellar as expected but that sort of seasonality doesn't affect the long-term prospects of the company.
Looking into the future, analyst consensus is that the company's EPS will grow, however, the quarterly results are projected to be quite up-and-down and the overall uptrend isn't drastically higher. I believe that the recent increase in earnings will continue as the economy continues to improve and production increases will place higher demand on Rock-Tenn's products. Furthermore, this increase in EPS should also move the stock higher as seen below. According to Fidelity Investments and the Key Statistics on Rock-Tenn, the projected EPS growth YoY will be around 14.7%, which is slightly above the industry average.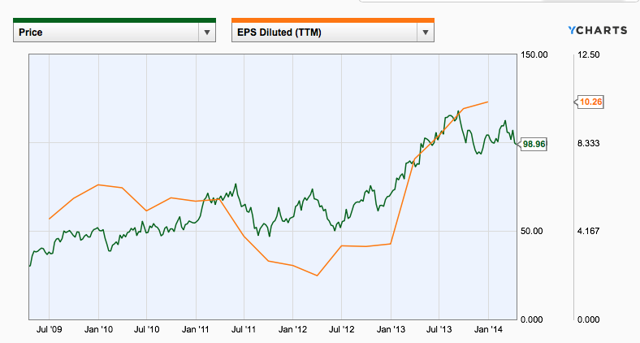 Fundamentals
This is where the story of Rock-Tenn gets incredibly good. It was hard to find a typical value metric that didn't showcase the stock as being undervalued. I decided to pull together a quick analysis of each metric I like to use and the "Potential" price that RKT would have to trade at in order for each metric to be around the industry average. These are not price targets (I'll get to that below) but I always like to calculate these price points to show just how under- or overvalued the stock appears to be by each metric. This helps to provide some guidance when I'm looking at the upside potential of an investment. I've kept the calculations quite simple; when you look at making a company's ratio equal to the industry average, it can add a lot of steps to the process, so for simplicity I just calculated the % lower or higher RKT's was from the average of some competitors and itself and grossed up its current stock price by that amount.
For the competitor information, I've pulled data from Graphic Packaging Holding Co. (NYSE:GPK), International Paper Co. (NYSE:IP), Packaging Corp. (NYSE:PKG), and MeadWestvaco Corporation (MWV). All information has been pulled from the same source, as at April 17, 2014 so although the exact numbers might vary the overall story does not.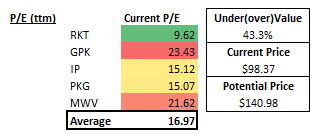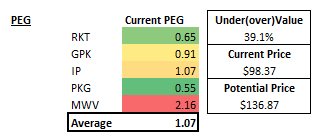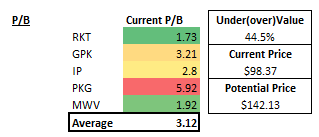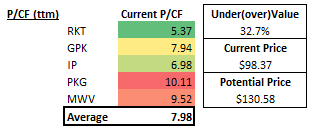 Source: Fidelity Investments
It's always a great moment when you find a stock that's undervalued in each of your favorite value metrics; it's even better when they seem to be relatively consistent with their result (~30-45% undervalued). I've color-coded each metric to show the highest and lowest values for each indicator and it's interesting to see that RKT is always green but none of their competitors seem to have a really clear red or green trend, meaning they are circling around average in the overall scheme of things. Rock-Tenn, on the other hand, is consistently showing up as undervalued (green) and that's a great sign.
When I combined this analysis with my company and earnings analysis, which both show that there isn't necessarily anything fundamentally wrong with the company, it's clear to me that there is certainly some upside potential and it's only a matter of time before investors start to realize the bargain. I have noticed that sometimes a company tends to sell at a deep discount when there are some non-financial things being priced into the stock, but I have not found this to be the case with Rock-Tenn.
Technicals
Looking into the momentum of the stock, it's clear that activity over the past several months has been sideways trading from the impressive uptrend that the stock had going in 2012 and early 2013. Although there was a recent death cross, the stock didn't have a deep plummet as is usually seen before that formation; instead it had a few decently sized drops coupled with that aforementioned neutral trading causing the 50-day to drop down. One of the main reasons that I'm not scared away from the formation that occurred late in 2013 is that the stock has more recently traded higher and recently the 50-day MA has crossed back over the 200 (although it's a weak breakout). My opinion is that the trading around the $95 to $110 range over the past little bit will stop when the company presents some more solid quarters and the long-term uptrend will continue.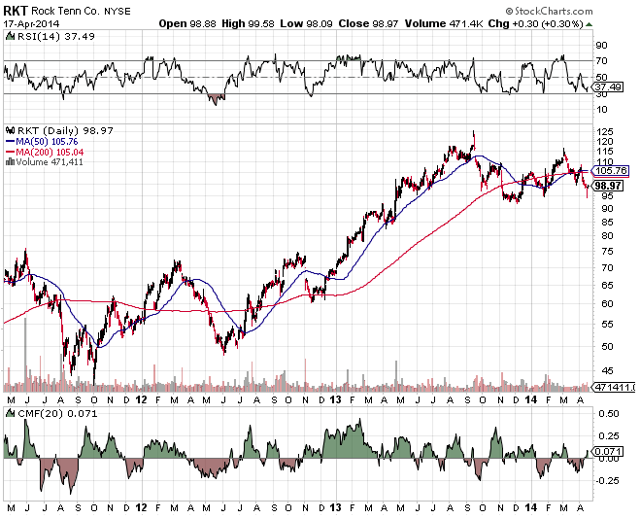 In addition, the stock appears to be oversold with an RSI below 50 for the past few months and this is a signal that now might be a good time to buy into the dip with the chance that a continuation of the longer-term uptrend will occur.
Targets and Action
Overall, I believe Rock-Tenn has the ability to move significantly higher than its present level. Of course, with Q2 earnings just around the corner, it's tough to say if the sideways momentum of the stock will continue or if the company will gain some positive movement from a strong quarter.
Given the fundamentals are undervalued by over 30%, the forecasted EPS growth being slightly higher than industry average, and the long-term uptrend in the chart, I believe that there is at least that 20% upside in the next year and higher for a longer-term strategy. I believe that the company is truly undervalued given all of the fundamentals I have shown coupled with the recent uses of free cash flows from the firm. If the company continues to use their excess cash in this way, the stock will definitely flourish.
In terms of action, it's a little more difficult to decide whether to buy ahead of earnings in the hope that a positive surprise will give the stock a nice kick start to that 20% upside. This is where tolerance for risk comes in and I know many investors who would feel more comfortable off to the side until they see how the Q2 results go. Given my personal belief in the long-term prospects of the company, I'm going to seriously consider buying a part of my position ahead of the earnings release and then buy the other half if there is some solid movement upside.
Disclosure: I have no positions in any stocks mentioned, but may initiate a long position in RKT over the next 72 hours. I wrote this article myself, and it expresses my own opinions. I am not receiving compensation for it (other than from Seeking Alpha). I have no business relationship with any company whose stock is mentioned in this article.