Energy
What was looking to be another solid up week for crude oil, turned into a flat week, largely due to poor performance on Friday. For much of the period, risk assets, including crude oil, took their cues from U.S. corporate earnings announcements, which were generally seen as favorable. Sellers emerged on Friday, however, after a combination of disappointing revenue figures from a few of the big banks, a weak consumer confidence reading, and higher-than-expected core CPI data were released.
click to enlarge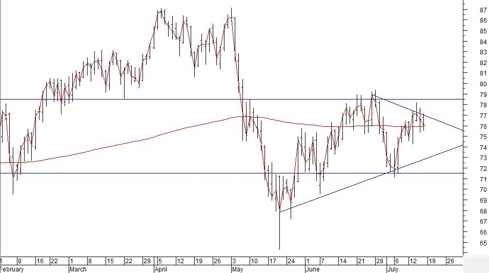 While earnings announcements were at the forefront of this week's trade, there were a few other notable events. On Tuesday, The International Energy Agency released its forecast for 2011 world oil demand. It expects demand to rise 1.3mmbbl/d, or 1.6% year-over-year, less than the 2010 growth rate of 1.8mmbbl/d, or 2.1%. Non-OPEC supply is expected to increase 0.4mmbbl/d in 2011, down from 0.8mmbbl/d growth in 2010. The agency sees a relatively balanced market in the near-term.
Also of note this week was the release of second quarter Gross Domestic Product figures out of China. GDP came out less than expected, 10.3% versus 10.5%, and down from 11.9% in the first quarter. Other data also supported the idea of a slowing Chinese economy. June Retail Sales were up 18.3% year-over-year, down from 18.7% in the prior month and below the 18.8% expectation. June Industrial Production rose 13.7%, down from 16.5% in the prior month and below the 15.1% expectation. More encouragingly, the June Consumer Price Index came in up 2.9% year-over-year, down from 3.1% in May and less than the 3.3% expectation.
The Chinese government has been actively attempting to cool the economy, thus the data is likely not a shock to it or market participants. Bullish traders are hoping that the moderation in inflation means that the government will scale back its restrictions on bank lending going forward. Of great importance is whether China has succeeded in orchestrating a soft landing, or whether growth is set to cool further. The outlook for the Chinese economy will be closely examined by markets in general and crude oil in particular, in the weeks and months ahead.
Taking a look at U.S. storage, on Wednesday, The Department of Energy reported that in the week ending July 9, 2010, U.S. crude oil inventories decreased by 5.1 million barrels, gasoline inventories increased by 1.6 million barrels, distillate inventories increased by 2.9 million barrels, and total petroleum inventories increased 3.2 million barrels. This was the second week in a row that crude oil inventories fell by 5 million barrels; but while crude oil inventories have been declining faster than normal over the last two weeks, product inventories have been increasing at a faster rate than normal, in large part due to refinery utilization, which ticked up again last week to 90.5%, the highest level since January 2008.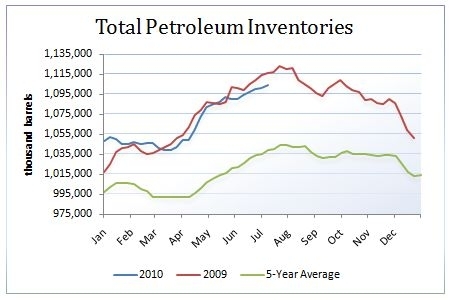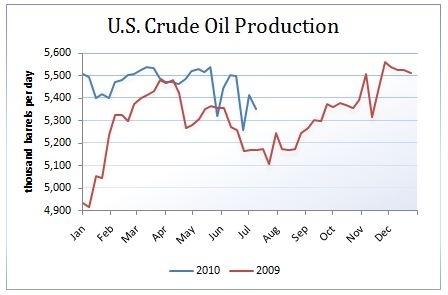 Friday's drop in oil took prices back to the 200-day EMA. While crude oil has been in an uptrend since putting in its lows in May, the rise has been shallow. The latest drop is indicating that prices may be carving out a symmetrical triangle, which would put the initial downside target near $73.00.
North American natural gas prices advanced 2.7% this week, due in large part to a 78bcf storage injection on Thursday. While the build was within the range of analyst estimates, which generally were between 75 and 90, the market was positioned for a build somewhat higher than that. Pipeline scrapes were indicating an injection between 85 and 88.
The latest inventory figure was influenced by the 4th of July Holiday, as well as scorching temperatures across the nation. Reduced industrial and commercial demand from the holiday was offset by a 3.5% week-over-week increase in electricity generated. For the report period, population-weighted temperatures were 36% hotter than the comparable period a year ago. Last year, inventories increased 90bcf.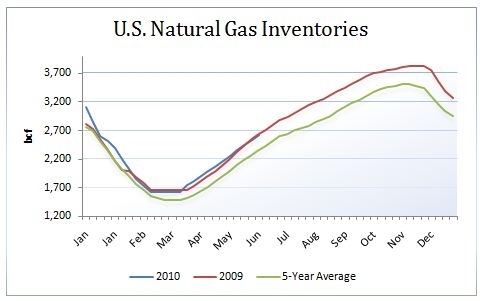 Our analysis suggests that on the whole, the North American natural gas market currently remains 1.5bcf/d to 2.5bcf/d oversupplied, weather-adjusted. We foresee a structural imbalance in the market that will only be corrected by persistently low prices. Since recommending that subscribers consider short exposure in prompt month natural gas about a month ago, the commodity has fallen 11.9%, while the trade has returned 12.6% including roll yields. We are maintaining this exposure and still expect that natural gas inventories will reach record highs in November on the back of a record net injection in September.
Sizzling temperatures across the nation continue and are the only bullish support left in the NG market. All forward forecasts as they stand now are pointing toward more of the same, with initial readings indicating that we are in the midst of another week in which temperatures are on average 30%+ hotter than the comparable period a year ago. In the event of a bearish shift in the weather maps, look for a swift move toward the March $3.81 lows.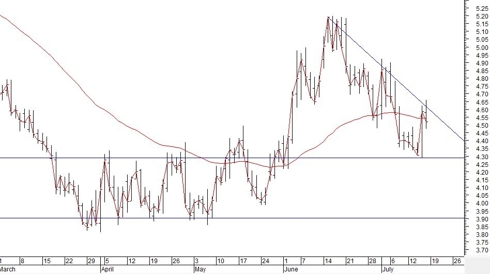 The U.S. natural gas rig count increased by 15 this week to reach 979, the highest level since February 2009.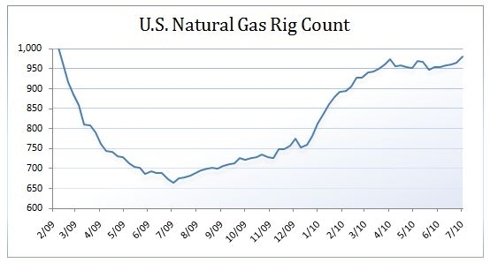 European natural gas prices fell 8.7% to 45.69p/t ($6.99/mmbtu), as prices took a pause from the ferocious rally that has sent prices 63% higher since March. The pace of EU storage builds has steadied in recent weeks. Inventories total nearly 55,000mcm (1957bcf), 2,400mcm ahead of the year ago levels, and a new record high for this time of year. Nevertheless, supply and demand balances have tightened significantly, as rebounding demand across Europe and Asia collide with less-than-expected LNG supply.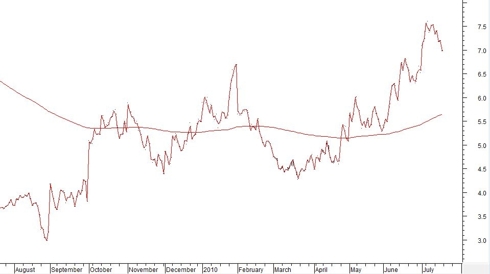 Central Appalachian coal prices rose over 1% in the latest week. The commodity remains near recent highs, as soaring demand in the electric power sector have more than offset any concerns regarding the future health of the U.S. economy. On the supply side, abundant inventories, equal to the elevated levels of 2009, are being offset by depressed levels of production (down 6.5% from 2008 levels).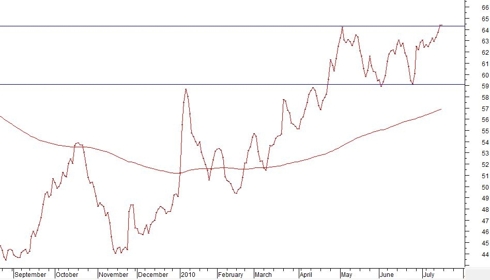 Metals
Gold shed 1.7% this week, even though gold ETF holdings reached a new record. The metal has been a yo-yo, swinging between $1185 on the downside, and just above $1215 on the upside. Friday's close marks gold's lowest settlement since May and puts the metal in a very precarious position. Prices may be poised to move toward horizontal support near $1166 unless gold investors can quickly muster enough buying power to salvage the $1185 support level.
Flows into gold ETFs were enough to send holdings to a new record, but the pace of inflows is diminishing. Holdings increased 92,070 troy ounces (2.8 metric tons). The greatest risk to gold prices is if investors, particularly gold ETF investors, turn into net sellers; for over the last six years, almost
90% of the variance
(.pdf) in gold prices could be explained by variance in gold ETF holdings.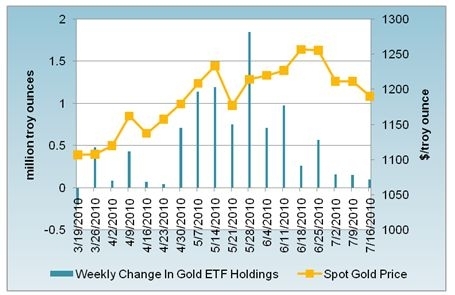 Taking a look at gold technicals, a break of the near-term $1185 support level exposes trendline and horizontal support between $1166 and $1177, followed by the 200-day EMA at $1134. On the upside, $1215 is initial resistance.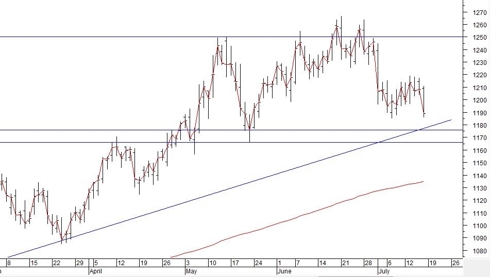 The gold/silver ratio was nearly unchanged at to 66.80, compared to 66.81 last week. The ratio has been relatively stable between 65 and 67 in recent weeks, in sharp contrast to the wild swings of last year.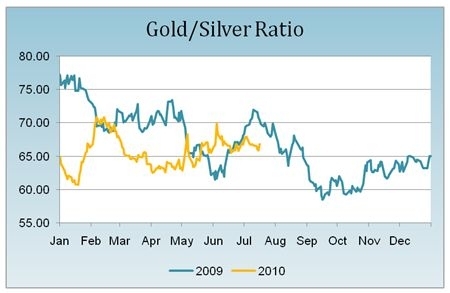 Copper sank 3.8% week-over-week due to disappointment over the previously discussed weak economic data out of China. The metal has so far been unable to break out of the downtrend that began back in April. A break of the recent $3.10 high near is necessary to signal an end to said downtrend. Downside support levels remain the same, $2.85, $2.75, and $2.65.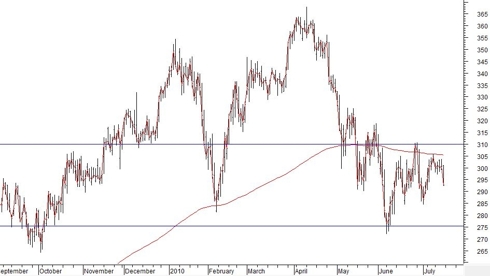 Copper stocks in exchange warehouses declined 6,069MT. The year-over-year surplus has been narrowing and now stands at 265,494MT.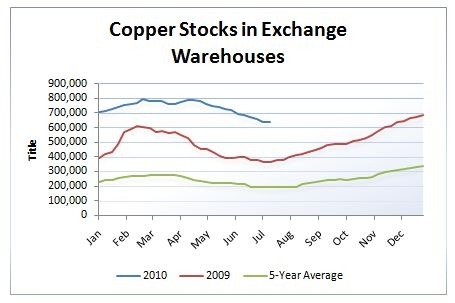 Disclosure: Short UNG from $8.70