Citigroup
After JPMorgan Chase & Co (NYSE:JPM) and Wells Fargo (NYSE:WFC), Citigroup (NYSE:C) is the third largest financial institution in the US by assets. Citigroup released its first quarter of 2014 results and reported better year-over-year performance after investors were slightly disappointed by JPMorgan's negative y/y results. Citigroup was less concentrated in USA, therefore it managed to rescue itself from the mortgage slowdown in the US economy that otherwise affected its rivals. Moreover, the credit for better results goes to the aggressive cost-cutting approach of the company. Shares that are down 8.5% for the year were up 4.4% in the NYSE composite trading after earnings release. The focal point of this article will be an analysis of Citigroup's performance by various means and comparing it to that of JPMorgan's performance.
Top and Bottom Line Growth
Citigroup earned a net income of $3.9 billion or $1.23 per share on revenues of $20.1 billion. This reflected a year-over-year increase of 3% in net income despite the flat revenues. Earnings before tax (EBT) for the quarter were $6 billion reflecting a 9% year-over-year increase. The following chart illustrates the company's key profit and loss items before and after adjustments of credit valuation adjustments, debt valuation adjustments and tax charges. After the adjustments, Citigroup's per share earnings stood at $1.3 compared to $1.29 in the same quarter last year incorporating an increase of 1% year over year.

Source: Company Presentation
In contrast to Citigroup, JPMorgan reported a net income of $5.3 billion and EPS of $1.28 for the first quarter of 2014. JPMorgan had earned $6.5 billion and an EPS of $1.59 in the comparable quarter last year. The following table includes the year-over -year and quarter-over-quarter performance of Citigroup and JPMorgan in comparison. JPMorgan's revenues were down 8% year over year and 1% sequentially. On the other hand, although Citigroup's revenue decreased 2% year over year, sequentially it increased by 12%. JPMorgan's cost of credit increased compared to the same quarter last year and the previous quarter while Citigroup managed to cut down its costs of credit by almost 20% year over year and 5% quarter over quarter. Citigroup's net income and EPS also saw huge gains compared to sequentially last quarter; however, year-over-year gains were also impressive when compared to that of JPMorgan's.

Source: Citigroup & JPMorgan Presentations
After the era of Vikram Pandit as CEO was over and Michael Corbat succeeded him, his first focus was on making Citigroup more efficient in terms of costs and thus he announced to save more than $1 billion annually. He decided to cut 11,000 jobs and cut 84 branches in December 2012. Legal and repositioning expenses were flat year over year while they reduced 53% quarter over quarter. The following chart provides insight into the company's expenses over the last 5 quarters and demonstrates that the company is struggling to reduce its costs further. Its latest quarter's expenses were lower than all other quarters plotted on the chart except the third quarter of 2013 where it exceeds by 0.58%.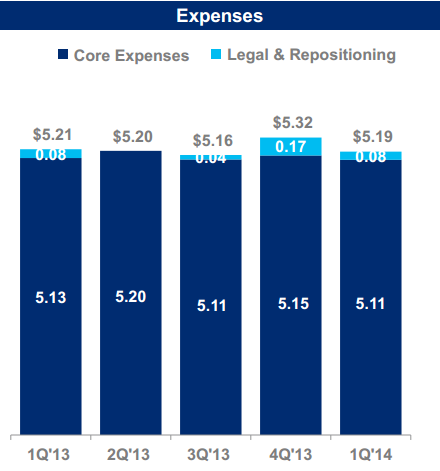 Source: Company presentation
The following table was obtained from the company presentation and illustrates Citigroup's cost drivers. The key thing to note is that the company is focusing on each and every head to reduce its costs such as personnel costs, card products, branches and support sites. For example, since the fourth quarter of 2012 (when Michael Corbat took charge of the company), Citigroup has reduced its headcount by almost 6% and aims to reduce it by another 2.6% by the end of this year. Such is the case with the other cost drivers mentioned below. Importantly, the company has reduced its branches by 10% in just over one year and another 2% reduction is expected by the end of this year. However, this raises the question of how a giant financial institution can continue its operations with such a high level of branch closures. Well the answer may be that this is the essence of the efficiency where less input drives more output.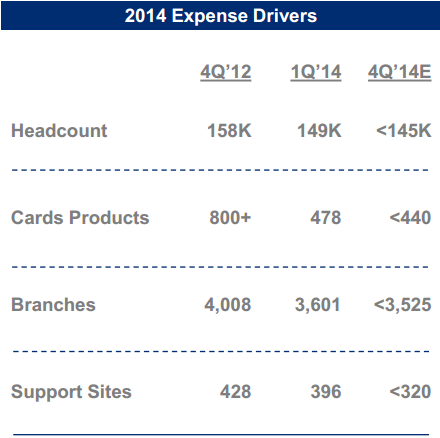 Source: Company Presentation
Margin Expansion
Another aspect that is important to consider while discussing the reported earnings is the net interest margin. The net interest margin is the difference between the margin a company receives on its lending and the margin it pays on its borrowings. Hence the net effect is what goes into the pocket of the company itself. Citigroup has earned a net interest margin of 2.90% for the first quarter of 2014. Citicorp's net interest revenue (NIR) decreased in the quarter by 1.80% while NIR from Citi Holdings remained flat quarter over quarter. On a year-over-year basis, Citicorp's NIR remained flat while Citi Holdings' NIR increased by 12.5%. JPMorgan managed to earn a net interest margin of 2.20% that lags behind Citigroup NIM by 70 basis points.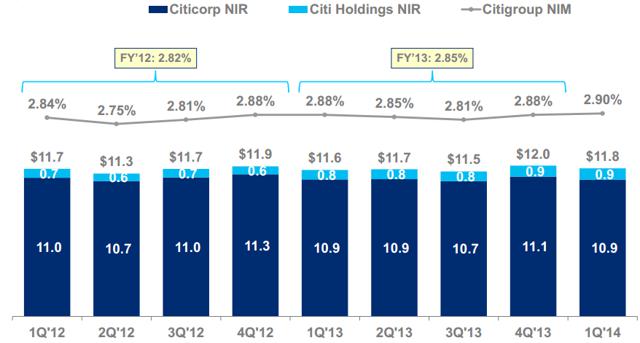 Source: Company presentation
Citigroup Fundamentals
Citigroup's capital levels and book value per share also increased year over year. At the end of the latest quarter, its book value per share stood at $66.25 and the tangible book value of its share reached $56.40. The book value per share increased by 6% and the tangible book value of its share increased by 8%. Bolstered retained earnings and deferred tax asset utilization drove the company's estimated Basel III Tier 1 common ratio to 10.4%, up from 9.3% last year. On the other hand, JPMorgan estimated a Basel III Tier 1 common ratio of 9.5%. Its tangible book value per share stood at $41.73 up from $39.54 in the previous year reflecting an increase of just 5.5%.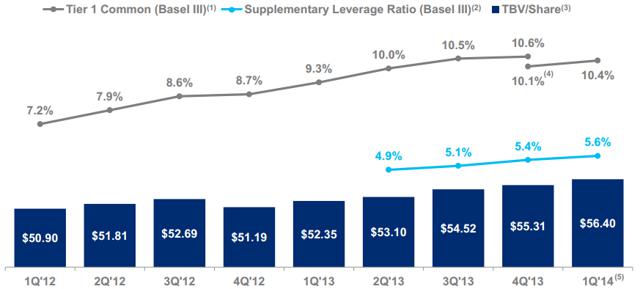 Source: Citigroup Presentation
Citigroup's asset quality continued to improve as it released loan loss reserves of $673 million in this quarter compared to $650 million released in the comparable quarter last year. Moreover, Citigroup provided an allowance for loan losses of $18.9 billion at quarter end accounting for 2.87% of total loans, down from 3.70% in the same quarter last year. JPMorgan provided $850 million for credit losses in the latest quarter reflecting a 21% rise year over year. JPMorgan reported a 3.7% increase in its end of period (EOP) assets year over year, while in contrast Citigroup's EOP assets remained flat. However, Citigroup's EOP loans and EOP deposits both increased 3% year-over-year. Average balances deposited with JPMorgan declined 3% quarter over quarter but secured an increase of 103% year over year.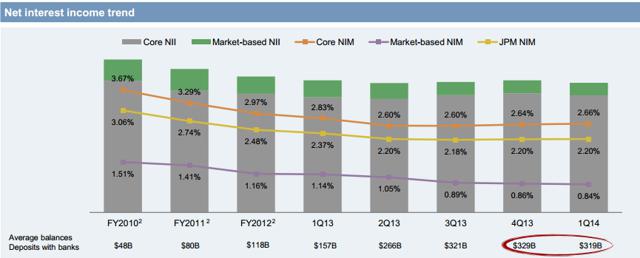 Source: JPMorgan Presentation
JPMorgan's return on equity was down 3% year over year while return on tangible common equity (ROTCE) was down 4% year over year and 1% sequentially. Citigroup's adjusted ROTCE was down 0.7% year over year but saw an increase of 3.6% quarter over quarter.
Litigations and Investigations
Many financial institutions are surrounded by various litigations and investigations nowadays. Citigroup has been under investigations because of fraud allegations at its Mexican unit Banamex (Banco Nacional de Mexico) as discussed in my previous article which drove its 4th quarter 2013 net income down by almost $235 million. This alleged fraud invited criminal investigations by the FBI and prosecutors from the United States attorney's office in Manhattan. Afterwards its capital plan was rejected by the Federal Reserve on the issue of lax internal controls hindering its way to reward its shareholders generously (as discussed in my last article). According to a Wall Street Journal Report Citigroup has discovered a second fraud incident in Mexico. This fraud involves EVYA, an engineering and construction firm that is also a supplier to Mexican State owned oil company Pemex. However, the alleged fraud this time constitutes of less than $30 million and the bank is optimistic for a full recovery of this amount. Banamex had fired two bond traders last year after it was discovered that their rogue trading had caused millions of dollars in losses to the bank. The company is setting a good example for the existing staff to work more cautiously and in accordance with the highest ethical standards. Despite Citigroup reporting better results than JPMorgan it has reduced its executive pay. Medina-Mora, the co-president of Citigroup, was paid $9.5 million in total compensation in 2013 down from $11 million a year earlier. Following the money laundering issue at the Mexican subsidiary that he oversees, further pay cuts or clawbacks of prior compensation may be considered depending on the results of the current internal investigations. Citigroup also reduced variable compensation for Banamex employees by $40 million just after the loss at the subsidiary. On the other hand JPMorgan's CEO Jamie Dimon has been paid generously despite the fact that the company is surrounded by too much litigation and investigations and a major chunk of its earnings are paid out as fines to concerned authorities rather than shareholders.
Bottom Line
After the company's spectacular crash during the financial crisis, its new CEO Michael Corbat is trying hard to rebuild the bank's image. He has undoubtedly made the bank one of the most efficient by virtue of its cost control. However, the company plans to resubmit its capital plan next year implying that investors will have to wait another year before they can expect enviable dividends and generous share repurchases from the company.
Despite this I would suggest investing in this stock because of its attractive multiples and current price dips. The bank's management is striving hard to bolster its risk control measures. In the future, when Citigroup appears as one of the most robust banks among giant financial institutions with robust enough controls in place, we will see its stock price skyrocket.
Disclosure: I have no positions in any stocks mentioned, and no plans to initiate any positions within the next 72 hours.
Business relationship disclosure: The article has been written by a Gemstone Equity Research research analyst. Gemstone Equity Research is not receiving compensation for it (other than from Seeking Alpha). Gemstone Equity Research has no business relationship with any company whose stock is mentioned in this article.