By Bryan McCormick
The major stock indexes all broke support levels today after several earnings results and consumer sentiment numbers came in far weaker than expected.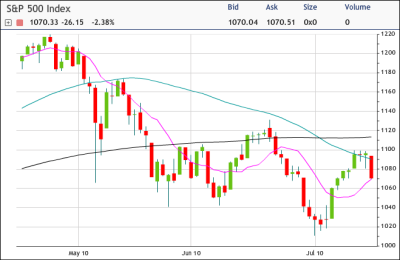 The key levels have flipped back to 10-day moving averages for all the indexes, versus the 50- or 200-day moving averages we might have expected to see tested on the upside if the news had been good.
For now, Nasdaq 100 support is at the 10-day, last at 1805.41. The S&P 500 has touched its 10-day as this was being written, last at 1069.53. Next major support is at 1058.24. (The SPX 10-day average is the purple line on chart, the 50-day is shown in teal, and the 200-day is in red.)
The Russell 2000 meanwhile has broken below its 10-day moving average, last at 620.55, and now resistance. Next support for that index is at 608.69.
(Chart courtesy of tradeMONSTER)