Recently Citi Equity Research released an update list of global bond refugee stocks. Stocks with higher dividends ands lower volatility an alternative to bond investments. Among companies making the cut is General Mills (NYSE:GIS) with a current dividend yield of 3.1%. In part II we highlighted Dominion Resources (NYSE:D)
GIS produces and markets consumer processed and packaged foods including cereal, yogurt, soup, frozen desserts and vegetables, baking goods, snack foods, and organic products.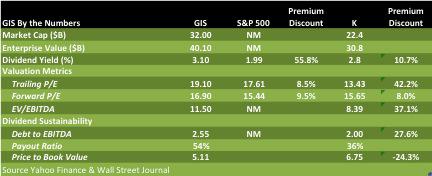 Valuation
GIS has a $32.0 billion market capitalization and $40.1 billion enterprise value. GIS trades at a slight premium to the S&P 500 on an earnings basis with a trailing PE of 19.1, an 8.5% premium to the S&P 500 (NYSEARCA:SPY) multiple of 17.6. GIS earnings premium is expected to expand modestly as the shares trade at 16.9 times forward earnings versus a 15.4 for the S&P 500.
GIS's EV is 11.5 times trailing EBITDA, which is higher than Kellog (NYSE:K), GIS's most similar competitor. GIS is more expensive than K on an earnings basis but only modestly so when comparing forward earnings.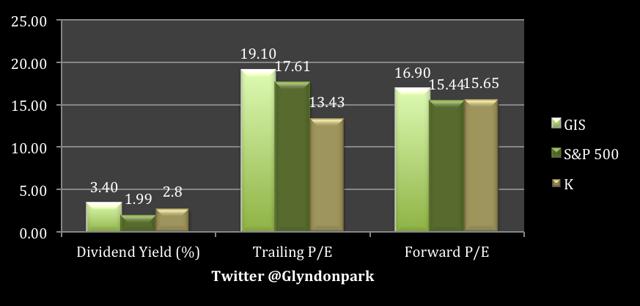 Dividend Stability
GIS has increased the dividend annually since 2005. GIS current pays out 54% of earnings and has a debt to EBITA ratio of 2.6. GIS earnings payout is modest and its debt to EBITDA is a very conservative 2.55. Given GIS conservative financial standing we view little chance the dividend will be cut.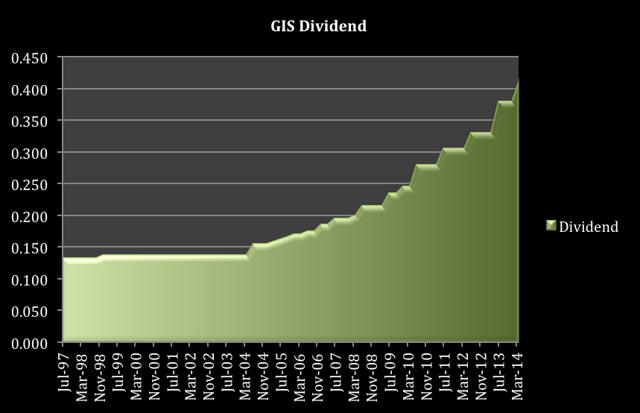 Overall GIS has a slight premium to the S&P 500 and given the low volatility, conservative financial philosophy, and growing dividends we expect the premium to persist. The dividend is predictable and unlikely to be cut at any time. We rate GIS as BUY.
Disclosure: I am long D. I wrote this article myself, and it expresses my own opinions. I am not receiving compensation for it (other than from Seeking Alpha). I have no business relationship with any company whose stock is mentioned in this article.