I had high hopes for the BlackBerry (NASDAQ:BBRY) Z3 smartphone for emerging markets. BlackBerry's first new BB10 entry-level phone for 2014 is supposed to launch in Indonesia this coming May. Developing countries like the Philippines and Indonesia are super-saturated with sub-$100 Android phones. Lazada, the Amazon of Asia, is doing great business direct-selling decent-quality Android phones with price tags of $50 to $100.
The BlackBerry is no longer considered a premium status symbol phone among Asians. Its once-lofty stature has been usurped by Apple (NASDAQ:AAPL) and Samsung (OTC:SSNLF). Chen's new tact to revive the BlackBerry brand using the entry-level $200 touchscreen-only BlackBerry Z3 is a walk-on-burning-coals venture. As I mentioned above, emerging Asian countries are suffering from a glut of very cheap Android phones. These Android phones are usually made by white box manufacturers located in Shenzhen China.
Foxconn (OTC:FXCOF), BlackBerry's partner for device manufacturing, will find it very difficult to make a $100 Z3 due to quality requirements. Chen will not settle for an inexpensive, all cheap-plastic version of the Z3 because he has to protect the BlackBerry brand. Aside from competing with the Shenzhen-made sub-$100 phones, the Z3 will also have to face off against mighty Google's upcoming budget Android smartphone.
Google's Sub-$100 Nexus Phone Is A Killer Tsunami
The Z3's chances of success suffered another big blow from the recent rumor that Google (NASDAQ:GOOG) is working with MediaTek to produce a sub-$100 Nexus smartphone. The Nexus brand is known for high-quality smartphones and tablets that are not overpriced like the iPhone or iPad are. Google's sub-$400 flagship phone, the Nexus 5, features-wise and specs-wise is considered the equal of the iPhone 5S, HTC One, and Samsung Galaxy S5.
Google needs to offer a sub-$100 Nexus because it has to protect its lucrative mobile advertising and services. The Nokia X is already popular in China. Nokia's Android Open Source Project smartphone has no Google services and is loaded instead with Microsoft apps. The upcoming Amazon phone will also like have no Google services. Amazon, like what it did with Kindle tablets, will also sell millions of Non-Google Android phones.
Google is not precisely targeting the upcoming Z3 in its new assault - but BlackBerry's low-end phone will be among the future casualties. The $100 Nexus is obviously aimed at slowing down Google's Rival No. 1, Microsoft (NASDAQ:MSFT). The $100 Nokia (NYSE:NOK) Lumia 520 and 521 handsets are helping Microsoft hit 50 million unit sales this year for Windows phones. These two Lumia models are now available for $100 in China and other Asian countries.
Marissa Mayer is also courting Apple to replace Google with Yahoo (NASDAQ:YHOO) as the default search engine on iOS devices. These recent developments compels Google to become more aggressive in proliferating more Android devices because mobile is the future of advertising.
The Android OS is now the dominant mobile platform but Windows Phone is the fastest growing mobile OS. A $100 Nexus phone insures that Google-sanctioned Android phones continuously comprise the majority of phones sold around the world. The BlackBerry OS, once the most valuable player in smartphones, is now relegated to bench player status.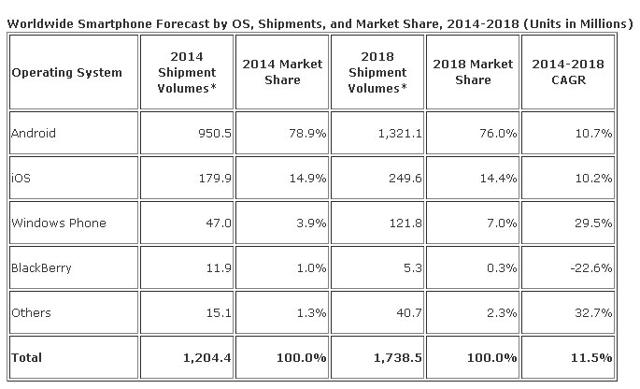 Source: IDC
BlackBerry Cannot Afford Contra Revenue
The BlackBerry Z3, like other cheap smartphones, will definitely be affected by a $100 Nexus phone. A $100 Nexus is more attractive than a $150 BlackBerry OS 10 handset. A $100 Nexus is more attractive than a $60 Shenzhen-made Android phone. A $100 Nexus phone is a strong tsunami that can swept away cheap Android, Windows, and BlackBerry smartphones.
Unlike BlackBerry, Google is rich enough to entice Asian service providers to pick the cheap Nexus over the Z3. In the Philippines, and other emerging countries, majority of the low-entry Android phones are given away for free through telecom companies' post-paid mobile plans. BlackBerry's decision to port its popular BlackBerry Messenger app to Android and iOS has given people less incentive to choose a BlackBerry plan.
Google can afford to wholesale its low-entry Nexus phones at a loss because it will recoup the losses from advertising. Google can tap LG Electronics' global distribution network to accelerate the dissemination of a $100 Nexus phone. A Xiaomi-style of direct online selling of this cheap phone is also viable.
Conclusion
The imminent threat of a sub-$100 Nexus phone compels me to believe that the BlackBerry Z3 will become a walking dead proposition. Unsold phones like the Z10 are the reason why BlackBerry has been RedBerry for the last 24 months. BlackBerry has lost more than 6 billion dollars due to the rise of the iPhone and cheap Android phones.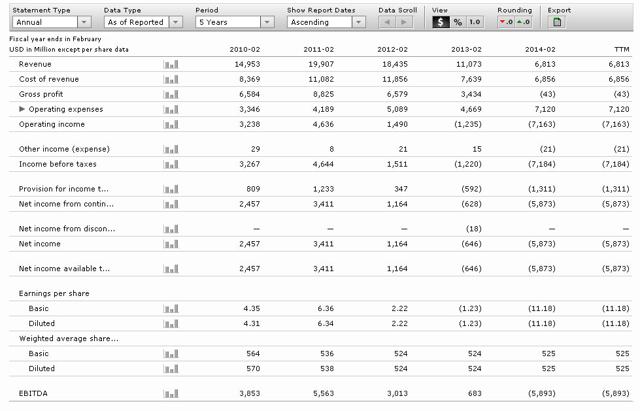 Source: Morningstar.com
It is only prudent of John Chen to be ready to sell BlackBerry's hardware devices division if it continues to drag the whole company down with serious losses. On a 90-day basis, BBRY has lost more than 21% of its value. Many BlackBerry loyalists are recently losing their awe of John Chen's turnaround plan.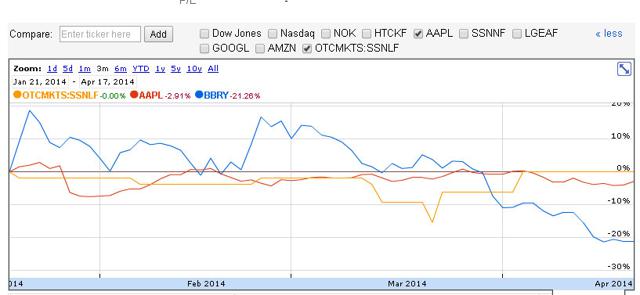 Source: Google Finance
BBRY investors should already be aware that the stock has an SMA50 of -21.49%, SMA20 of -13.23%, and a dangerous 31.79% short float percentile. BlackBerry is in bearish mode and has more room to fall.
Buying BBRY now is strongly not recommended. I do not regret buying some BBRY at $8 last month - I'm hoping that the rumor of a $100 Nexus phone will just turn out to be just another internet urban legend.
BBRY is not going to go beyond $9 again if Google starts flooding emerging markets with a sub-$100 Nexus phone.

Source: Finviz
Disclosure: I am long BBRY, GOOGL, AAPL, NOK. I wrote this article myself, and it expresses my own opinions. I am not receiving compensation for it (other than from Seeking Alpha). I have no business relationship with any company whose stock is mentioned in this article.