You're not really going to see an earnings report dissected in the way that Apple's (NASDAQ:AAPL) is every quarter. The numbers broken out by product are opined over, analyzed in every possible direction, compared and compared again - and by that time, it's time for the company to report earnings again. Every time it feels like we've just had Apple earnings, they pop up again.
Apple is going to be hoping that this quarter's earnings can be part of the catalyst to move the company's stock, which has basically dwindled in the low $500 region for the better part of the last 6 months.
(click to enlarge - source stockcharts.com)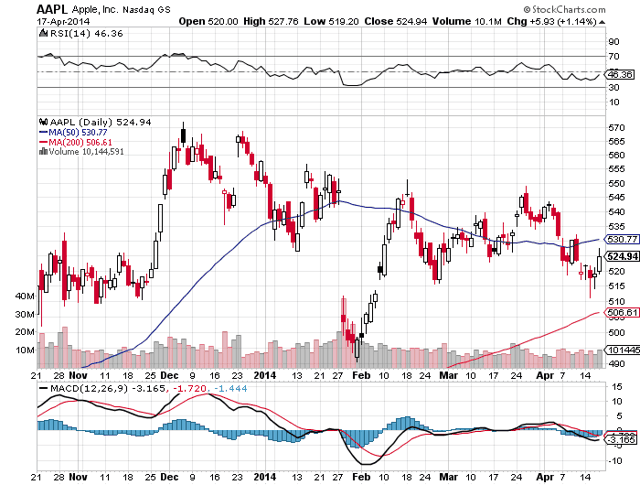 Apple has traded off a bit for the year, but over the course of the last twelve months remains up around 34%.
Apple is set to report its earnings next Wednesday, April 23rd, after the market closes.
Analysts are expecting $10.17/share in EPS on revenues of $43.55 billion. Comparable numbers from the same quarter last year were $10.09/share on revenues of $43.60 billion.
(source - Yahoo! Finance)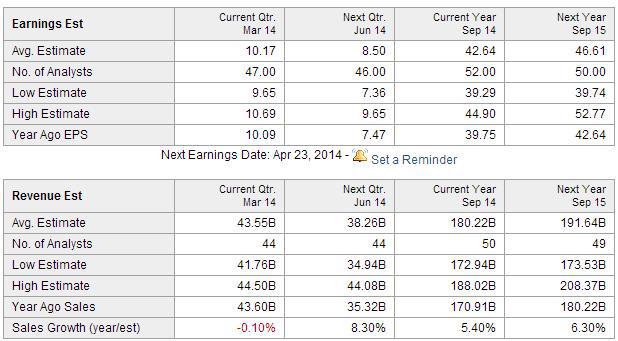 The company itself guided relatively light for the quarter - suggesting the company was going to take in somewhere between $42-$44 billion in revenue. Mr. Market was less than pleased with this guidance, so we've seen Apple churn for the last quarter.
Sure, there's going to be plenty of focus on the company's numbers. The sleeper number for me is going to be how Mac sales continue to fare in the bottoming PC market. I've often contended that Apple showing strength through Mac in the PC market we're in shows that they not only continue to grow aggressively - but that there's plenty of PC market share to go for Apple. The good ole' PC market - in the age of iPhones and iPads - is often overlooked for Apple.
Another area that Apple absolutely dominates is music. I'll be looking to see continued growth from Apple's iTunes store - which is the frontrunner for basically all media sales in the U.S.
Additionally, since I've been calling for the unceremonious collapse of Pandora (NYSE:P) at the hands of Apple, I'll be watching for progress on the streaming radio front. You can read more about Pandora in my critically acclaimed article, "Pandora is About to Get Shellacked". Pandora is off over 23% in the last three months.
(click to enlarge - source Yahoo! Finance)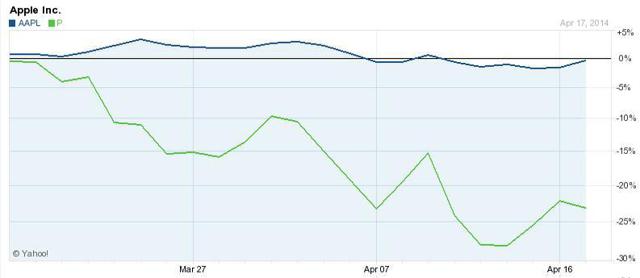 One of the big stories to watch is going to be whether or not Apple takes steps to continue to unlock value for shareholders. It's widely held on Wall Street that the company will likely be increasing its dividend -which comes on top of the biggest stock buyback in the history of the stock market - that Apple is currently wrapping up. These items have been in focus since activist investor and resident crankypants Carl Icahn had to be told "GOOD DAY, SIR!" by Apple management after complaining too much about the company unlocking cash.
Icahn has gone away; the questions about unlocking the cash - not so much.
Dividends will likely be the better of the two options for the company, should they decide to unlock some cash.
Traditionally, Apple has seen its margins get clipped in the second quarter. Conversely, Apple is running some of the company's best margins on the iPad Air, which should be in the meat of its adoption cycle for sales. It'll be interesting to see if one can counter the other. With Apple, for some reason, the $50+ billion in revenue is generally pushed aside by analysts for favor of microanalyzing the margins.
You don't need to be an expert in QA to understand Apple's earnings: they sell a lot of stuff and that, in turn, makes them a lot of money. Case closed.
This quarter we will also start to see some of the deal Apple struck with China Mobile (NYSE:CHL) coming into play. As China Mobile's sales of iPhone continue to ramp up, we should be able to see the monetization of this in Apple's numbers.
Finally, the major question is going to be surrounding new products from the company. It's already been everything but confirmed that the company is going to be coming out with two new phones before year's end:
Apple's 4.7" and 5.5" iPhones (widely rumored) will feature thinner bezels, NFC chips, and be only 6.5-7mm thick (thinner than the 7.6mm 5S), says KGI's Ming-Chi Kuo, whose past Apple product scoops have often (though not always) been accurate.
Kuo also expects the devices to have 1344x750 and 1920x1080 resolutions, run on the next-gen A8 CPU (no surprise), support optical image stabilization, and have side power buttons. The 5.5" model (reportedly seeing touch sensor-related delays) is expected later in 2H14 than the 4.7" model.
The much-anticipated iWatch is expected at the end of Q3. Kuo sees models with 1.3" and 1.5" displays launching, and expects them to include NFC chips, wireless charging support, and biometric (fingerprint?) recognition.
Apple has thus far held off on including NFC chips within its hardware. But they could assist with its rumored payments efforts.
The next-gen iPad Air and retina iPad Mini will both reportedly feature an A8 CPU and a fingerprint sensor, and the former will also get an 8MP camera. Kuo also thinks Apple is working on a 12.9" iPad (as rumored), but doesn't expect it this year. Samsung recently launched a 12.2" Galaxy Note ($750 starting price); all signs suggest sales have been limited.
A 12" retina MacBook Air is also said to be on tap. It reportedly will have a button-less touchpad and no fan.
However, shareholders want more information regarding other facets of the company's product line. They want to know about potential coming changes to the Apple TV, and the ongoing progress that Apple is making with its smartwatch, and in the field of biometrics and ecosystem.
Additionally, people are wondering about recent rumors of Apple potentially pairing with one of the major media companies to increase its foothold in the hyper-aggressively growing streaming media niche.
Seeking Alpha's recent report that Jony Ive is taking over software design for the company perked up a lot of ears, suggestion that the integration in design behind hardware and software could continue to get even better looking. The report stated:
With Ive at the continued helm, its unlikely the products stop being sexy looking anytime soon.
As one of the most fundamentally sound companies in history - with over $150 billion in cash in the bank - Apple always remains a good pick for long-term growth, in this investors opinion. Aside from its rock solid fundamentals, the company has tons of cash to do their business with and continues to offer shareholders the safety of a dividend.
This quarter's earnings won't be so much about the number, as it will be about how management editorializes. I'll be watching closely.
Best of luck to all investors.
Disclosure: I have no positions in any stocks mentioned, and no plans to initiate any positions within the next 72 hours. I wrote this article myself, and it expresses my own opinions. I am not receiving compensation for it (other than from Seeking Alpha). I have no business relationship with any company whose stock is mentioned in this article.