Amazon (NASDAQ:AMZN) reports 1Q14 results on April 24th. This will be the first quarter in which investors will get hints on whether Amazon has pricing power over its Prime Membership since raising it to $99/year from $79/year in March. We will not see the full impact of the price hike until the end of next quarter, but I believe this quarter will offer some clues as to its initial impact.
Consensus expects Amazon to report $0.24 EPS on the back of $19.4b in revenue and 28% gross margin. The revenue estimate is in the upper range of the guidance provided by the management ($18.2b-$19.9b). Investors who wish to listen to the webcast can visit Amazon's investor relations site (Link).

In Q4, Amazon delivered a weak quarter in both revenue and unit metrics. Revenue of $25.6b was a 22% increase y/y ex-FX but came in below consensus. However, gross and operating margins came in strong. In addition, Amazon made a surprise announcement that it was raising the Amazon Prime fee to $99/year from $79/year.
Does pricing power exist?
Amazon's decision to raise the price on its Prime Membership indicates that the company believes it has pricing power over its users, and that a price increase can be easily passed down to offset the rising fuel and shipping cost. On the contrary, I believe that Amazon does not have such pricing power, because it has yet to build its Prime membership base (~20m in the US) to a critical mass that could give it leverage over Prime's pricing. While the unlimited 2-day shipping for an flat annual fee is a nice option to have, previous findings suggest that Amazon Prime customers sometimes pay more for Prime items than they would for the identical item that is not available through Prime (Link), and that creates poor user experience, which would negatively impact the pace of membership renewal.
Recent lawsuits against Amazon supports the claim that free shipping isn't actually free in that the price of Prime items, which are sold by third party vendors, are artificially inflated by the vendors (under the encouragement of Amazon) to cover the shipping cost (Link). So on the surface, Prime members are getting a good value for their money. But in reality, they are paying a flat annual fee ($99) and an incremental amount (of which a percentage goes to Amazon), so Amazon can cover the shipping cost.
According to the Amazon forum (Link), the $79/year pricing mechanism has already created poor user experience in that some users decided to not log on as Prime members to make purchases of certain items. The author of this article does not have a Prime Membership fee so he cannot do an exact comparison, but based on the forums, he believes that the findings of price discrepancies by other Prime Members are credible.
Last quarter's revenue miss and unit metric miss was a concern, but the Street cheered at the positive gross and operating margin headlines and hoped that the top line weakness was not the beginning of a trend. I see it differently in that the price hike on Amazon Prime could negatively impact customer retention and content/app sales for several quarters until the top line stabilizes. Going into the quarter, customer churn could pose a risk to top-line growth.
Amazon phone coming soon?
Investors will also look for clues on whether Amazon will release its much rumored smartphone in the second half of this year. I believe that the smartphone can be a positive catalyst for the stock given that the smartphone market is 3x that of the tablet market, and Amazon could carve out its niche in North America where the smartphone market is dominated by Samsung (OTC:SSNLF) and Apple (NASDAQ:AAPL) (See: Amazon Smartphone: Positive Catalyst). Assuming that Amazon introduces a low-cost phone that features good enough specs and a user-friendly interface, then the phone could establish a sizable market share before the competitive threat from the Chinese OEMs begins to heat up. I note that the Chinese big 4 smartphone makers (e.g., Lenovo (OTCPK:LNVGY), Coolpad (OTC:CHWTY), Huawei and ZTE (OTCPK:ZTCOY)) have expanded their market share over the past two years via organic growth and M&A. If Amazon wants its smartphone to gain traction, now would be the ideal time to introduce it to the market, in my view.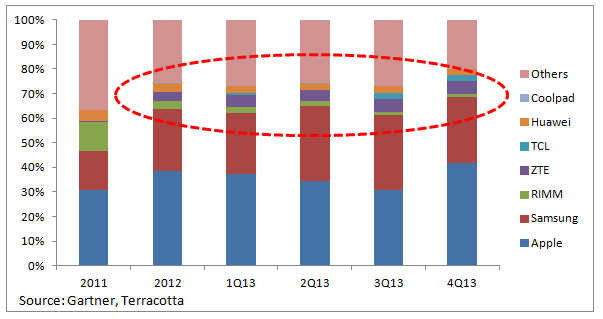 The valuation seems to be stretched at current levels in that 2x P/S and 15x P/B is in-line with its 3-year historical average. On a PEG basis, Amazon's valuation looks fairly rich, as the current PEG is beyond 1 standard deviation to its 3-year average.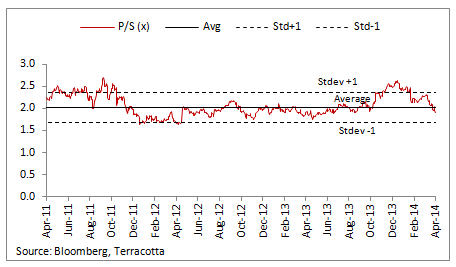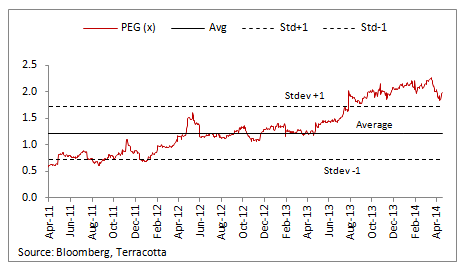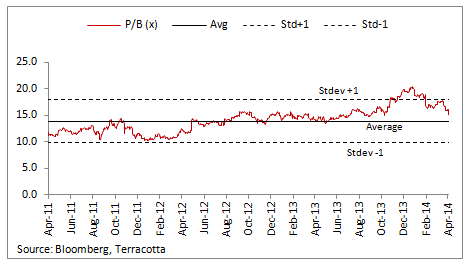 Disclosure: I have no positions in any stocks mentioned, and no plans to initiate any positions within the next 72 hours. I wrote this article myself, and it expresses my own opinions. I am not receiving compensation for it (other than from Seeking Alpha). I have no business relationship with any company whose stock is mentioned in this article.