The Alerian MLP index gained 1.27% for the holiday-shortened week. The S&P 500 was up 2.69% for the same period. There were 18 new 52-week highs among the MLP and related companies followed on MLPData and no new 52 week lows.
This week, the Energy Information Agency published a report stating that Gulf Coast crude oil inventories had hit a record high. Reasons for the build-up included the opening of TransCanada's Marketlink Pipeline from Cushing, OK and lower refinery throughput due to seasonal maintenance. The EIA also reported that natural gas inventories were well below market expectations and 50% of year ago levels. Brent Crude rose due to Ukraine gas threats, and US gulf refiners benefited from widening spreads.
Unit Value Winners and Losers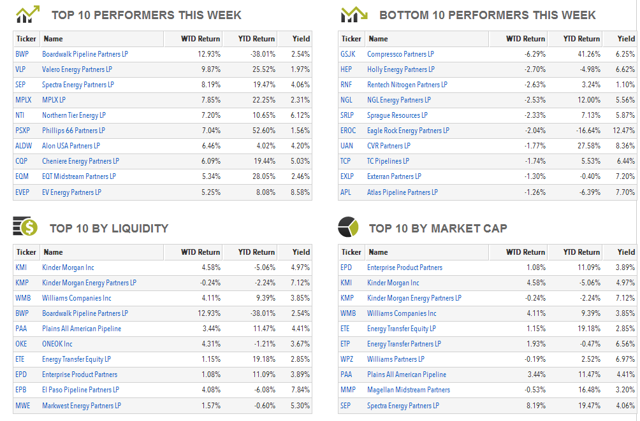 Topping this week's gainers, Boardwalk Pipeline Partners (NYSE:BWP) jumped on an upgrade from underweight to overweight by JPMorgan (NYSE:JPM). Valero Energy Partners (NYSE:VLP) declared its first full quarterly distribution. The declared amount was the partnership minimum. The market is anticipating rapid distribution growth going forward, furthered advanced by its Gulf coast refining capabilities.
At the top of the decliners, Compressco Partners (GSJK) appears to be a pullback from a 52-week high set last week. The unit price is still up 41% YTD.
This week we add a Technicals table, which calculates the difference between each unit's last trade and its 52 week high and low. The list below represent the units with the greatest discount to their 52 week high.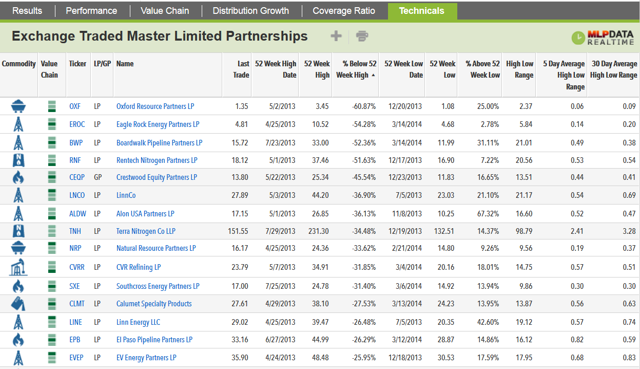 Distribution Rate Changes
MLPs have been actively declaring Q1 distributions ahead of the upcoming earnings releases. 20 increases have been declared so far in April. Variable distribution paying OCI Resources LP (OCIR) declared a distribution of $0.50 - its second since going public - in line with expectations.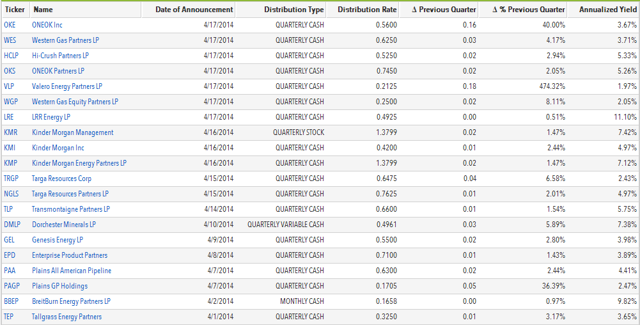 Insider Trading
John Sherman, the former CEO of Inergy, which merged with Crestwood Midstream Partners (NYSE:CMLP), continues to unload shares now that he no longer runs the company.

Share Issuance News
A quiet week for equity issuance, but we expect secondaries to be announced on the back of strong Q1 results in the coming weeks. Kinder Morgan Energy Partners (KMP) issued approximately 3.5MM units from its ATM program in Q1.
Get the details of any offer of interest by clicking on the specific issue on the Issuance page of the MLPData Dashboard.

ETF, CEF and Mutual Fund Money Flows
Money flow into MLP focused ETF and mutual funds jumped again for the last week, with funds taking in $672 million of net new cash. Mutual funds picked up $441 million and ETFs $232 million. Strong flows will continue to drive up high growth units, which are increasingly in demand by actively managed funds. In recent weeks, flows have represented up to 10% of the dollar volume traded.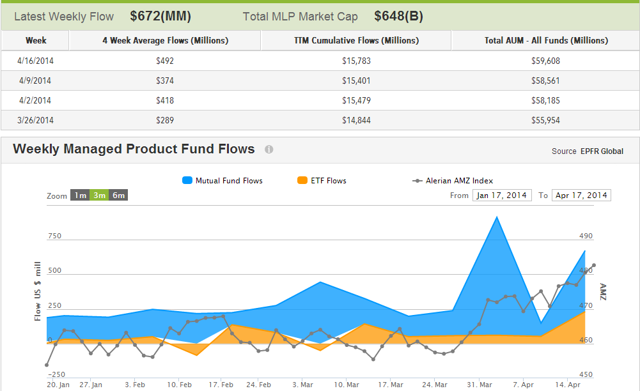 Next Week's Earnings Calendar
First quarter earnings season revs up next week with seven MLP companies releasing their results.

To make sure you get this round-up each week, make sure you are Following MLPData here on Seeking Alpha.
Look for Cost of Capital tables in the coming weeks to rank those with the highest and lowest equity and debt capital costs.
All charts and tables provided by MLPData.com
Disclosure: I have no positions in any stocks mentioned, and no plans to initiate any positions within the next 72 hours. I wrote this article myself, and it expresses my own opinions. I am not receiving compensation for it (other than from Seeking Alpha). I have no business relationship with any company whose stock is mentioned in this article.