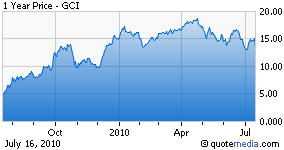 Gannett's (NYSE:GCI) second quarter announcements: A whimper and a bang. The whimper comes from its tepid revenue data. The bang from its coincident statement that it is joining its newspaper colleagues in the Yahoo (NASDAQ:YHOO) Newspaper Consortium.
As expected, Gannett's second quarter 2010 was markedly better than a year ago, a time we should recall when the year 1929 was on everyone's lips.
No surprise: a doubling of profits. Those profits moved up to $195.5 million from $70.5 million a year ago. That's still a slim quarterly profit margin for a $5.5 billion revenue company. (See earnings call transcript.) In the heyday, Gannett's margins topped 30% in newspapers — the envy of other chains, and the bane of publishers running its peers. Now it's down in single digits for net publishing profit. In recent years, I've kept an ongoing comparison of Gannett — the #1 U.S. news publishers (and #2 worldwide to News Corp (NASDAQ:NWS)) — and Google (NASDAQ:GOOG). They usually announce results within days, and the gap between their profits is one of the signal pieces of data showing the how the world and business leadership has been transformed.
Gannett's quarterly profit, 2Q: $195.5 million. Google's quarterly profit, 2Q: $2.37 billion.
So we can parse Friday's Gannett numbers — which have markedly disgruntled investors ("Gannett Craters Following Earnings") — and more importantly look at what they tell us about Gannett strategies.
To the numbers:
Yes, revenue is still down, or as I wrote yesterday, there's not yet enough bounce in the dead cat. ("The Newsonomics of the Dead Cat Bounce"). Overall revenues down 1.6 percent. Publishing revenues down just shy of 6 percent.
Broadcasting as expected is a bright spot, up 20% — highlighting the disparity between the post-recession bounces of broadcasting and publishing.
Digital up 8%, more we'd believe from Gannett's motley portfolio of digital companies (Pointroll, CareerBuilder, ShopLocal, Planet Discover, Schedule Star and Ripple6) than from its local digital sales successes.
Circulation revenue down 5.5%. That's an important number for Gannett and the industry. If the strategy is to shed less vital circulation, but price up, getting habitual readers to pay for more of the freight, it looks like that strategy may have hit a wall. You can't both shed readers in mid-single digits and shed about the same in circ revenue. (Few companies look like they're making the new discipline work. For instance, the New York Times Company — given its aggressive pricing of the Times itself — has been showing double-digit circ revenue increases.) Why's this important? If publishing ad revenues continue to be significantly challenged, then circ revenues (far greater than digital publishing revenues) have been seen as a go-to to make up some of the difference.
Now to strategy:
So Gannett's decided that it's go-it-alone, devise-its own-local-marketing strategies approach didn't work. It partnered with AOL, while others were crafting the Yahoo agreement. Today's announcement that all its local news markets are joining the consortium is a refutation of previous strategies. While some other companies — MediaNews, Scripps and Hearst — have been earning good millions of dollars in adopting Yahoo ad targeting technology and selling local Yahoo inventory, Gannett's been late. One question now: How will the consortium fit with Gannett's GannettLocal marketing services push? Such pushes, like Tribune's 435 Digital Services, offer a revenue engine for the future. Connecting up smartly GannettLocal and Yahoo's services is key. Gannett will also have to figure out where the Yahoo deal fits with QuadrantOne, but Hearst has already done that.
What's the Yahoo move tell us about Gannett's new digital direction, in the wake of Chris Saradakis' departure, as Josh Resnik moves up? Gannett, along with others has been cozying up to Rupert Murdoch's Alesia paid content initiative. After breaking free of the old TKG (Tribune, Knight Ridder, Gannett) troika, is it now deciding that joining in industry-wider consortia is a smarter way to go?
Is Gannett's diversification sufficient? Wall Street is saying no, once again. Yes, broadcast and digital can be — and are — revenue drivers. Combined, though, they are just a quarter of the company. Three-quarters of it is still based in newsprint — way too much in a time when the newspaper recovery lags just about everyone else's.
With the second half of the year ahead — and tougher comparables for Gannett and all the newspaper companies — can it find a way to eke out some revenue growth from publishing?


Disclosure: none