Affiliated Managers Group, Inc. (NYSE:AMG), an investment management firm, has a $10 billion market cap, with two exchange-traded debt securities (ETDs) currently trading on U.S. stock exchanges.
ETDs are very similar to preferred stocks, and are often labeled as such on brokerage statements. But ETDs are recorded on the company's books as debt, rather than equity, and are actually bonds that trade on the stock exchange (rather than the bond market). As debt, ETDs are often considered to represent lower investment risk than the same company's preferred stocks (see "Preferred Stock Investors: 'Exchange Traded Debt Securities' Offer Same Reward, Lower Risk").
AMG's two ETDs, trading under the symbols MGR and AFM, offer investment-grade BBB ratings from Standard & Poor's, and current yields of 6.4 percent and 5.1 percent, respectively.
Description and history
Investment management firms come in a variety of sizes, and offer an equally wide variety of investment products and services. Some focus on managing pension funds, while others seek to attract high net worth individuals. Some are geographically diversified, while others focus on specific locales or types of investments.
What small, boutique investment management firms are frequently able to offer is a level of personalized services that the big guys find difficult to match. But the big guys can offer a huge array of investment alternatives that the smaller firms do not have the bandwidth to stay on top of.
AMG is in business to take the burden of being small off of the back of the boutique firm through its "Affiliates" program. AMG's formula goes well beyond administrative cost sharing (accounting, IT, HR, marketing, compliance). Since going public in 1997, AMG has established relationships with a multitude of boutique investment firms all over the world. And the relationship is not just on paper; rather, AMG makes a "meaningful" equity investment in the Affiliates it targets.
Once on board, all AMG Affiliates gain access to the offerings of the other AMG Affiliates, hence extending the reach of the smaller firms, while maintaining the level of personalized services that clients favor. AMG targets boutique firms in specific geographies that offer specific investment products and services that its existing Affiliates would benefit from having access to.
AMG closed 2013 with its Affiliates having $544 billion under management, offering more than 400 investment products to their clients.
Investment management firms look like heroes when markets are rising (and donkeys when they're not). 2013 was a hero year, and AMG and its Affiliates were no exception. When discussing AMG's 2013 results with analysts on February 4, 2014, CEO Sean Healey summarized by saying:
We were pleased to report record earnings for both the quarter and full year with economic earnings per share of $3.66 for the fourth quarter and $10.31 for the year, an increase of 34% over 2012, and assets under management of over $540 billion, an increase of approximately 25% year-over-year.
The "strength through affiliation" strategy has been working for AMG for several years, with the firm's common stock doubling since January 2011, as has its net income.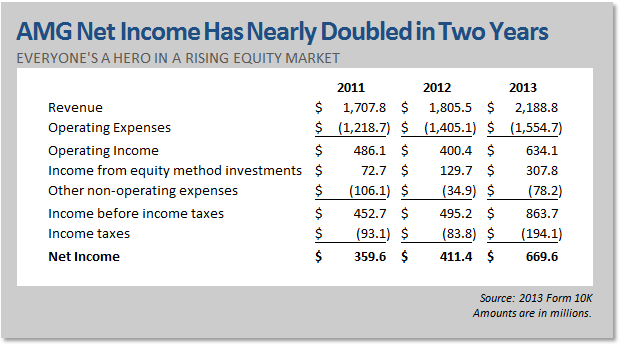 (Sources: Affiliated Managers Group Management Discusses Q4 2013 Results, February 4, 2014 | 2013 Form 10K | company website)
AMG's exchange-traded debt securities
Taking advantage of the low cost of capital available at the time, AMG issued two ETDs, two months apart, in 2012.

Note how aggressively rates were falling at the time. After issuing MGR in August of 2012 at 6.375 percent, AMG was able to issue AFM, with a nearly identical prospectus, two months later at 5.25 percent.
The most significant difference between the structures of these two ETDs is their call dates. MGR offers a standard five years from IPO until it becomes redeemable on August 15, 2017. AFM, on the other hand, becomes callable in three years from its IPO on October 15, 2015.
Where common stock dividends are pinned to quarterly profits, preferred stock dividends, being known in advance, are more closely related to the issuer's cash flow. AMG's business model generates cash like it had its own printing press. At the end of 2013, the company had $469.6 million in cash and cash equivalents.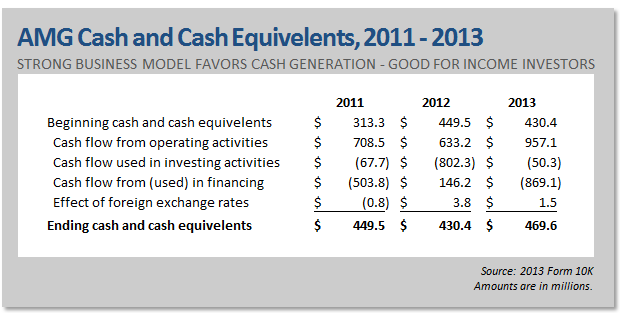 Looking at its cash growth over the last couple of years, the idea that AMG would miss a dividend payment on its two ETDs (which, as bonds, are cumulative) seems unlikely.
On the other hand, while the company has done a good job at diversifying its Affiliates around the globe, investors should always remember that AMG's fortunes are pegged to the performance of the global equity markets. While having one-half billion dollars in cash provides a certain level of comfort for today's buyers, a widespread equity downturn (such as may be triggered by a disruption of the world's energy supplies) could present a substantial challenge to such companies.
(Source for preferred stock data: CDx3 Notification Service database, PreferredStockInvesting.com)
What's next?
MGR has been trading at or below its $25 par value since last fall - very much in line with what we would expect from a 6.375 percent security in today's seven percent preferred stock marketplace.
In the case of AFM, the price behavior is not as easy to explain in light of this security's 5.25 percent coupon and shorter call period. Why investors would pay $25.69 for this security while MGR is available at, or below, par, offers a much higher return and a longer call protection period is unclear. But looking at the price history for AFM over the last several months, today's $25.69 is typical pricing.
For risk-averse income investors considering taking a position in Affiliated Managers Group ETDs, the MGR issue consistently offers a better yield (both in terms of current yield and yield-to-call), does not become redeemable until August 2017, and is generally available at, or below, this security's $25 par value.
Disclosure: I have no positions in any stocks mentioned, and no plans to initiate any positions within the next 72 hours. I wrote this article myself, and it expresses my own opinions. I am not receiving compensation for it (other than from Seeking Alpha). I have no business relationship with any company whose stock is mentioned in this article.
Additional disclosure: The CDx3 Notification Service is my preferred stock email alert and research newsletter service and includes the database of all preferred stocks used for this article. Securities identified within this article are for illustration purposes only and are not to be taken as recommendations.