Company Overview
: Gilead Sciences, Inc. (NASDAQ:
GILD
), a biopharmaceutical company, engages in the discovery, development, and commercialization of therapeutics for the treatment of life threatening diseases worldwide. Its products include Truvada, Atripla, Viread, and Emtriva for the treatment of human immunodeficiency virus infection in adults; Hepsera, an oral formulation for the treatment of chronic hepatitis B; AmBisome, a amphotericin B liposome injection to treat serious invasive fungal infections; Letairis, an endothelin receptor antagonist for the treatment of pulmonary arterial hypertension; Ranexa that is used for the treatment of chronic angina; Vistide, an antiviral medication that targets cytomegalovirus retinitis in patients with AIDS; and Cayston, an inhaled antibiotic used as a treatment to enhance respiratory systems. The company's products also comprise Tamiflu, an oral antiviral for the treatment and prevention of influenza A and B; Macugen, an intravitreal injection for the treatment of neovascular age-related macular degeneration; and Lexiscan, an injection used as a pharmacologic stress agent in radionuclide myocardial perfusion imaging.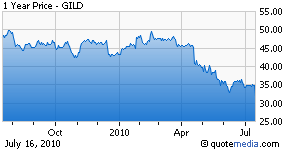 Prognosis
: The stock is trading near its 52 week low and is off over 30% from its late February high. The stock has fallen due to concerns on the expiration of its core HIV drugs later in the decade and the fallout from U.S. Healthcare reform. We believe the reaction has been overdone and the stock at this level offers compelling value.
Valuation: GILD is selling for approximately 9 times this year's consensus earnings and only 8 times next year's projected earnings. It is selling at the low end of its five year range based on Price/Earnings, Price/Book Value, and Price/Cash Flow. It has a solid balance sheet with no net debt
Catalysts: There are several factors that we believe should provide support for a higher stock price in the near and medium term:
1.
Mid stage HIV pipeline drug data is positive which bodes well for next generation therapies for HIV
2.
Growth in revenue outside of core HIV market with recent purchases including Myogen and partnerships including the one with Roche on Tamiflu
3.
Company should continue to acquire growth assets outsides it core HIV franchise
4.
New stock repurchase plan initiated in January
5.
Given attractive stable of drugs and the need for the major pharma companies to acquire pipeline, possible takeover target especially given drop in stock price and reasonable valuations
6.
The environment for drug companies should improve markedly after the mid-term elections
Recommendation(s):
Given its growth prospects, low valuations, and reasonable expectations that it can extend its HIV franchise into the next generation of drugs, GILD is undervalued.
In our opinion, the stock should be trading at a more reasonable rate of approximately 13-14 times this year's projected earnings of around $3.60. Our target Price is $47-$51, up from the current price of $33.50.
Disclosure:
Long GILD