Nokia (NYSE:NOK) really got its mojo back with the release of the Nokia X Android Open Source Project phone. Chinese customers' strong approval of this non-Google (NASDAQ:GOOG) Android phone definitely provoked a little worry from Googleplex. Rumor has it that Google is working with MediaTek to come up with a sub-$100 Nexus phone for emerging markets.
China has already approved the D&S sale to Microsoft (NASDAQ:MSFT) but I'm sad that NOK has failed to breach even the $8 price barrier again this month. I only take comfort that mighty Google gods Brin and Page have taken notice of the Nokia X. The Nokia brand and global distribution network are potent threats to Google's mobile advertising future. Brin and Page know that an Android phone without Google apps & services is highly toxic to its future success.
The Nokia X Made Google Nervous
Google is already having a hard time enforcing its will over Shenzhen-made white box Android phones. Chinese phone producers are doing well selling at $30 to $90 without getting Google certification for their products. Customers in emerging markets are snapping these phones even though they lack Google Search, Google Play, Gmail and YouTube.
The Nokia X's success is a dangerous precedent because other big name phone makers will also see the benefit of making Google-free Android phones. The $120 price tag of the first Nokia X dual-sim phone compels me to believe that it can surpass the 11 million unit sale of the Lumia 520 Windows Phone in 2013.
Imagine the horror of millions of Nokia Android phones proliferating across the continents. Google gods will not to be happy that those Android phones are advertising eyeballs for its mortal enemy, Microsoft. Should Microsoft continue producing Nokia X models, ZTE, Lenovo, Huawei, Samsung, Asus, and Amazon will also be emboldened to produce Google-free Android handsets. The Nokia brand is very strong in developing countries in Asia, Latin America, and Africa.
Google has no choice but to come up with a decent quality $100 Nexus to help slow down Microsoft's smartphone train. Windows Phone is already considered to be the fastest growing mobile OS by IDC. The $100 Lumia 521 Windows Phone is helping Microsoft breach 50 million unit sales this year. The Microsoft-laden Nokia X is another clear threat to Google's mobile advertising for Android phones.
The estimated 950.5 million Android phones that will be sold this year, will include many white box phones from China that don't have embedded Google apps & services. If Microsoft delivers a 30 million or higher sales number for the Nokia X platform for the next two years, Google's mobile advertising in emerging markets will be greatly affected.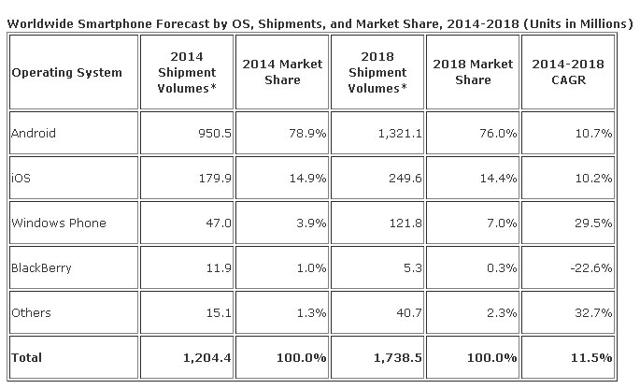 Source: IDC
Asia is a future growth-driver for Facebook's relentless drive to steal mobile ad money from Google. Asia and other emerging markets are therefore important to Google's ad business. A future $100 Nexus can slow down the $120 Nokia X and $100 Lumia 521. In 2012, eMarketer already predicted Asia as one of the important markets for mobile advertising.
Google will lose a lot of ad money if it allows Microsoft and its allies to produce Microsoft-embedded Android phones. A $100 Nexus phone is attractive to low-income customers like those found in Asia and other emerging markets.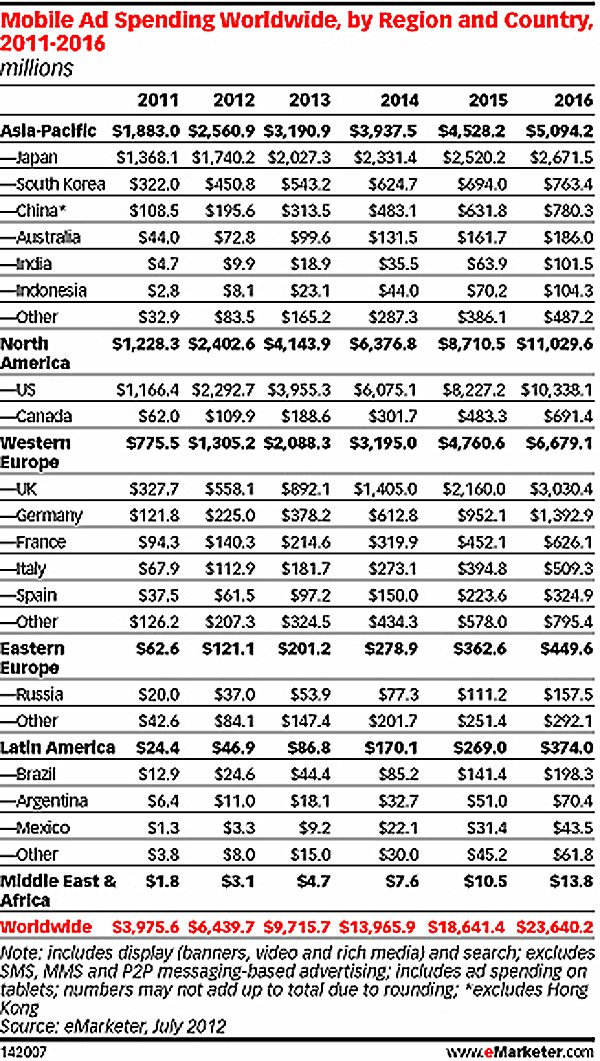 Conclusion
Microsoft should now be more inspired to hasten up its purchase of Nokia's D&S division. Its mortal nemesis, Google is feeling the heat from the threat of low-cost Lumia phones and non-Google Android phones. Microsoft's Executive Vice-President for operating systems, Terry Myerson said MSFT is enthusiastic about the Nokia X AOSP platform.
The Nokia X made enough noise to worry Googleplex. I'm using this rumor of a $100 Nexus phone as a hint that the $7.2 billion will soon drop on NOK investors' laps. There's only 10 days left until April runs out. Microsoft and Nokia have not hinted a new clue whether the D&S deal will really be completed this month. Looking at the SMA20 number at the chart below, NOK bulls are also skeptical of the whole deal-will-be-completed-this-April scenario.

Source: Finviz.com
I'm not buying any more NOK. Dwdallam is probably right - NOK is not getting to $8.50 this month.
Disclosure: I am long NOK, GOOG. I wrote this article myself, and it expresses my own opinions. I am not receiving compensation for it (other than from Seeking Alpha). I have no business relationship with any company whose stock is mentioned in this article.