Facebook (NASDAQ:FB) will report 1Q14 results on April 23rd after market close. The Street expects $0.24 in EPS (+100% y/y) on $2.3b in revenue (+61% y/y) and 74.5% gross margin (+225bps y/y). EBITDA is expected to be up by 66%, with EBITDA margin expansion of 164bps. User engagement will continue to be a focus this quarter. Future mobile virtual network operator (MVNO) opportunity is a positive catalyst for the stock but a negative to the traditional carriers.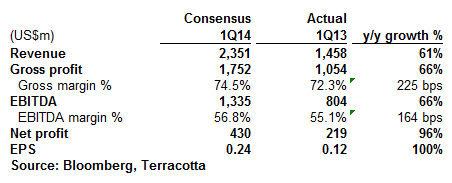 User engagement remain a key focus
After a strong 4Q13 in which FB reported strong mobile & desktop revenue growth, across the board increase in user engagement, increased ad pricing and margin improvement, investors will once again look for the company to execute over user engagement. The logic is simple: as long as FB can maintain or increase engagement, then monetization via mobile & desktop ads, and pricing power will follow.
Last quarter we saw an overall 62% user engagement level, on the heels of 61% in 3Q13 and 59% in 4Q12. Engagement in all geographical regions showed positive growth, with North America exhibiting the highest engagement at 73%, followed by Europe at 69% and Asia at 54%.
While overall engagement was strong, management refrained from giving any updates on teen engagement level, which suggests that teen engagement was weaker than the corporate average. In my view, teen engagement level is an important metric in that they are considered the next leg of drivers for user engagement. If teen engagement remains consistently soft, we can see a drop in overall engagement level, a negative to the stock price.
Where would the teens spend their time if they are not on FB? My guess is on messaging apps or social networking apps, such as WhatsApp and Instagram, both of which FB recently acquired. However, on both platforms, advertising is kept at minimal (in the case with WhatsApp, ads are nonexistent), and FB needs to introduce new monetization functions to offset the lack of ad monetization (ie. Ecommerce, app distribution mobile games). However, such initiatives will take time to perfect and investors' patience may run thin. But for now, investors are only focusing on the overall engagement level, which should support the stock price in the near-term as long as the management can deliver.
Taking on the carriers by creating an innovator's dilemma
Investors should also see whether there is any read-through on FB's plan of becoming an MVNO in the US. According to TechCrunch (Link), WhatsApp has become a MVNO in Germany by selling 10 Euro prepaid SIM card that have free WhatsApp data. The low pricing and wider adoption of WhatsApp could put ARPU pressure on competing carriers in Germany, such as Deutsche Telekom.
While I applaud Mark Zuckerberg's internet.org initiative of bringing internet to the masses, it is important for investors to understand that FB isn't doing this out of sheer philanthropy but with the goal of driving traffic and engagement to FB's products and services. By becoming an MVNO via partnership with subscale carriers in both the US and Canada, FB can leverage its existing user base of FB mobile, WhatsApp and Instagram to take on the carriers by offering low-cost wireless services. This will no doubt be a negative to the incumbent carriers such as AT&T (NYSE:T) and Rogers (NYSE:RCI). Google (NASDAQ:GOOG) is currently in talks with Verizon (NYSE:VZ) or T-Mobile (NASDAQ:TMUS) on becoming an MVNO. FB could also be in the process of making similar negotiations since it is unlikely to lose the race against Google. Any read-through on future MVNO development could be a positive catalyst for FB while a negative catalyst for traditional carriers, in my view.
Valuation before earnings is priced to perfection, as both P/S and P/B ratios are above one standard deviation of the historical range, while PEG ratio is in-line with historical. When compared with the social network comps, FB's forward 47x FY14E earnings is in-line with its peer group.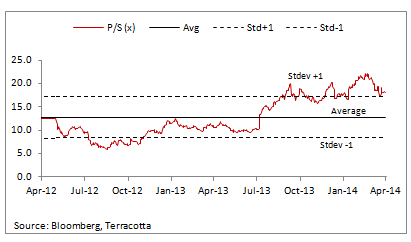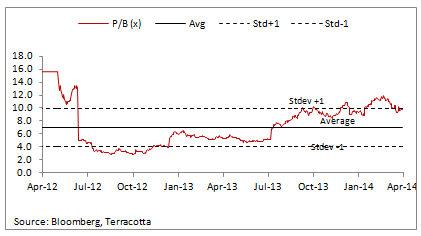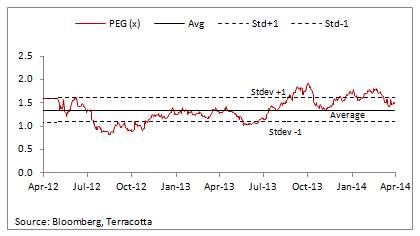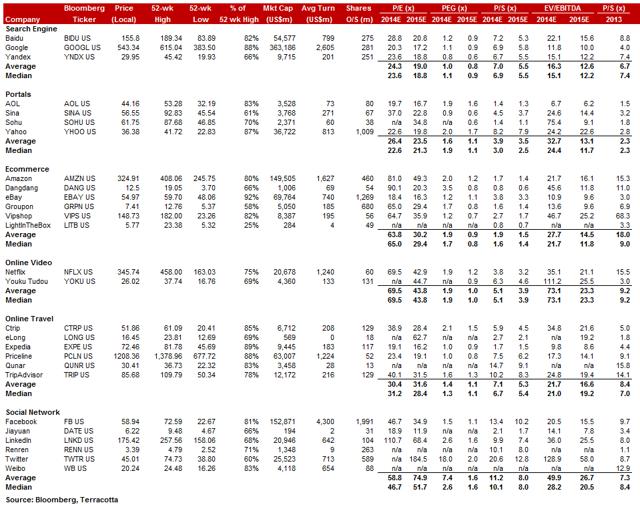 Disclosure: I have no positions in any stocks mentioned, and no plans to initiate any positions within the next 72 hours. I wrote this article myself, and it expresses my own opinions. I am not receiving compensation for it (other than from Seeking Alpha). I have no business relationship with any company whose stock is mentioned in this article.