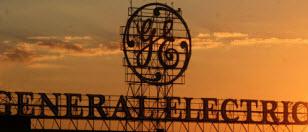 I postulate a major paradigm shift is about to take place for General Electric (NYSE:GE). The stock may be on the verge of a major rally from current levels if the company can execute the plan. The changes will improve the company's focus on core competencies, strengthen management and vastly improve the balance sheet. I do not feel the potential positive effects are currently priced in to the stock. In the following sections I will analyze the plan and lay out my bull case for the stock.
General Electric is on the verge of a major paradigm shift
Spin Off of Consumer Finance Division
GE's turnaround story may be poised to shift into high gear in the near future. GE plans to divest $4 billion of the expansive conglomerate by spinning off the consumer finance business in an initial public offering later this year. The new company will be called Synchrony Financial (NYSE:SYF). I posit this is a great move freeing up capital for redeployment.
Continued focus on profitability
The company plans to shed all operations that aren't meeting a minimum profit margin target of 10%. This will allow GE to focus on the company's strengths such as GE's industrial business. Profits rose 12% year-over-year for the division. Jet engine and oil and gas businesses delivered strong results. Nevertheless, profits in energy management business plunged 67%.
Changes at the top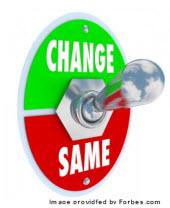 GE scrapping the 20 year tenure plan for Immelt was huge news. On top of that, GE announced a series of major changes to the company's management structure. Dan Janki was appointed to lead GE's Treasury operations, Mark Begor, who currently leads GE Capital's Real Estate business, will succeed Janki as president & CEO of GE Energy Management. Alec Burger, currently the North America leader for GE Capital Real Estate, will succeed Mark Begor as president & CEO of GE Capital Real Estate. The CEO appointments are effective immediately and the formal Treasury transition will be effective by the end of April.
These shifts will provide major catalysts for growth
My take away is this is great news. This is an major shake up to the core leadership of the company. I posit this has sent a powerful message to all of GE's management. A fire has been lit under the entire chain of command at GE, which is good news for investors. These changes will free up a ton of capital potentially shifting the company into a much higher gear.
US and Global recovery is not priced in
GE currently trades for a 21% discount 21 to the industry. I suggest this leaves the stock with plenty of room to run.

(Table provided by Scottrade.com)
The global and US recoveries may be spurred higher by numerous emerging economic catalysts.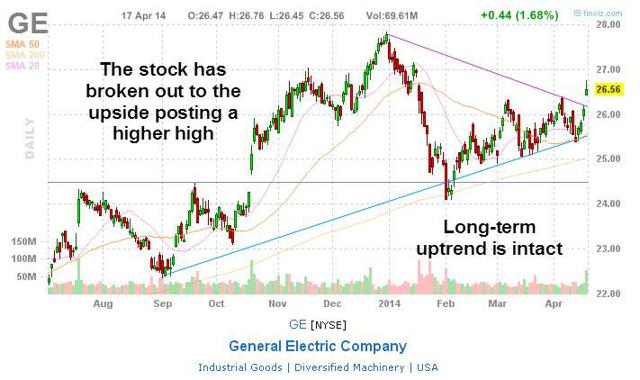 (Chart provided by Finviz.com)
The wealth effect has come in to play for consumers as price increases of homes and a booming stock market have improved their balance sheets significantly. Further, the booming shale oil, technology and banking sectors should provide a strong foundation for the next leg higher. The potential upside of these catalysts may not be priced in to the stock. In fact, S&P Capital IQ recently underpinned my thesis by reiterating its Buy rating on the stock and raises its target price by $2 to $32.
Down Side Risks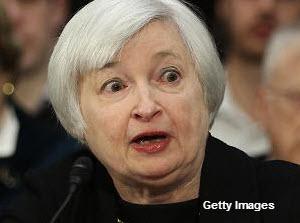 GE is counting on growth coming from emerging markets. In the last few months, two major developments have taken place that may seriously threaten the stability of these markets. Axel Merk, chief investment officer of Merk Investments, told CNBC that Fed members have been acting confused, and a lack of clarity in policy direction would continue to hurt the more vulnerable emerging markets this year.
"Fed policy is going to be volatile and the key implication from that is that it's poison for emerging markets, because the volatility is bad for markets with little liquidity."
Emerging markets, which have been one of the biggest beneficiaries of quantitative easing, were hit particularly hard last year, when talk of "tapering" first started to panic investors. Countries with higher current account deficits saw vicious sell-offs as a result.
The elephant in the room is the Russian factor. General Electric's Capital Aviation Services unit is the world's largest aircraft leasing company. The unit has 54 airplanes in Russia. If the conflict between President Vladimir Putin and the West escalates, this could be very bad news for GE.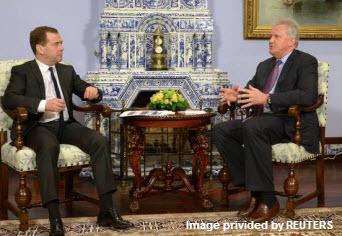 The current geopolitical turmoil presents multinational corporations with two new major risks. Sanctions could inadvertently punish U.S. interests, and the Russians could push back against American companies as well. At the very least, there has been a significant amount of uncertainty and risk in the air currently.
Conclusion
GE's changed at the top will invigorate the company from top to bottom. An uptick in the U.S. and global economies may boost revenues as well. The company is focused on shuttering unprofitable segments and redirecting that capital to profitable segments. I posit this will have a synergistic effect on margins propelling profits higher exponentially.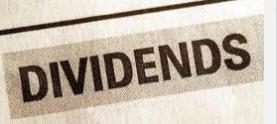 Furthermore, GE has a solid long-term growth story and pays a hefty dividend of 3.3%. These facts coupled with the Fed's announcement that rates will remain at ultra-low levels for at least the foreseeable future leads me to believe the company is a better hedge against inflation than fixed income instruments such as bonds and CDs. Factor this in with the statistic that historically dividend-paying stocks have outperformed non-dividend-paying stocks and you have a recipe for outstanding returns. Nevertheless, if you choose to start a position in any stock, I suggest layering in a quarter at a time at a minimum to reduce risk.
Disclosure: I have no positions in any stocks mentioned, but may initiate a long position in GE over the next 72 hours. I wrote this article myself, and it expresses my own opinions. I am not receiving compensation for it (other than from Seeking Alpha). I have no business relationship with any company whose stock is mentioned in this article.