MBIA (NYSE:MBI) had rallied recently on the back of its last quarterly report, but since then has given back all the gains. As a reminder, analysts were caught off guard again, and while the street was expecting $0.06 EPS, the company reported $0.68 EPS. Now that's a very big surprise in any book. But guess what, this is not the first time the company surprised the street. In Q1 the street was expecting $0.15 in EPS and the company reported $0.84 EPS and in Q3 analysts estimated a loss of $0.03 per share, but the company gave the street $0.67 EPS.
The lesson to be learned here is that it's very hard to be able to model this company. Just one look at the annual report and you'll understand what I mean.
One reason this stock should be on your radar screen is because this company is basically back from the dead, and there is a chance that we might see a sort of "Total Recall".
One of the reasons is the most recent upgrade from Standard & Poor's Ratings Services (S&P). S&P upgraded the financial strength rating of National Public Finance Guarantee Corp. to AA- from "A" (MBIA's primary financial guarantee insurance subsidiary) and upgraded MBIA itself to A- from BBB.
Before 2008 about 50% of all new debt issued was insured. But when companies who insured debt (municipal or otherwise) lost their ratings by the end of 2008 (and also lost their ability to offer insurance), the market for insured debt collapsed. In fact according to a Reuters report, the amount of insured U.S. municipal bonds fell last year to the lowest level since the financial crisis, $12.08 billion. This is the lowest figure in a decade.
Also please note that while MBIA did not write any insurance at all in 2013, it remains the second largest municipal insurer after Assured Guaranty (NYSE:AGO). In fact in 2013, only Assured and Build America Mutual (BAM) actually did any business in 2013 (Berkshire Hathaway Assurance only wrote one new contract accounting for less than 1% of the market).
Armed with a rating that now permits the company to enter the market again, I think that MBIA will enter the market soon. S&P also thinks the same and had this to say in its recent upgrade:
Overview

• We believe National Public Finance Guarantee Corp. (National) will be successful as it reenters the U.S. municipal financial guarantee market, and we view it as the principal source of funds for debt-servicing and holding company expenses for parent MBIA Inc.

• As a result, we are raising our rating on National to 'AA-' from 'A'. At the same time, we are raising our rating on MBIA to 'A-' from 'BBB'.

• The stable outlook on National reflects our expectation that National will gain market acceptance and become a competitive financial guarantor; the stable outlook on MBIA Inc. reflects our view that it has adequate
Another reason why I am bullish on the stock is because it is not a "broken stock". By that I mean stockholders have not been diluted to death because of the company's near death experience after 2008. I have a rule of thumb. A stock can fall from very high levels, but if stockholders are not diluted to death, then once the company gets back on its feet, it has a chance to reach its previous highs.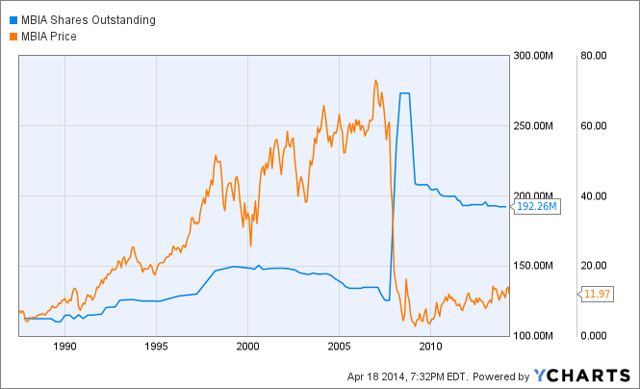 MBI Shares Outstanding data by YCharts
Remember this stock had a $60-$70 price tag even with 150 million shares outstanding. Given the near death experience this company has gone through, 40 million additional shares since 2000 is not a big price to pay.
Recently the stock rallied to $15 and has since corrected by about 20%. Overall, I think MBI is a very good turnaround candidate in the financial services space, if of course the municipal debt guarantee market comes back and if it begins to underwrite business once again ... something that I think is not very far off.
Disclosure: I have no positions in any stocks mentioned, and no plans to initiate any positions within the next 72 hours. I wrote this article myself, and it expresses my own opinions. I am not receiving compensation for it (other than from Seeking Alpha). I have no business relationship with any company whose stock is mentioned in this article.