Stock Analysis
Varonis (NASDAQ:VRNS), a big data analysis and mapping software developer, raised $121M in a very successful IPO in February. Varonis' stock surged on the first day of trade from the IPO price of $22 to its closing price of $44, reflecting a roughly one billion dollar market cap for the company. One month later, in March, five research firms initiated coverage on Varonis with an average price target of $46 (as shown in table 1 below) while the stock price was $44 that day at the close, reflecting a 6% upside for the company. Not the return you expect from a small cap software growth company.

Click to enlarge
Since its IPO, Varonis stock has been unstable. Shortly after the IPO, Varonis' stock price climbed to a 52-week high of $53, completing a 140% increase from its IPO price. It declined from that point to around $27, losing half of its value. Holding Varonis stock from February 28 (IPO day) till April 16 (the day this article was written) would have yielded a negative return of -38%, while holding QQQ or SPY over the same period would have yielded -4.4% for QQQ and 0% for SPY, as shown in graph 1 below. These rapid and sharp fluctuations in the stock price reflect the risk inherent in a company such as Varonis.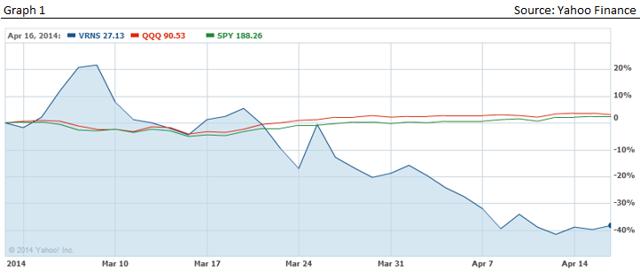 Click to enlarge
However, looking again at the analyst ratings in table 1 shows a different story when comparing the price target to the current price of $27 instead of the price at announcement of $44 (In the first column from the right). The price target reflects much higher returns compared to the current price as opposed to the price at announcement. Assuming the valuation did not change (and at least in Barclays' case, the valuation is the same one month later), the analyst price target did not reflect small 6% return (compared to a $44 price at the announcement) but a higher return (based on the current stock price) that fits the company profile.
Business Analysis
In my previous article, "Is there an Israeli IPO bubble evolving in NASDAQ?," I raised a concern that Varonis might be overvalued and could be an example of an IPO bubble in NASDAQ. Even though Varonis' revenues are constantly increasing and its gross margin is steady (a flat 91%), its operating and net losses worsened between 2012 and 2013. As shown in graph 2 below, the gap between the increased revenues and the worsening bottom line presents an efficiency problem in the company and heavy investments in product development (R&D) and customer engagement (SG&A) that are not translating into revenues in the short term.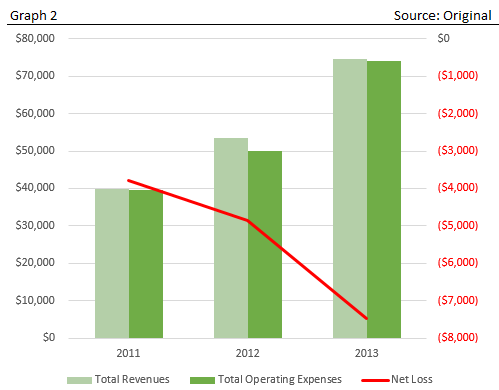 An article published recently presented one of the growth areas in which Varonis is investing these days (reflected in its R&D spending). The Enterprise Strategy Group interviewed 334 North American IT professionals using or planning to use online file sharing solutions. Sixty-nine percent of these IT professionals said they are extremely interested in online secured file sharing for the organization, to replace the public cloud-based file-sharing services currently in use by employees. The main reason for this result is that it is in the interests of the IT department to secure their unstructured information and prevent third-party access to sensitive corporate data. Varonis' DatAnywhere solution is supposed to address this need in the market. David Gibson, the Varonis Vice President of Marketing, is quoted in the article: "This research reinforces what we have been hearing from customers around the world since we released Varonis DatAnywhere in late 2012. IT leaders are uncomfortable with the widespread adoption of public cloud-based file-sharing tools because their responsibility is to ensure that the company does not lose control of critical or sensitive files. DatAnywhere represents the next generation of file sharing, layering BYOD capabilities on top of standard platforms, including file sync, mobile device access and third party sharing. DatAnywhere harnesses the enterprise-level security capabilities inherent in the existing infrastructure, while also providing users with the ease of use typically associated with the cloud."
According to the company IPO prospectus, Varonis has a marginal number of customers interested in its DatAnywhere solutions, as shown in table 2 below. The DatAnywhere product line is considered a growth area for the company and increasing revenues in that segment will have a positive impact on the company as it penetrates new market segments and expands revenue generation from new businesses.

Click to enlarge
Conclusions
After the plunge in Varonis stock, the price target from four research firms reflects the 70% return on a one-year investment in Varonis. Although the company is able to generate revenues, the operating expenses (for R&D and SG&A) have offset the revenues and led Varonis to a negative operating margin and net loss. In the long run these investments should pay off when Varonis will get to a steady state, decrease investments, and show profits. Long-term investors who are looking for an entry point should take advantage of the current low stock price.
On May 5 Varonis will host its first quarter earnings call and its first ever earnings call after going public. It will be interesting to see whether Varonis is on track with an improvement in profitability and increased revenues from growth areas (Data Transport Engine and DatAnywhere) and to see the progress in the customer engagement investments.
Disclosure: I have no positions in any stocks mentioned, and no plans to initiate any positions within the next 72 hours. I wrote this article myself, and it expresses my own opinions. I am not receiving compensation for it (other than from Seeking Alpha). I have no business relationship with any company whose stock is mentioned in this article.