Broadcom (BRCM) has performed well over the last few years and its top-line growth has seen pretty good growth numbers over five years. However, Broadcom's bottom line has experienced challenges over the same period. In 2013, the growth of both the top and bottom lines slowed down. For fiscal year 2013, Broadcom generated $8.31 billion in revenues reflecting an increase of 3.7% compared to $8.01 billion revenues in 2012. The revenue growth slowed down to its current level from 51.8% in 2010, to 8.4% in 2011 and 2012. In 2013, the earnings growth was the result of healthy profit margin improvement and the reduction of inventory valuation step-up costs.
The net income of $424 million was slashed by 41% from the previous year's net income of $719 million. The resulting decrease in profitability was primarily the result of charges for the impairment of purchased intangibles assets of $511 million and an increase in research and development expenses associated with the acquisition of LTE-related assets from affiliates of Renesas Electronics Corporation.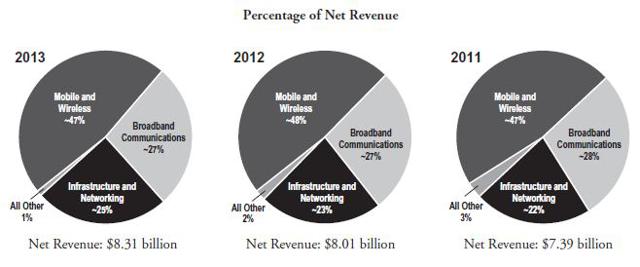 Source: Annual Report
Broadband and Communications
The broadband and communications group generated $2,220 million revenues and an operating income of $538 million. The sales of set-top box (STB) products improved in 2013 with the growth driven by expansion in the developing regions. The increase in operating income resulted from the deployment of optimized solutions and increased customer base primarily with the STB's. Broadcom also made progress in regional expansion efforts. Now Broadcom is shipping to six of the seven satellite operators in India and has expanded its footprint in South Africa with engagements with MultiChoice and in Latin America with operators including NET in Brazil. Looking forward, there are multiple growth drivers including the ramp up of new features, regional expansion, and growth in new markets.
Mobile and Wireless
In 2013, mobile and wireless revenues of $3,919 million improved from 2012's results; however, the operating income declined from 2011 to 2013 primarily due to a significant increase in the research and development expenses in cellular baseband technologies including LTE. This increased income from wireless connectivity products and technology incorporated into handheld devices was largely offset by the decline. Despite the decline Broadcom is now making progress in this segment through LTE roadmap and delivered growth in 3G system-on-chip (SoC) sales. The 4G LTE market will be key to the growth of Broadcom's cellular SoC business. The company is improving penetration in 5G-Wi-Fi across many devices. These recent initiatives must do the job to accelerate growth for the mobile and wireless business.
Infrastructure and Networking
The infrastructure and networking group delivered 12% top-line growth driven by expansions in networking space. The strong portfolio that includes Ethernet switches, physical layer products for optical and copper media, multi-core embedded processors, knowledge-based processors, Ethernet controllers, microwave backhaul solutions and other networking products contributed towards earnings growth. Broadcom continues to benefit from global deployments of LTE infrastructure and the resulting upgrades to the core network as mobile traffic continues to grow strongly.
Decent Dividend Growth Backed by Strong Cash Flow Position
Broadcom's financial position is quite strong due to the 27% increase in 2013. The company had $4.37 billion in cash and cash equivalents, and marketable securities compared to $3.72 billion in 2012. The company also generated $1.79 billion in operating cash flows. Broadcom does not have a long history of dividend payment and its dividend yield may not be impressive. However, from the start of the first dividend payment in 2010, Broadcom has increased its dividend with steady growth. Recently, Broadcom increased the annual dividend to $0.44 per share with a dividend yield of 1.48% from $0.4 per share with a dividend yield of 1.2%. Another positive aspect is the consistent increase in the dividend payout ratio that now stands at around 60% from 16% in 2010.
If Broadcom maintains its current payout ratio, then based on the consensus estimated earnings per share, the forecasted dividend per share would be around $0.99 per share in 2014, $1.21 per share in 2015 and $1.33 per share in 2016.
Recent Developments to Accelerate Growth in 2014
The global cloud computing market is expected to grow at a CAGR of 30% reaching $270 billion in 2020. For efficient cloud computing effective networking is required. The cloud works if the network is scaled to enable applications and data to flow between the cloud's servers and users. Broadcom has introduced a cloud scale network to help network operators evaluate the tradeoffs required when building the optimal cloud architecture for their workload needs.
Recently, Broadcom has introduced BCM43462, a 5G Wi-Fi 802.11ac system-on-chip to deliver pinpoint indoor positioning technology. This latest 5G Wi-Fi innovation with integrated AccLocate technology delivers highly accurate sub-meter pinpoint technology and rivals the capabilities of outdoor location based technology. Increased reliance on wireless networks, the explosion of video consumption, and growing number of wireless devices are all putting tremendous stress on legacy 802.11a/b/g/n networks. Therefore this new innovation will drive good earnings for Broadcom.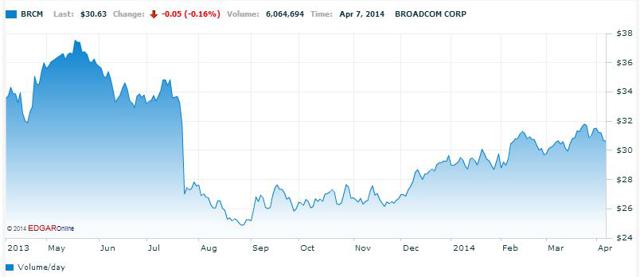 Source: NASDAQ
A year ago Broadcom was trading at $33.56 per share but the price dropped to $24.92 per share or 25.7% during August 2013. However, now the price is recovering as the stock is trading at $30.63 per share. The price is likely to increase during 2014 based on positive prospects for the fiscal year. Analysts' average target price for Broadcom is $32.62 per share and this gives rise to a potential upside of around 6.5%. At this price, Broadcom is an attractive option to consider.
Disclosure: I have no positions in any stocks mentioned, and no plans to initiate any positions within the next 72 hours.
Business relationship disclosure: The article has been written by a Gemstone Equity Research research analyst. Gemstone Equity Research is not receiving compensation for it (other than from Seeking Alpha). Gemstone Equity Research has no business relationship with any company whose stock is mentioned in this article.