Colombia saw its economy grow gradually last year, expanding 4.3 per cent in 2013. However, the 4th largest economy of Latin America will grow significantly over the next five years. This is due of interventions by both public and private institutions, with the sole purpose of promoting the development of the commercial sphere and reducing social exclusion. In other words, the growth of the Colombian economy will be catalyzed primarily by the construction and infrastructure sector.
Nevertheless, it should be noted that the Colombian peso might be affected by the following factors:
Continued reduction of purchases of assets by the U.S. Federal Reserve Bank and possible interest rate increase in 2015.
Moderate economic growth in the European Union and Euro zone; as well as the possible Quantitative Easing the European Central Bank (ECB) would carry out to combat economic stagnation.
A reduction in foreign direct investment (FDI), and challenges that may arise in the new program of fourth generation of road concessions (4G).
Colombia is one of the countries with greatest growth potential in the long run, not just in the Latin American region, but globally. In the past decade, per capita GDP has doubled, and there has been a robust increase in both public and private investment. This is due to an exorbitant increase in internal security and the broad economic diversification that enriches the country. Colombia, member of the Pacific Alliance (AP), is a major exporter of petroleum, gold, coffee, flowers, charcoal, among others.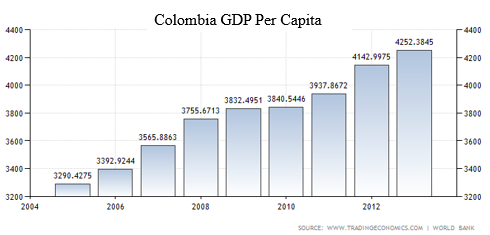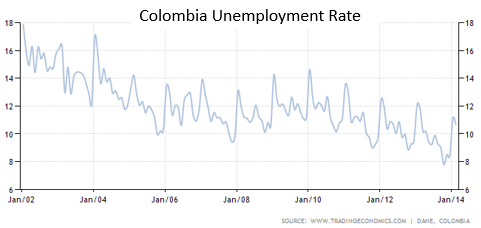 International institutions have noticed the great potential that Colombia has. The insurance company Coface has included Colombia into its list of "neo-emergent" countries, called the PPICS (Peru, Philippines, Indonesia, Colombia and Sri Lanka). On the other hand, The Economist Intelligence Unit, has listed their acronym for a very promising group, the CIVETS (Colombia, Indonesia, Viet Nam, Egypt, Turkey and South Africa).
Infrastructure 'Boom' Will Bolster Economy
BMI View: We remain optimistic towards the construction industry in Colombia in the short to medium term. As such, we forecast solid 8.4% real growth in 2014, when we expect the awarding of large infrastructure projects to take place. This positive outlook is supported by an improving business environment and a strong pipeline of projects, particularly in the transport sector - which continues to represent the highest proportion of infrastructure projects - and the energy and utilities infrastructure segment. Strong growth in 2014 is a continuation of a trend that emerged in 2013, when the industry experienced double-digit growth estimated at 10.5%. Source: businessmonitor.com
For an economy to encourage productivity and sustained economic development, infrastructure investment is inevitable. Over the past decade, Colombia has shown a delay (< 1% of GDP) in the investment of its infrastructure in comparison to other emerging economies. However, it is necessary to highlight the current environment of the Colombian infrastructure sector. The National Agency of Infrastructure (ANI) has raised a series of projects valued at approximately US$47 billion in a period of five years. Among them is the 4G program of road concessions, which consists of a total of forty projects and over 8,000km of road. As a result, the ANI expects it to contribute around 0.5 percentage points of GDP growth over the next five years. Moreover, the Superior Council on Fiscal Policy (Confis) approved a total of ten road concessions valued at US$12.7 billion, belonging to the Highways for Prosperity Program. Colombia's infrastructure sector is expected to account over 3 per cent of GDP in the coming years.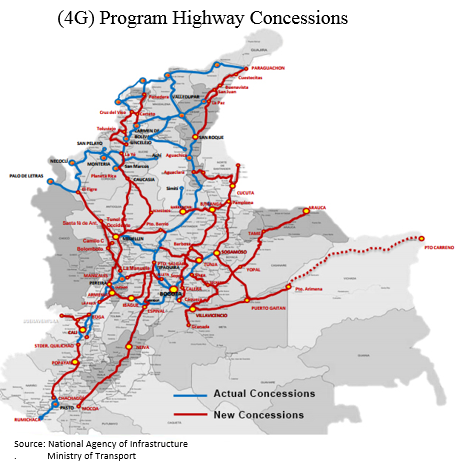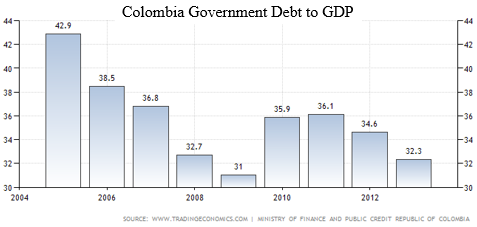 Construction Sector Will Grow In 2014
It is clear that over the past year, Colombia stood out in the construction sector, growing around 15.4 per cent in construction of residential buildings. Real estate, which will provide a continuous support to the development of the sector in 2014, is the product of the present boom in Social Interest Housing (VIS). The VIS is aimed at medium and medium-low income households.
Additionally, the existing construction framework shows support for growth of other sectors; especially mining, which has seen a growing demand for cement and oil. However, one of the challenges that may arise could be an increase in housing prices. To counter this event, there must be an improvement in household balance sheets.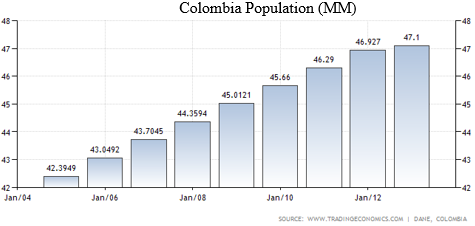 Financial Inclusion Still A Challenge
Colombia lacks of an inclusive financial system nationwide. According to the World Bank's Global Inclusion Financial Index (Global Findex), only 30 per cent of the Colombian population own some kind of bank account. To encourage sustained growth, banks should promote their services in rural areas and with low population density. In addition, financial institutions and regulators should create new channels of access to expand the coverage of banking services. This would provide countless benefits such as: reduction of transactional costs, less use of cash, reduction of corruption and illegal activities, increase domestic demand, encouragement to initiate savings and investment accounts, etc. The deepening of the technology channel (Internet Banking) should be first on the promotion list mainly because of its accessibility.
Moreover, it is necessary to highlight the law of financial inclusion, which is under discussion in the Third Committee of the Senate. The new law was described by the news agency, Colprensa, as follows:
"The initiative seeks the creation of entities specializing in payments, savings and deposits, which, according to the Finance Minister, Mauricio Cardenas, will be empowered to take deposits, and will not lend or invest public resources; but that these must be deposited in the Bank of the Republic."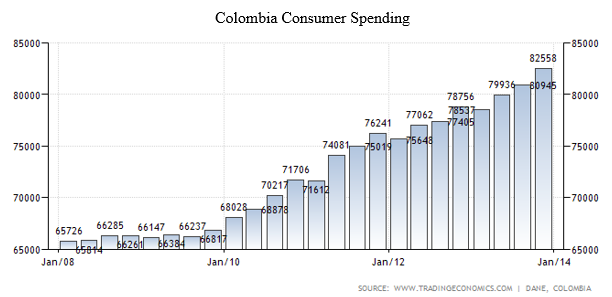 Investment Outlook
Colombia has incredible growth potential during the next five years. Unemployment has decreased substantially over the past decade, standing around 9.6 per cent in 2013 of a 47 million population. Inflation remains stable, ending the month of April at 2.51 per cent; between the central bank's target (2% - 4%). Similarly, the government has chosen measures to diminish internal violence and drug trafficking, shaping a safer country for foreign investors. A simple way to get direct exposure to this Andean market is through the ETFs ICOL, GXG and COLX. Both rating agencies, Moody's and Standard & Poor's have placed a medium grade in the nation's sovereign credit: BBB and BAA3, respectively.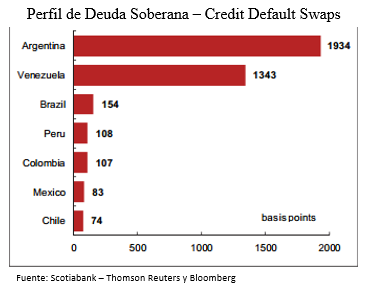 Read same article in Spanish here.
Disclosure: I have no positions in any stocks mentioned, and no plans to initiate any positions within the next 72 hours. I wrote this article myself, and it expresses my own opinions. I am not receiving compensation for it. I have no business relationship with any company whose stock is mentioned in this article.