Precious metals started the week strong on heightened tensions in Ukraine, but the combination of misleading reports on China gold demand from the mainstream financial media and renewed interest in U.S. stocks by Western investors were enough to send prices sharply lower. Early in the week, the gold price rose to a one-month high at $1,330 an ounce and silver held the $20 mark, but both metals ended substantially lower.
The trade-weighted dollar rose and the Labor Department's March inflation report showed only a modest rise in consumer prices when some analysts were expecting more, these factors also weighing on gold and silver prices. Big investment banks remain bearish on this sector and U.S. investors now seem to agree as gold ETF inflows earlier in the year have changed to outflows, a development that could signal even lower metal prices ahead.
For the week, the gold price dropped 1.8 percent, from $1,318.40 an ounce to $1,294.60, and silver fell 1.6 percent, from $19.96 an ounce to $19.65. The gold price is now up 7.4 percent for the year, some 33 percent below its record high of over $1,920 an ounce in late 2011, and silver is 1.1 percent higher so far in 2014, still 60 percent below its all-time high near $50 an ounce three years ago.
Many factors combined to thwart what was a promising rebound in the gold price last Monday as the Ukraine crisis had entered a more dangerous phase over the weekend, prompting a renewed safe haven bid. Better-than-expected U.S. economic reports had investors piling back into stocks after big share price declines the week prior, and this likely drew some support away from precious metals. Also, the U.S. dollar strengthened steadily in recent days and, since precious metals and the trade-weighted dollar are inversely correlated, this too pressured gold and silver.
But, it appears the key factor behind the recent dismal performance of precious metals was the Tuesday sell-off that was prompted, at least in part, by the very misleading take that the mainstream financial media provided on a World Gold Council (WGC) report about China gold demand.
As shown below from this Mining.com story, gold futures traders sold first and asked questions later when markets opened on Tuesday.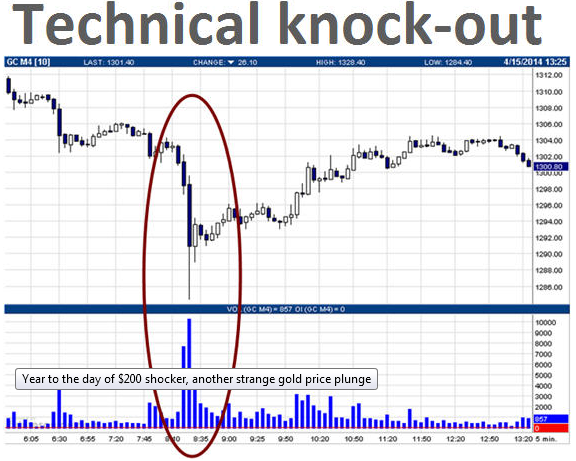 Interestingly, this sell-off occurred exactly one year after last year's $200 plunge, also on April 15th. As was the case a year ago, the Tuesday sell-off came after Goldman Sachs had reiterated their bear market call the day prior.
But, this year, reports from such respected news outlets as the Wall Street Journal, Financial Times, and Reuters all painted China's gold demand in a very negative light and this was key.
Goldman's now once-a-week repetition of their view that precious metals have nowhere to go but down surely played a role in the Tuesday swoon for metal prices, but the three China gold demand stories were probably bigger factors.
All three stories referenced a new report by the World Gold Council on record gold demand in China last year and what to expect in the future.
Since the Wall Street Journal story came out in advance of the WGC report, it simply noted that demand is likely to consolidate this year, but that long-term gold buying in China appears solid.
That's what the WGC report said.
Unfortunately for gold investors, both the Financial Times and Reuters chose to seize on some comments at the tail end of the report about gold used as collateral in China's shadow banking system and - surprise! - metal prices tumbled.
It was also unfortunate that both news organizations did this in a manner that was not only misleading, but dishonest.
To be sure, gold demand in China is important. Record gold buying in the Middle Kingdom over the last year or so has provided key support for prices as interest in the West has waned. About that there is little disagreement, however, beyond those basic facts, there are many grey areas, though you certainly wouldn't get that impression by reading what was offered by the Financial Times and Reuters last week.
The story at Reuters was discussed in this commentary here at Seeking Alpha on Wednesday and, while the offering from the Financial Times didn't violate the same journalistic rules that Reuters did (as detailed in the Wednesday commentary), it had the same effect.
As shown below, it implied that a good portion of last year's China gold buying was used as collateral for dodgy loans rather than for consumer demand or central bank buying as previously believed.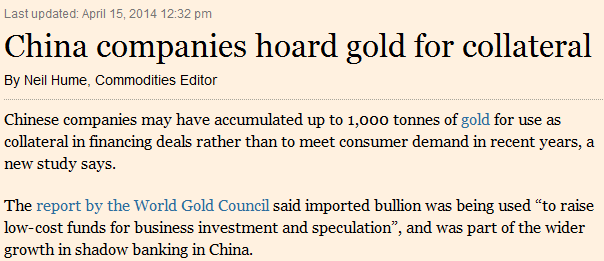 Yes, on page 56 of the WGC's 57 page report they said consultant Precious Metals Insights "believes it is feasible that by the end of 2013 this could have reached a cumulative 1,000t, equal to a nominal value of nearly $40bn."
But, there were many caveats and uncertainties surrounding this subject that both Reuters and the Financial Times left out.
The end result was a sensational headline, a misleading story, and more than enough impetus for traders to sell gold.
Just in case the message wasn't clear, Reuters provided the following confirmation of what the message really was with an assist from an expert at a big investment bank, a group that has been very vocal lately in their dislike of gold as an investment.
"What is rattling gold is talks of how much is being financed with gold in China, which for me is quite bearish because it means that the China's physical demand story is not as strong as it was thought," Societe Generale analyst Robin Bhar said.

A report from the World Gold Council this week said that Chinese firms could have locked up as much as 1,000 tonnes of gold in financing deals, indicating that a big slice of imports has been used to raise funds due to tight credit conditions, rather than to meet consumer demand.
Here's what the WGC report said on page 3 in the section titled Key Conclusions:
The conclusion of this report is that China's gold market development is solid, on-going and for the long term. Even if there are occasional setbacks along the way, the country's massive population, continued rapid economic growth and, critically, its deeply rooted pro-gold culture will ensure that the spotlight will continue to be on China for many years to come.
Readers didn't even get a hint of that from Reuters and you had to look pretty hard to find anything positive from the Financial Times, all of which makes gold investors wonder once again about the sort of treatment precious metals receive from the mainstream financial media.
Of course, many U.S. investors didn't stop and wonder about any of this as they were too busy selling shares of the SPDR Gold Shares ETF (NYSEARCA:GLD) that, on Wednesday, shed 8.39 tonnes in the biggest outflow since late December. This marks the third straight week of outflows for the fund and, after 2014 year-to-date holdings had risen to 23 tonnes last month, all of that increase has reversed and holdings are now 3 tonnes lower.
As has been the case more often than not in recent months, the holdings for the iShares Silver Trust ETF (NYSEARCA:SLV) trust were unchanged last week, but they remain some 270 tonnes higher so far in this year.
All told, it was a pretty miserable week for precious metals due to souring sentiment in the West, heartily encouraged by investment banks and the mainstream financial media, but, with lower prices, buyers in Asia are likely taking notice and they won't just be buying gold to be used as collateral.
Disclosure: I have no positions in any stocks mentioned, and no plans to initiate any positions within the next 72 hours. I wrote this article myself, and it expresses my own opinions. I am not receiving compensation for it (other than from Seeking Alpha). I have no business relationship with any company whose stock is mentioned in this article.
Additional disclosure: I own gold and silver coins and bars along with ETFs other than GLD and SLV.