It shouldn't be surprising that value investors tend to look for beaten down stocks whose prices are falling. They are the mirror image of market timers, who get excited when prices are rising. My philosophy for buying stocks when they are cheap - with a margin of safety - has provided me with a stress-free route to investment success.
It's almost impossible to consistently make money being a market timer, and you're much better off investing for the long term, riding out the bumps. I've been really pleased with some of my recent picks including Chubb Corporation (NYSE:CB), up around 5.5% since I added shares around 60 days ago. (See Robert Abbott's article HERE).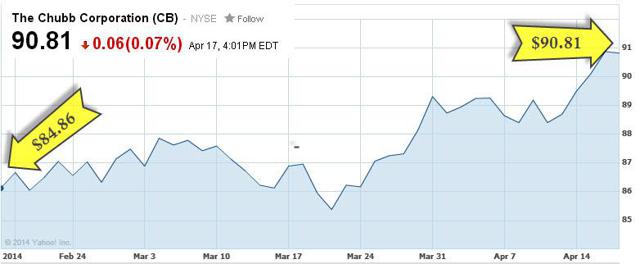 I also added a few shares in Air Lease Corporation (NYSE:AL) in February. Although the dividend yield is modest (.30%), this jet transport company offers a compelling value proposition - leasing and selling jets worldwide. I wish I was a customer but I'm happy being a shareholder these days - my shares are up over 17.5% in just 75 days (still wishing for a higher dividend though).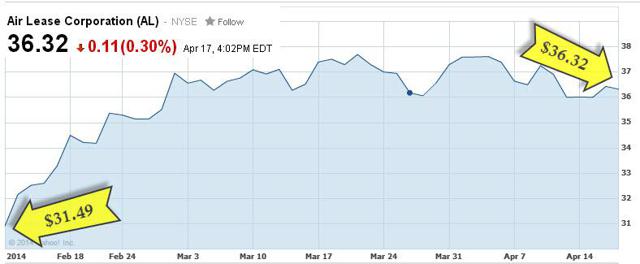 I added a few shares of AT&T (NYSE:T) in January. What really attracted to me this stock was the dividend yield (currently 5.10%). The business model is solid but my goal was to own enough shares in the #2 wireless carrier so that the dividends would pay for my family share plan. With a wife and five kids, I'll need a few more shares before that happens but I'm glad I got started - my shares are up over 7.5% since my first purchase in January.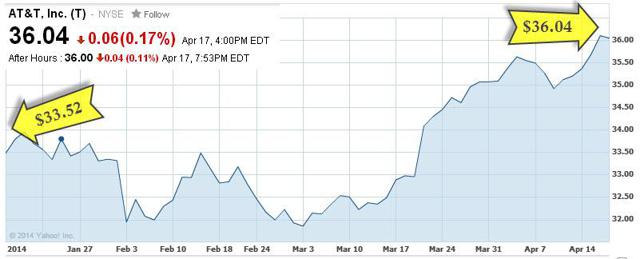 Last year I wrote an article on Omega Healthcare Investors (NYSE:OHI). I have always been bullish on this REIT; however, I wasn't ready to get in on the action. As I explained:
I still like Omega. Nothing has changed, except the price. I do not see an adequate "margin of safety" today and given the explosive growth of the overall Triple Net sector, I see a greater opportunity to capitalize on the wave of consolidation (in that sector). Omega's current dividend (5.69%) is not compelling and, as noted above, I don't believe the risk and return fundamentals merit an entry price at $33.74 a share.
I suggested an entry price:
I will wait patiently knowing that a sunnier and more plentiful time is bound, as a law of nature, to resume in due course. My Omega Target Price is $29.99.
Then in early January, Mr. Market gave me the opportunity. I pounced on the shares at $29.80, just a few nickels below my target price. A few days later, I added a few more shares (at $30.43) as I felt as though compelled to back up the truck. The move was gutsy as I was now significantly invested in this REIT with over 5% of exposure to one stock. Omega is my third largest investment with Realty Income (NYSE:O) #1 and Ventas, Inc. (NYSE:VTR) #2. Since my initial purchase in Omega, shares are up over 14.9%: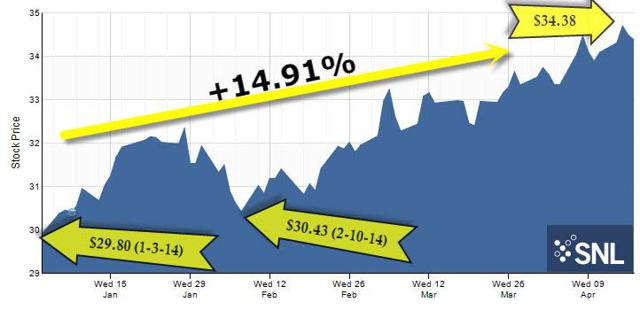 This makes Omega one of my best performing stocks so far this year - with a Total Return of over 16.6%.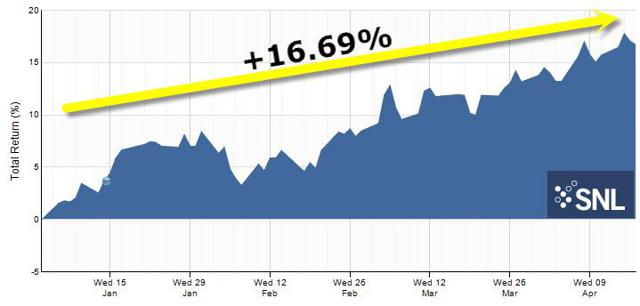 I'm happy that I waited for Omega shares to drop below $30 and I'm even more pleased that I was able to get in with a blended dividend yield of 6.3%.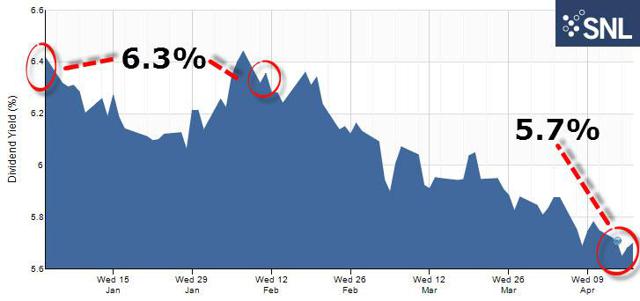 A Closer Look at the Business Model
Omega Healthcare is a "pure play" health care REIT that has evolved from a sleep little nursing home landlord into a well-recognized skilled nursing landlord. Today the supply in the skilled nursing facility sector is steady while the demand for the services provided in SNFs continues to climb. Ultimately the most efficient low cost providers will attract the most capital. This snapshot below illustrates why payors are focused in driving seniors to SNFs.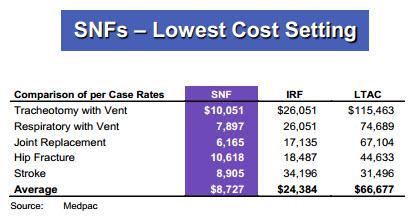 Omega's supply and demand fundamentals are attractive as certified bed and patient occupancy rates remain relatively stable, the number of skilled nursing facilities has trended downward.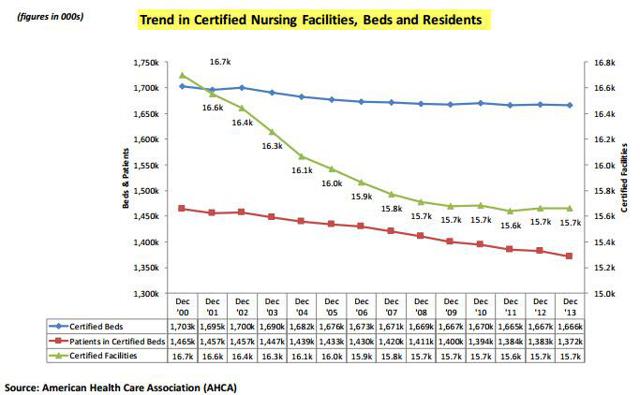 Medicare and Medicaid have been and will continue to be Omega's operators' principal sources of revenue. Over the last ten years within Omega's portfolio, both Medicare and Medicaid per day revenue have increased slightly more than inflation. Based on history, the "risk" is more of a misperception regarding rate setting.
Medicare rates increased 1.3% on October 1, 2013 and rates are expected to increase modestly on average across OHI's states. Meanwhile, OHI's geographic diversification helps minimize the impact of rate changes in any particular state.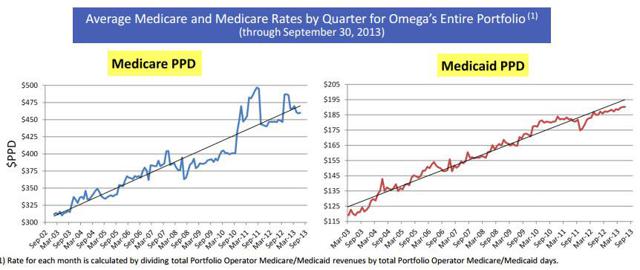 A Closer Look at the Portfolio
As of January 31, 2014 Omega owned 538 facilities located in 37 states and operated by 49 third-party operators. The company's portfolio consists of $3.9 billion of gross investments.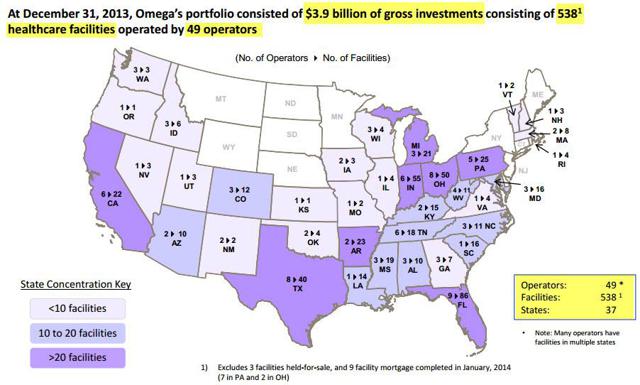 OHI's portfolio is well-balanced geographically with the largest concentration in Florida (24.9%), Ohio (11.2%), Indiana (8.6%), and Texas (5.3%). Omega has 3.5% in my home state of South Carolina.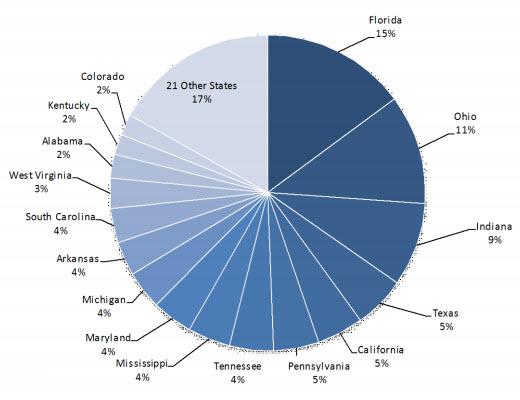 Last year OHI acquired a portfolio of 56 facilities in a sale/leaseback from Ark Holding Company. The $529 million deal made Ark the largest tenant (based on revenue concentration), surpassing Genesis, Inc. Ark Holdings is a new tenant for OHI and the portfolio is concentrated in key southeastern markets. The Ark portfolio reflects OHI's continued focus on high quality regional operators with the infrastructure and management team that allows for additional growth through acquisitions.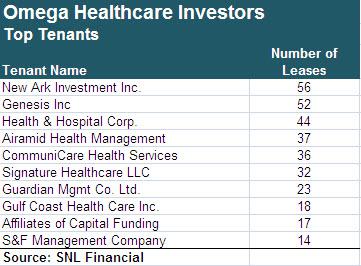 Most of OHI's portfolio (97%) are Skilled Nursing Facilities and the other properties are either Assisted Living (2.1%) or Specialty Hospitals (.9%).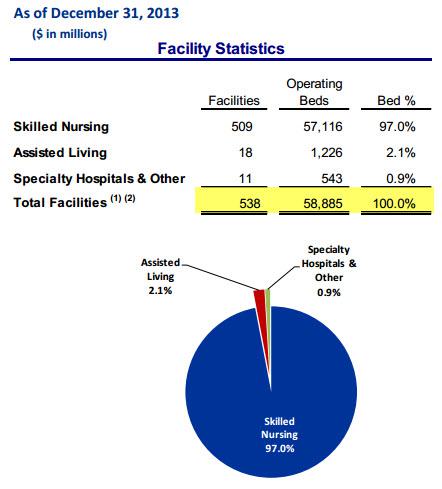 A Closer Look at the Balance Sheet
Since 2004 OHI has acquired over $3.4 billion of health care properties. The company invests primarily in core markets with a focus on senior care. The company uses its credit facility to make acquisitions and replenish availability with long-term debt and equity issuances. As of March 12th OHI had approximately $500 million of cash and credit.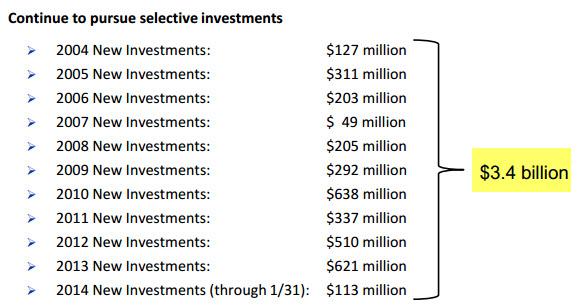 By leveraging OHI's existing 49 operator relationships the company has built a durable investment history ($2.1 billion over the last 4 years). Here is a snapshot of the activity from 2004 through January 31, 2014: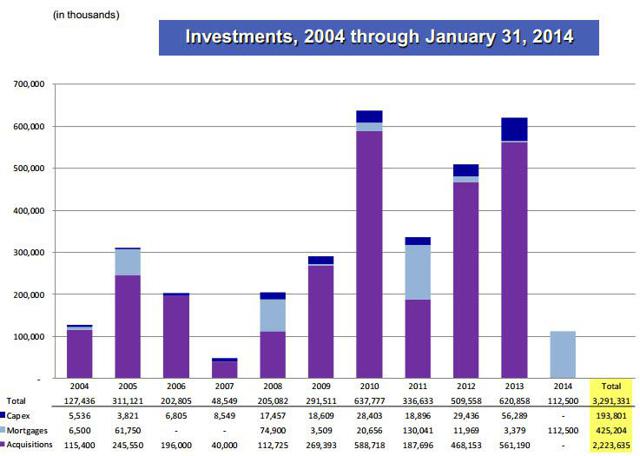 In March OHI completed a $400 million investment grade 10-year note issue at 4.95%. Proceeds were used to pay off the $200 million loan (due in 2016) and pay off the $190 million credit facility borrowings. Also, Omega closed in $113 million of new investments in January.
OHI is well positioned now to pursue new deals thanks to the $500 million unsecured credit facility (with $490 million undrawn). There are no near-term bond maturities (2020 $200 million 7.5% Notes are callable in February 2015).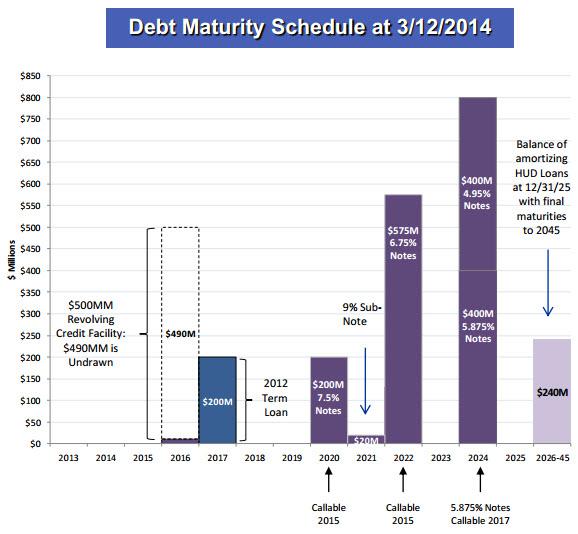 As evidenced by the snapshot below, OHI has a seasoned market issuer and the company has maintained a flexible investment profile.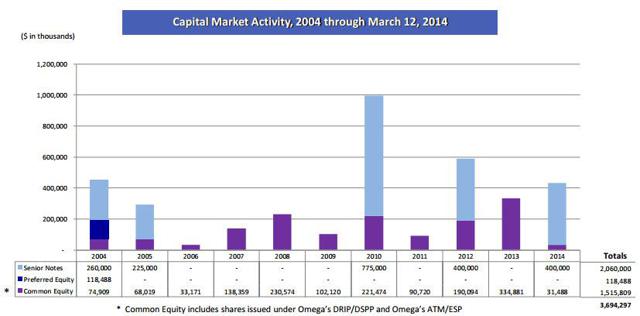 OHI's assets consist of $3.119 billion of owned assets, $242 million of mortgages, and $529 million of capital leases. The total assets are $3.89 billion (as of 12-31-13).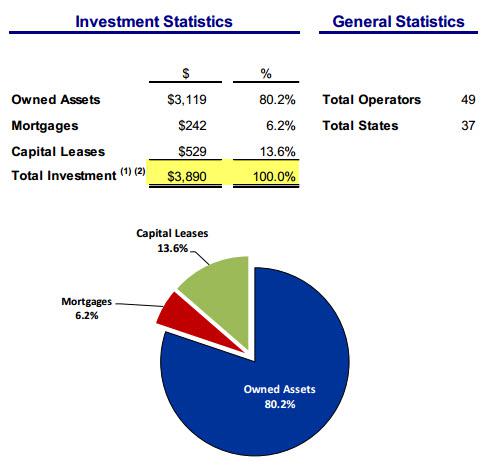 OHI's total market capitalization is $5.683 billion consisting of $3.681 billion of equity, $326 million of unsecured credit, $200 million of unsecured term loans, $1.195 billion of unsecured borrowings, and $280 million of secured borrowings.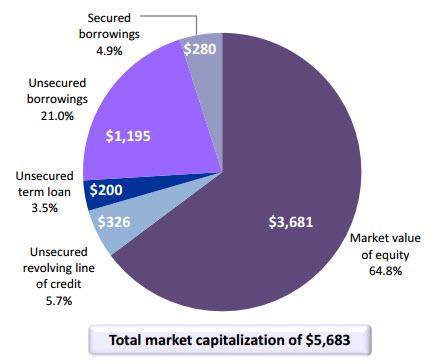 OHI's financial flexibility is evident with the minimal percentage of encumbered assets - most of which are 30+ year amortizing HUD loans.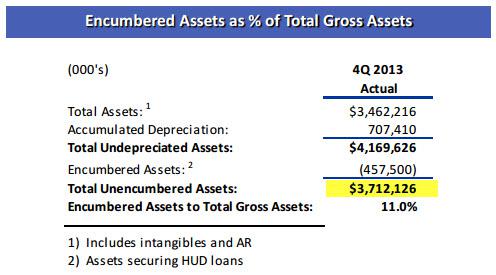 Here is a snapshot comparing OHI's unsecured debt compared with the peer group:

Here is a snapshot comparing OHI's Total Debt to Total Capitalization compared with the peer group:

Here is a snapshot illustrating OHI's conservative leverage, just 4.4x as of 12-31-13: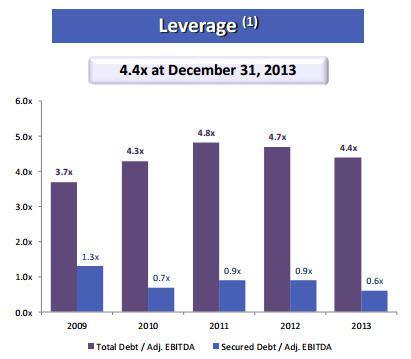 Here is a snapshot of OHI's cash fixed charge coverage, just 4.0x as of 12031-13: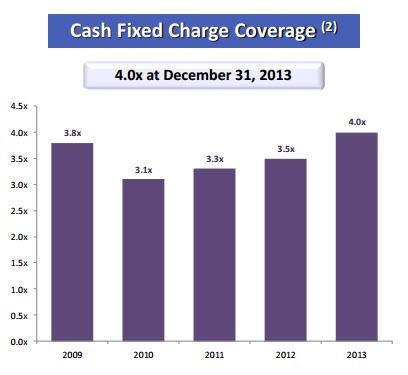 OHI has maintained stable and consistent rent coverage. Here is a snapshot of trailing (quarterly) EBITADARM and EBITDAR coverage trends: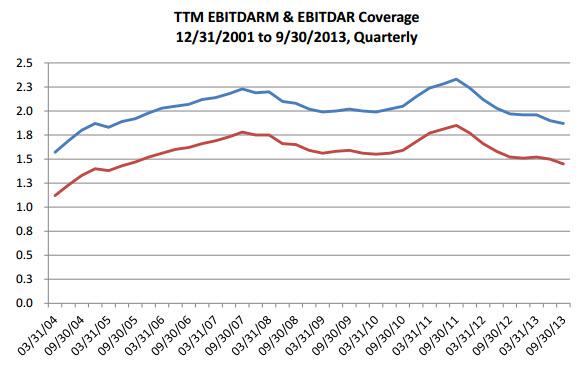 Here's OHI's EBITDARM Coverage compared with the peer group: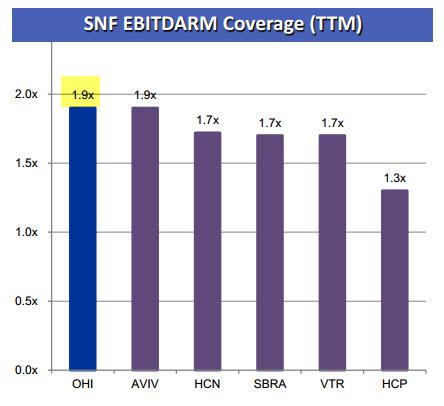 Here's OHI's EBITDAR Coverage compared with the peer group: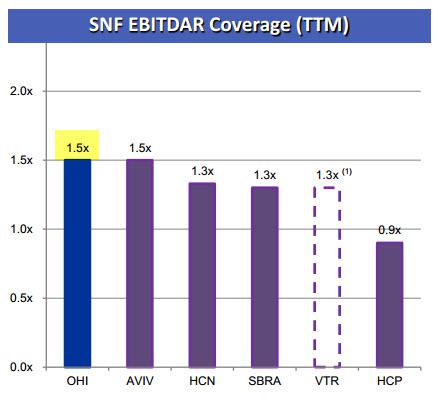 Finally, OHI has maintained strong balance sheet safety as evidenced by the significant cushion on all credit covenants.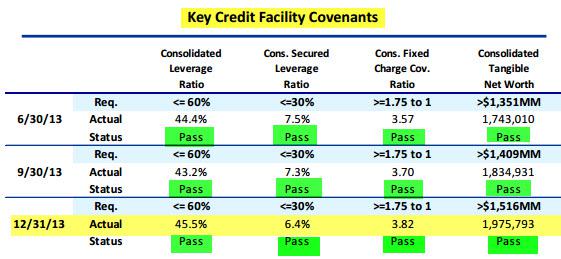 A Closer Look at Current Operating Metrics
OHI has minimal near-term lease expirations (weighted average lease maturity of 13 years) with approximately 85% of portfolio expirations occurring after 2020. Combined EBITDAR coverage of leases expiring through 2020 is 1.6x.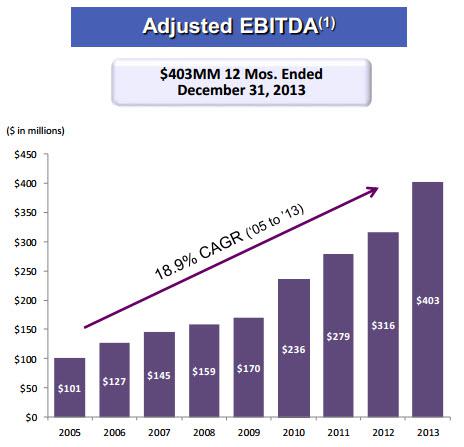 OHI has maintained very stable occupancy rates. As of the latest reporting period, OHI's occupancy was 83.4% (higher than the industry average of 82.3%).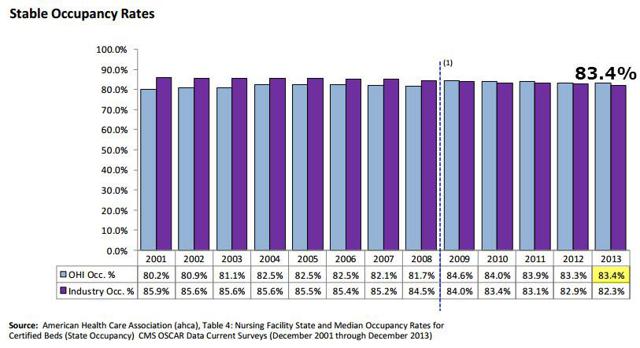 As previously referenced, OHI has maintained a consistent growth pattern as evidenced by the 17.2% CAGR from 2004 through 2013.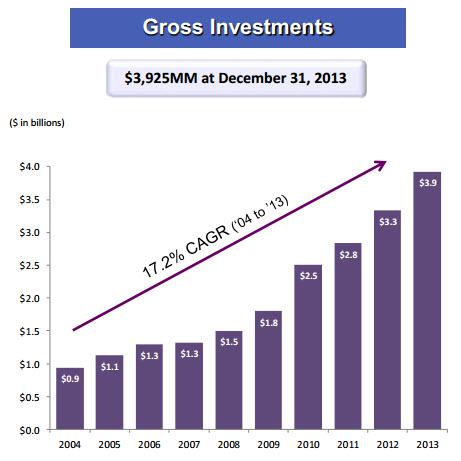 OHI's revenue increased from $350 million to $419 million in 2013. From 2004 through 2013 the company has grown revenues by an average of 19.1% CAGR.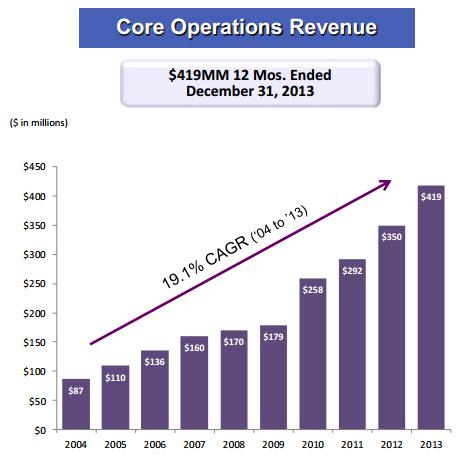 OHI's Adjusted EBITDA for year-end 2013 was $403 million. From 2005 through 2013 the company's Adjusted EBITDA has grown by 18.9% CAGR.
OHI's Adjusted Funds from Operations (or AFFO) was $299 million in 2013. From 2005 through 2013 the company's AFFO grew by 24.3% CAGR.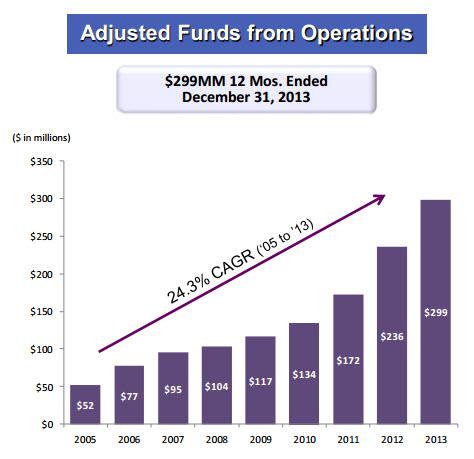 It Boils Down to the Dividend
As indicated above, OHI has maintained a stable and reliable earnings history. But how safe is the dividend?
For starters, OHI paid out 76% of AFFO in 2013 and the company has maintained a consistent pattern of paying out between 75% to 85% of AFFO. In addition OHI paid out 84% of AFAD in Q41-13. Again, that's below the target AFAD payout of 90% or less. This chart below illustrates the attractive growth profile of OHI and the stable dividend and AFFO per share history.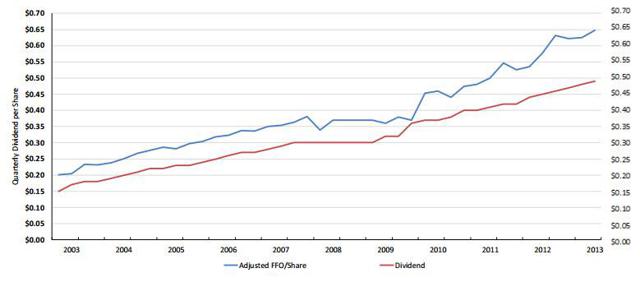 Last week OHI announced that it was increasing its common dividend by $.01 per share over the previous quarter. That's beginning to sound like "groundhog day" for Omega since this makes the seventh consecutive quarterly dividend increase - raising the dividend from $0.49 per share to $0.50 per share. The common stock dividend is payable Thursday, May 15, 2014 to common stockholders of record as of the close of business on April 30, 2014.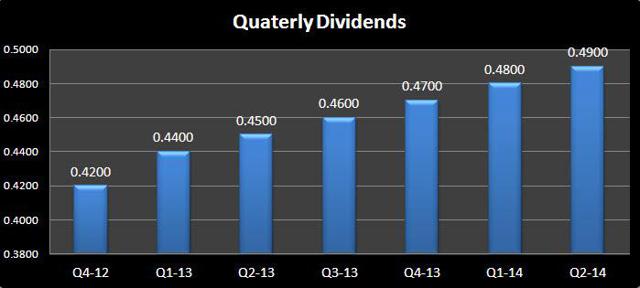 Omega has a history of increasing annual dividends too. As Drip Resource Center tells us, OHI has paid and increased annual dividends for 12 years in a row - that makes the company a "dividend contender" (8 years away from being a Dividend Aristocrat). The shaded "aqua blue" area on the FAST Graph represents dividends paid.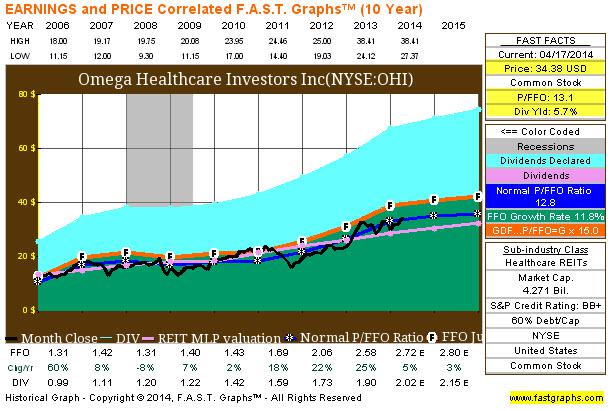 OHI has paid and increased annual dividends by an average of 10.95% since 2008. That's an incredible record and maybe that passes the "Chowder test"?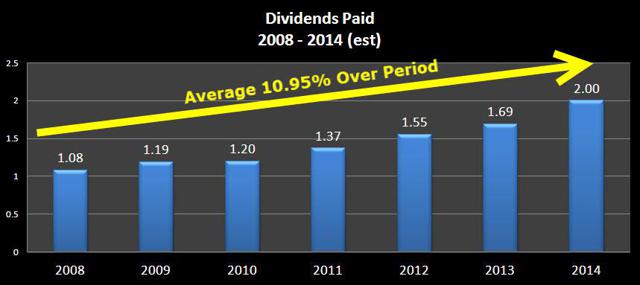 Even comparing Omega to the peer group, OHI has excelled at paying increasing dividends - OHI's 2-year dividend increase is 13.7% and the average 3-year dividend increase is 13.5%.

In Josh Peters book, The Ultimate Dividend Playbook, he explains:
...a dividend speaks louder than earnings. A company's pattern of dividend payments - its dividend record - can offer valuable clues to underlying corporate performance, clues just as valuable as those provided by earnings reports and other financial data, and definitely more useful than the conclusions someone might draw from looking at a three-month stock chart.
Peters went on to explain that "a dividend payment is the ultimate sign of corporate strength". The fact that Omega has evolved into a durable model of dividend safety and repeatability means a lot to me. It should to you too.
A dividend increase provides the best possible evidence of dividend safety and Omega's commitment to shareholders (to increase the dividend for 7 quarters in a row) is meaningful. This shows me that Omega is deeply committed to investors and that's the reason I sleep well at night.
I'm Staying with Omega for the Long Haul
Omega is currently trading at $34.38 with a dividend yield of 5.70%. As referenced above, I was able to purchase shares under $30 with a dividend yield of around 6.3%. Compared with the peer group, Omega is trading at sound dividend value.

Omega has a Price to Funds from Operations (P/FFO) multiple of 12.7x. That valuation is still attractive; however, I'm glad I was able to find an entry point under $30. I believe there are better opportunities today to put your money to work in health care and I would consider HCP, Inc. (NYSE:HCP) - see my article last week HERE.

As I mentioned in the first paragraph (of this article), I'm a value investor and I'm always looking for an adequate "margin of safety" and a stress-free route to investment success. When I bought Omega a few months back, it wasn't a bargain. However, I'm confident with the price paid and that Omega will generate consistent profit margins. I can't predict whether Mr. Market will boost Omega's valuation to a 15x P/FFO multiple, but because I pay close attention to the company's profit margins, I feel comfortable with my investment aimed at safe and reliable dividends.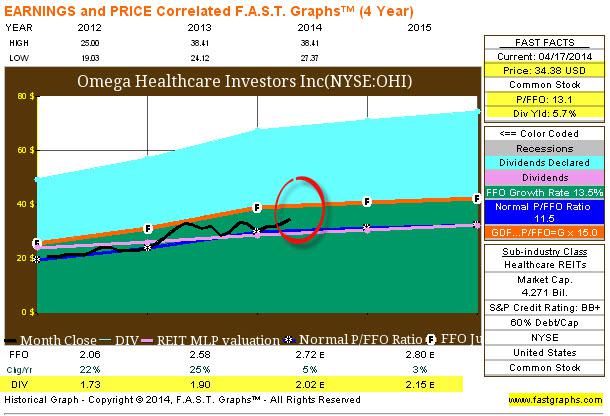 Seven quarterly dividend increases in a row is boring though.
But remember, that's exactly why I bought the stock - consistency and durability are attributes for competitive advantage. The goal is to buy stocks with above-average appreciation potential and safe and growing dividends, and buy them at attractive prices. So although some might consider 7 quarterly dividend increases boring, I find it quite satisfying. After all, when I get bored I tend to take a snooze and dream about my dividends - that's what I call "sleep well at night" (or SWAN) investing. For more information on my SWAN portfolio, click HERE.

Earnings: OHI is scheduled to release its earnings results for the quarter ended March 31, 2014, on Tuesday, April 29, 2014, after market close. In conjunction with its release, the company will be conducting a conference call on Wednesday, April 30, 2014 at 10 a.m. Eastern Time to review its 2014 first quarter results and current developments.
Source: SNL Financial, FAST Graphs, and OHI Investor Presentation.
REITs mentioned: (NASDAQ:SBRA), (NYSE:HR), (NYSE:HTA), (NYSE:LTC), (NYSE:HCN), (NYSE:UHT), (NYSE:AVIV), (NYSE:MPW), (NYSE:DOC), (NYSE:SNH), (NASDAQ:HCT), and (NYSE:NHI).
Disclaimer: This article is intended to provide information to interested parties. As I have no knowledge of individual investor circumstances, goals, and/or portfolio concentration or diversification, readers are expected to complete their own due diligence before purchasing any stocks mentioned or recommended.
Disclosure: I am long O, DLR, VTR, HTA, STAG, UMH, CSG, GPT, ARCP, ROIC, MPW, HCN, OHI, LXP, KIM, WPC. I wrote this article myself, and it expresses my own opinions. I am not receiving compensation for it (other than from Seeking Alpha). I have no business relationship with any company whose stock is mentioned in this article.