Back on March 11th, I had an article published on footwear retailer Steven Madden (NASDAQ:SHOO). At that time, I believed that shares were overvalued, and a short position should be considered. In my conclusion, I wrapped up the article with the following statement:
If this stock was at $35 right now, I'd be singing a different tune. But with shares closing Monday at $37.55, the bull case just isn't there.
The day that the article was published, shares hit an intra-day high of $37.72, but they've come down more than 7% since. As I said in the conclusion above, I'd have a different view of the stock at $35. Shares finished Thursday at $34.86, so the short position has worked. Since shares are now under $35, I'm back to take another look, and discuss why I think a long position may soon be an idea.
Growth picture similar, but valuation has changed:
When I looked at comparable names to Steven Madden, I brought up Deckers Outdoor (NASDAQ:DECK), Crocs (NASDAQ:CROX), Wolverine World Wide (NYSE:WWW), and Skechers (NYSE:SKX). In the table below, I've compared these five names in terms of currently expected revenue and earnings growth for 2014 and 2015. I've also then compared these names on price to sales and price to earnings for these two years. You can view Steven Madden's current estimates here, and get to all other names from that page.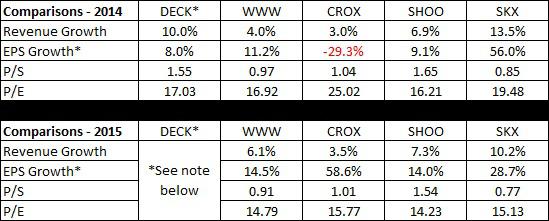 *Deckers announced a change to its fiscal year from December end to March end. The numbers in 2014 above are management's guidance for calendar year 2014, and the associated valuation numbers with those. Once Deckers finishes the current quarter, we'll have estimates for the March 2015 and March 2016 ending fiscal years, and can form a better comparison looking forward.
For the moment, let's ignore Deckers and look at some of the estimate changes since my previous article. Wolverine World Wide has seen its analysts raise their average EPS number by a penny for both years. Crocs has seen its revenue estimate for 2015 reduced slightly. However, Crocs has seen its EPS numbers raised for both years, based on the huge buyback that supposedly started during Q1. Skechers has seen its 2014 revenue average increase slightly. The only change for Steven Madden is the 2015 EPS number, which has been raised by two cents. Overall, there have not been any real significant changes to each name's growth estimates. This is probably expected, with most names about to report earnings soon.
There is one thing, though, that has changed a bit since my previous article, and that is stock price. Of these five names, Deckers has actually risen about 1%, the only name to be up over this time. Wolverine World Wide is down about 1.8%, excluding the dividend. Skechers has declined by about 2.8%, and Crocs is down about 4.8%. Steven Madden has been the worst performer, down almost 7.2% since my previous article. The short trade worked well, but that means the valuation has changed a bit.
Steven Madden trades at a significant premium on price to sales. That was the case at my last article, and while that premium is still large, it has come down a little. Because all of these retailers are profitable, I'm assuming most investors would prefer to look at price-to-earnings ratios. In my previous article, Steven Madden traded at the third highest price-to-earnings ratio for both years, and was fairly close to the second highest for 2015. Steven Madden now has the lowest price-to-earnings ratio for both years. In my last article, I argued that middle of the pack revenue growth and lower tier earnings growth did not make sense at a middle of the road valuation. However, now that the stock has the lowest price-to-earnings ratio, the valuation looks a lot better. I still think investors could wait for a little more downside before buying. The recent low is about 2.5% lower than where shares are currently, and I'll show later how the technicals also suggest waiting for a little more downside before entering.
The buyback may now really matter:
One of the items I discussed in my previous article was the company's buyback. There was approximately $70 million left on the buyback at the end of 2013, although the company noted that some share repurchases had taken place in Q1. With shares early in the year dropping into the low $30s, I hope the company bought while shares were really down.
I was a bit bearish on the buyback at $37.50 and higher, because I didn't see the company buying back shares at those prices. Management said it wanted to be "patient, methodical, and opportunistic" with the buyback, so why would it buy shares when they were at multi-month highs? Now that shares have come back down about $3 (or more recently), it is possible that the company is coming in to buy shares again.
Last year, over 3 million shares were repurchased, with just under 2/3 of that being in the second half of the year. You can view the company's 10-K filing for more information here. Overall, the outstanding share count dipped from 69.191 million at the end of 2012 to 67.336 million at the end of 2013. Since a lot of shares were bought back in the second half of the year, it really should push the diluted share counts down later this year. If the company also really uses the buyback in the first half of the year, it will provide a secondary boost. Thus, even if the company's financial performance struggles throughout the year, EPS could still meet or beat estimates thanks to the buyback. 60% of the company's earnings per share are forecast to be earned in the second half of this year, so that's the "money time" for the company. Since the company had over $180 million in cash on the balance sheet (and another $100 million or so in investments) at the end of 2013, there was plenty of cash to use for the buyback. In 2013, the company produced $155 million in cash from operations, and only had a little more than $20 million in capital expenditures.
Management mentioned on the Q4 conference call targeting about $35 million a quarter or so for the buyback run rate. If the company runs the buyback at that rate, it is possible that the current buyback could be finished during Q2. That means that there is the potential for the upcoming earnings announcement to contain a new buyback plan announcement or a raise to the current plan. That would be bullish for the stock. Additionally, the company mentioned on the call that Q4 this year should have some easier comps due to the Q4 2013 retail environment being so tough. So if the buyback continues at the current run rate, the earnings picture in the second half of the year could be a lot better. That's why the buyback makes a lot more of a difference with shares at $34 and change as opposed to $37 and change. It makes the bull case stronger for the second half of the year, and the short case gets a bit weaker.
Short interest has jumped:
One item I discussed in my previous article was a low short interest number. About 1.45 million shares of Steven Madden were short, which represented less than 3% of the float. I discussed the notion that this name was susceptible to a large short seller coming in and really knocking the name down. Well, while a large short seller could still impact the stock, the impact may not be as great. Since that last article, short interest is up 35% in Steven Madden. You can see how short interest has changed in the past year in the chart below.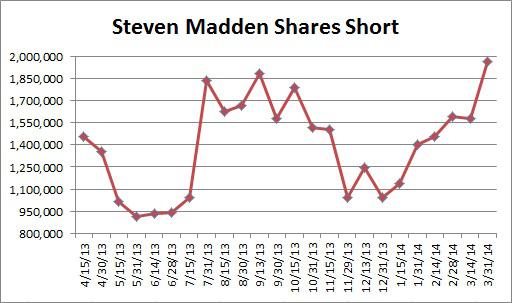 You will notice that at the latest update, the end of March update, short interest was at a yearly high. A little under 2 million shares were short, representing a rise of more than 511,000 shares since my previous article. Short interest has more than doubled, a rise of nearly 115%, since the end of May 2013 low 10 months ago. Yes, short interest could still go a lot higher, but we've seen a sharp rise lately. Additionally, shorts may be scared of two items. First, as I mentioned above, the buyback is more likely to be in effect under $35 than it was at $37.50. That could lead shorts to avoid this name before a stronger second half of the year. Also, you might not see shorts come in after the stock has already dipped nearly 8% from its high. We will get a mid-April update on short interest before the company reports on May 1st. We won't get the end of April update until after the company reports.
Better technicals:
In my previous article, I discussed how the stock was more than $3 above its 50-day moving average. I noted that the last time that happened, the stock pulled back a bit. You can see that December drop in the chart below. This chart shows the last six months for the stock, overlayed with the 50-day moving average and bollinger bands. I inserted the black arrow to show the approximate date of my last article on this chart.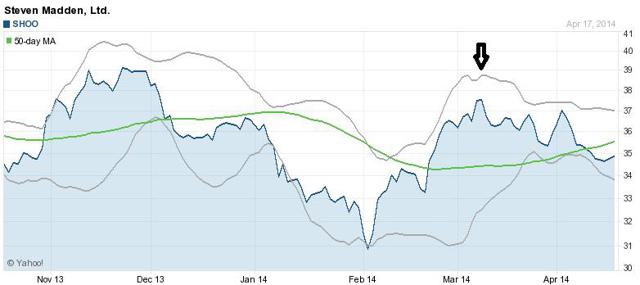 (Source: Yahoo! Finance)
Obviously, the stock is now below its 50-day moving average. I like that fact because the stock is no longer overbought. Additionally, the stock is closer to its lower bollinger band, a level of support. While there still could be some downside pressure, the technicals don't show a strong short like they did about five weeks ago.
Final thoughts:
About five weeks ago, I thought Steven Madden was a solid short opportunity for investors. The stock looked overvalued, but now it has come down. At these lower levels, the valuation looks a lot better, and so do the technicals. The company may also be ramping up the buyback now, which will really help the EPS picture in the second half of the year. I do think there is the potential for shares to re-test their recent lows if the market gets choppy again, so investors should be patient. The next pullback may be a solid opportunity for a long trade this time, and shorts should consider taking some decent profits.
Disclosure: I have no positions in any stocks mentioned, and no plans to initiate any positions within the next 72 hours. I wrote this article myself, and it expresses my own opinions. I am not receiving compensation for it (other than from Seeking Alpha). I have no business relationship with any company whose stock is mentioned in this article.
Additional disclosure: Investors are always reminded that before making any investment, you should do your own proper due diligence on any name directly or indirectly mentioned in this article. Investors should also consider seeking advice from a broker or financial adviser before making any investment decisions. Any material in this article should be considered general information, and not relied on as a formal investment recommendation.