On Wednesday afternoon, everyone will stop for a minute when Apple (NASDAQ:AAPL) reports its fiscal second quarter results. The technology giant is not expected to report a great quarter, with the potential for revenues to decline over last year's period. Earnings per share are expected to increase very slightly, thanks to the buyback, with net income probably decreasing. This will be an interesting report to dissect thanks to a key launch during the quarter, and for what may come in terms of a capital return update. Today, I'll provide my official Apple earnings preview, looking at all the key numbers.
Looking at past results:
Before I get into the current quarter, it's always good to look back at past results. The table below shows fiscal Q2 in the last two years, with last year's Q2 period in yellow. I also included this fiscal year's Q1, so you can get an idea of how things are sequentially.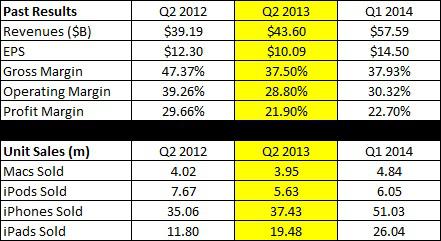 Back in January: Apple provided the following guidance for Q2:
revenue between $42 billion and $44 billion.

gross margin between 37 percent and 38 percent.

operating expenses between $4.3 billion and $4.4 billion.

other income/(expense) of $200 million.

tax rate of 26.2 percent.
The midpoint of Apple's revenue guidance did imply a year-over-year decline in fiscal Q2 revenues. Using Apple's guidance and the Q1 share count, I calculated an initial EPS range of $9.28 to $10.33, with a midpoint of $9.80. There are a number of items that will certainly help/hurt those numbers, so let's get into them now.
Product overview - the iPhone:
When it comes to the iPhone, analysts are expecting a slight rise in sales. The average forecast calls for about 2% unit growth over Q2 last year, or an average of about 38.2 million sales. There are five major items that will impact sales in the quarter.
China Mobile (NYSE:CHL) launch during the fiscal quarter.
Other Chinese carriers getting the iPhone earlier in 2013.
Tighter carrier upgrade policies in the US.
Recent promotions and the launch of an 8GB 5C model.
Stronger demand in emerging markets for older (and cheaper) versions of the device.
The China Mobile launch will certainly help sales. Without the launch, iPhone unit sales would have most likely declined year-over-year. Now, there is a chance for a rise in the low single-digits, percentage-wise. I am currently looking for 38.85 million sales, about a 3.8% year-over-year rise. I do think some of the late promotions will help, although it might have a slight negative impact on the average selling price number. I have the ASP at $605, down from $613.28 in the year-ago period. When it comes to the iPhone, it would be nice to see a beat this quarter, unlike last quarter's huge miss. Apple may need 39-40 million sales for total revenues to increase if other product lines disappoint.
Product overview - the iPad:
On the flip side, analysts are not as bullish when it comes to the iPad. The current analyst average is for 19.33 million unit sales, down from 19.48 million in the year-ago period. There was no iPad refresh in March this year, and the rise of phablets seems to be eating away a little at iPad sales.
In fiscal Q1, the iPad was a bright spot for Apple. This quarter, it may not be. Going forward, the iPad will be helped slightly by Microsoft's (NASDAQ:MSFT) decision to launch Office for the iPad. There were 12 million downloads in the first week, although not all will be in fiscal Q2, since the launch was near the quarter's end. For fiscal Q2, I'm going to estimate 19.2 million unit sales. I have the average selling price at $435, down from $449 in the year-ago period.
Product overview - Macs:
The decline in PC sales during calendar Q1 of 2014 was not as bad as expected, according to IDC. However, the one issue for Apple is that the end of Windows XP support may have led to more sales for Windows-based devices. IDC forecast a 7% decline in PC shipments for Apple in the US during calendar Q1. The total US decline was seen at 0.6%, so Apple would be worse than the average. Worldwide sales were seen down 4.4%. On the flip side, analysts seem fairly positive about the Mac, with the average estimate for 4.06 million unit sales. That would be nearly 3% growth.
I am bit lower here, modeling Mac sales down about 2.58% in the quarter to 3.85 million units, from 3.95 million in the year-ago period. I also am forecasting the average selling price to come in at $1,340 for the quarter, down from $1,378 in the year-ago period. While the Mac line is only expected to be a little more than 1/9th of Apple's revenues, in my forecast, the difference between say 3.75 million and 4.00 million units sold could be the difference between Apple making and missing the quarter.
Product overview - the iPod and other revenues:
This may be one of the last earnings previews where I even discuss the iPod. Once the flagship device for Apple, my projections have the iPod barely over 1% of Apple's total revenues for the quarters. After last quarter's huge drop in iPod sales, expectations are pretty low. I'm looking for a nearly 47% drop in unit sales, as well as a decline in average selling prices.
Then we get to Apple's "other revenues," which include items like accessories, the iTunes store, and a number of other things. In last year's fiscal Q2, these other revenues came in at nearly $5.5 billion, and they are the fastest-growing segment for Apple right now. I have Apple coming in at $6.15 billion for this year's period.
Q2 estimates and my predictions:
When it comes to fiscal Q2, analysts have been fairly consistent in recent weeks. The average revenue estimate has moved a little here and there, and the average EPS estimate has moved a few pennies in either direction as well. Current estimates call for $43.55 billion in revenues and $10.17 in EPS, compared to $43.60 billion and $10.09 in the year-ago period. Remember, we still have a few days until Apple reports, so the analyst averages can change before Apple actually reports the quarter.
Here are my official predictions for Apple's fiscal Q2:
Revenues of $43.630 billion.
Gross margins of 37.70%.
EPS of $10.28 on diluted share count of 882 million.
iPhone sales of 38.85 million, ASP of $605.
iPad sales of 19.20 million, ASP of $435.
Mac sales of 3.85 million, ASP of $1,340.
iPod sales of 3.00 million, ASP of $155.
"Other revenues" of $6.15 billion.
A couple of quick notes. I think Apple's gross margins will come in above Apple's midpoint, since the company will have more revenues coming from the iPhone. I also think there is some room for Apple to beat when it comes to the tax rate, as more iPhone sales in China could lower Apple's effective tax rate a bit. The share count number is expected to come down a bit, thanks to the large amount of stock Apple bought back during the quarter.
Looking forward into fiscal Q3:
The one item where Apple may have some trouble meeting expectations is Q3 guidance. I've been detailing this issue for a couple of months now, and explained it well in a recent article. Analyst estimates have been too high, in my opinion, unless Apple launches a new product during the quarter. While the China Mobile deal will help iPhone sales a bit, the iPod losses will hurt, and iPad sales could struggle until new models are launched as well. When I first started detailing this issue, Apple analysts were looking for about 13% revenue growth in the quarter, more than $4.5 billion in dollar growth. That was highly unlikely. I still do think analyst estimates are a bit high, but they have been coming down. In the table below, I've tracked these estimates since the day after Apple reported back in January.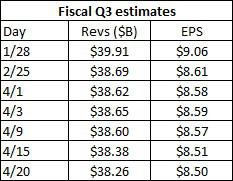 In last year's fiscal Q3, Apple had revenues of $35.32 billion and EPS of $7.47, so analysts are still looking for a bit of growth. I expect Apple to issue revenue guidance in a $2 billion range, somewhere between $35 billion and $41 billion. My best guess right now would be guidance of $36 billion to $38 billion, which I think the street will find a little disappointing. Don't forget, this is basically what happened in April last year. As I predicted, Apple gave Q3 the kitchen sink treatment, but also announced a huge increase to its capital return plan. We could see that again this quarter, which gets me to the next section of this article.
Balance sheet/more capital returns?
I'm not going to spend too much time discussing these items, because I covered them enough lately. There has been a growing feeling that Apple will announce an increase to its buyback program at this week's report, along with the annual dividend increase. While Apple does have a lot of cash, most of it is located outside the US. Apple either has to borrow against those funds or repatriate, and we saw the debt route in 2013 to help with the buyback.
Should Apple issue light guidance for Q3, which I think is totally possible, investors will definitely be looking for more capital returns. I think a 15% raise to the dividend and perhaps a $20 billion increase to the buyback would be a good start. Again, though, the timing of the buyback will be key. Apple could issue a trillion-dollar buyback, but if it is over 200 years, it won't be that powerful. It will be important to listen to the timing of the buyback, perhaps even more important than the dollar value.
Final thoughts:
Investors may wish to approach this quarterly earnings report with a little caution. Analysts think Apple will have a slight year-over-year decline in revenues, and current estimates are at the higher end of Apple's guidance for quarterly revenues. Net income is likely going to decline, but the tremendous buyback will hopefully push EPS higher on a year-to-year basis. Apple's Q3 guidance might be a bit light again, but that could be offset by increased capital returns.
In the end, it's the storm before the calm. The next few months could be a little weak for Apple, before a massive iPhone 6 update that could include two larger-screen phones. Perhaps the iWatch will also be coming later this year, which will help to resume the Apple growth story. Apple closed Thursday around $525, which is basically the middle of the stock's recent range. I said after last quarter's report that investors should use the pullback to scoop up shares. I would suggest that investors could do the same, if Apple drops to $500 or below after this quarter's report. I don't think this week's report will be spectacular, as investors really will focus on the rest of 2014. I'll be back later this week to analyze Apple's report, and that article will most likely be late Wednesday or early Thursday.
Disclosure: I have no positions in any stocks mentioned, and no plans to initiate any positions within the next 72 hours. I wrote this article myself, and it expresses my own opinions. I am not receiving compensation for it (other than from Seeking Alpha). I have no business relationship with any company whose stock is mentioned in this article.
Additional disclosure: Investors are always reminded that before making any investment, you should do your own proper due diligence on any name directly or indirectly mentioned in this article. Investors should also consider seeking advice from a broker or financial adviser before making any investment decisions. Any material in this article should be considered general information, and not relied on as a formal investment recommendation.