Last Thursday morning, cigarette giant Philip Morris (NYSE:PM) reported its fiscal first quarter results. It was a mixed report, with a number of both good and bad items. As expected, the company's balance sheet did get a little worse. However, the yearly EPS forecast was raised a little thanks to an improvement in currency issues. Today, I'll break down the latest result, detail how the 2014 story has changed, and what investors should do now.
Q1 results:
On the top line, Philip Morris reported revenues after excise taxes of $6.917 billion. This number was down 8.8% over the year ago period, and missed analyst estimates for $7.01 billion. In my latest Philip Morris article, I had discussed rising revenue estimates. Philip Morris analysts had increased their average from $6.94 billion to $7.01 billion in the weeks leading up to earnings. While the company still would have missed that lower estimate, the miss would have been smaller. Excluding unfavorable currency impacts, revenues excluding excise taxes would have been down 1.6%.
In the quarter, Philip Morris reported shipment volume of 196 billion units, down 4.4% over the prior year period. Reported diluted earnings came in at $1.18 for Q1, down a dime from the year ago period. Adjusted earnings came in at $1.19, also down a dime. Both Q1 2014 numbers beat analyst estimates for $1.16. Reported and adjusted earnings took a $0.16 hit due to currencies. During the quarter, the company bought back 15.4 million shares for $1.25 billion. That implies an average price a little above $81, a fair price considering where shares trade at now.
Overall, this was a mixed quarter for the company. Revenues fell a bit more than expected, which is troublesome and may be a key issue in 2014. However, earnings per share beat, which is good, and impacts the forecast I'll discuss in the next section. There weren't any big surprises, meaning Q1 was mostly in line with expectations.
Update on 2014 forecast:
When Philip Morris gave its first full guidance update for 2014, the company may have disappointed some. Although we knew currency neutral EPS were only going to be up 6% to 8% in 2014, the $0.71 currency hit detailed seemed a bit large. Well, the company updated its forecast as follows:
"Philip Morris revises reported earnings to be in a range of $5.09 to $5.19, including:
Unfavorable currency of approximately $0.61 a share, as opposed to previous guidance for $0.71 a share.
An estimated charge of $0.03 per share related to the closure of Australian manufacturing operations by the end of 2014, of which $0.01 was recorded as an asset impairment and exit cost charge in Q1.
This forecast includes a cost savings target of $300 million and a share repurchase target of $4 billion."
This is pretty good news for shareholders at this point. When I discussed key items for 2014, currencies were perhaps the most important. It is nice to see the currency impact taken down by a dime. However, investors must remember that this is just one quarter of the year. The forecast could easily get worse next quarter. This is progress, but it has to continue.
Balance sheet update:
I know that bringing this up is going to start a big debate. One of the key items I've been detailing in my articles on Philip Morris over the past year or so is the weakening balance sheet. This company has greatly increased its debt pile in recent years. The good news is that investors have been rewarded through strong dividends and large buybacks. The bad news is that investors may have become spoiled with some of those returns, and of course, there will be some concerned with the large debt pile. Philip Morris is starting to address the debt issue to protect its credit rating. The 2014 buyback target is just $4 billion, down from $6 billion in previous years. In the table below, I've detailed a number of key balance sheet items going back to the end of 2010. Dollar values in millions. I also highlighted Q1 this year versus Q1 of last year so that investors can see the year over year changes.

*Liabilities to assets ratio.
The debt pile rose a bit again in Q1. Net debt at the end of Q1 was nearly $28 billion, up more than $6.2 billion in the past year. A lot of that has to do with the buyback. Cash also decreased a little, but here's the interesting point. I detailed above how the buyback in Q1 was $1.25 billion. With Philip Morris shares falling, the company stepped in a bit and bought shares. We were expecting $1 billion per quarter in 2014, but the company accelerated that a little. Assuming the $4 billion yearly target holds, Q2 to Q4 will see a little less on the buyback. Had the company only bought back $1 billion in Q1, the cash number would have been very close to the Q4 ending one.
There are two charts I've shown for specific balance sheet items in past earnings reports, so I'll continue that here. The first chart is the debt ratio, also known as the liabilities to assets ratio. This ratio measures how much of the company's asset base is financed with liabilities, and how much with equity. For example, if the company has $1 billion of assets and $500 million of liabilities, the ratio would be 50%, as assets are financed with 50% liabilities. Here's the chart: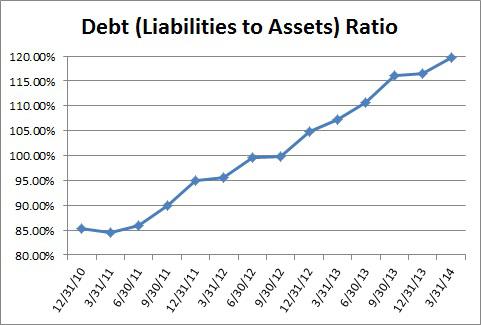 This ratio is now a tad under 120%, meaning the company has nearly $1.20 of liabilities for every dollar of assets. This ratio is getting worse, but again, that's due to strong capital returns. At some point, you really would like to see this ratio level off a bit, or maybe even decline. The second chart details the two debt to EBITDA ratios: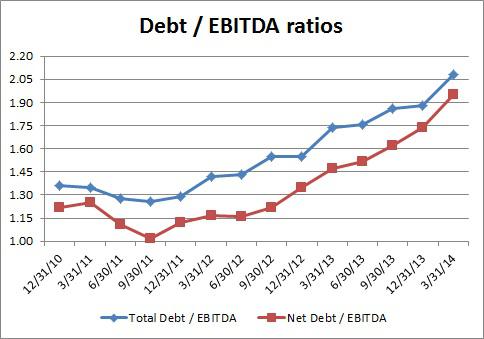 The total debt to EBITDA ratio passed a key level during Q1, and that is 2.00. That means that for every dollar of EBITDA generated over the past twelve months, the company has more than $2 of total debt. Net debt also is creeping up on the 2.00 level. Again, these numbers are not at the point yet where investors need to hit the panic button. But like the other chart above, the numbers are getting worse by the quarter. At some point, these numbers need to level off or improve. If they don't, Philip Morris will see a hit to its credit rating, meaning the company will probably have to pay higher interest expenses on future debts taken out.
There is an opportunity for the company right now, and this is something I've detailed lately. As you will see in the chart below, interest rates have come down recently on US Treasuries, especially the 10-year and 30-year. For instance, the 30-year hit a 52-week high a few months ago of 3.98%. Since then, the rate has come down by almost 50 basis points.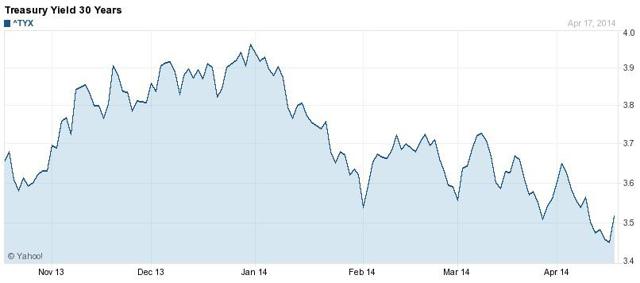 With rates coming back down, Philip Morris has a chance to refinance some of its debt at lower rates. You can view the company's fixed income information right here. In my "key questions" article linked above, I detailed a few examples of debts that could be refinanced. With some of these debts having 25 years or so to maturity, Philip Morris could save tens or even hundreds of millions of dollars by locking in lower rates. Also, refinancing an issue due in 2038, for example, would push the maturity back another 6 years. Lower interest costs would mean higher profitability, and better cash flow that could help pay back some of this growing debt pile.
Looking at the rest of the year:
Q1 basically set up the rest of the year in my opinion. We already knew revenues and earnings would be weak during this "investment year", as the company moves towards new products in late 2014 and into 2015. However, when the company boosted its earnings forecast for the year (and beat in Q1) thanks to a lower currency impact, that was a nice positive surprise. On the flip side, revenues still were a bit weaker. I think that we need to ratchet down our revenue estimates for the year, so it would not surprise me if the company's revenues decline by 5% in 2014. Current estimates are for a 4.2% decline. On the flip side, EPS estimates should rise a little, and they've already come up three cents.
Likewise, we have to ratchet down our buyback expectations for the remainder of the year. Philip Morris guided to $4 billion for the year, so our initial expectation was $1 billion per quarter. With a little more spent in Q1 as share prices were low, only $2.75 billion remains on the target for 2014. That means about $917 million per quarter, if you average the remainder over the three quarters. At the moment, I'm standing by my dividend raise expectation of 6 cents to $1.00 per quarter, later this year. I think the raise will be a little lower this year due to the investment year and reduced buyback.
Philip Morris versus the peer group:
Those that follow my continuous coverage of Philip Morris know that I compare the name to Lorillard (NYSE:LO), Altria (NYSE:MO), and Reynolds American (NYSE:RAI). In the following table, I've compared these names for 2014 in terms of growth and valuation. This is not a full update article on these names, so let's just focus on this year for now.

The Philip Morris estimates have changed as I mentioned above. Revenue estimates are slightly down, with EPS numbers up. Holding all else equal, that will increase the P/S valuation, and decrease the P/E valuation. However, we know that stock prices change. Since my latest article, linked above, Philip Morris is the only name to see its shares decline. That was due to Thursday's post-earnings decline, because otherwise, shares would have been higher. The other three names are up roughly 1.4% to 2.8% since my previous article.
The combination of those factors has made Philip Morris a little cheaper, even though the stock trades at a premium to the other three names. In my last article, the 2014 premiums were 17.62% on a P/S basis and 7.24% on a P/E basis. As of Sunday, those premiums were down to 14.14% and 3.21%, respectively. While the total Philip Morris situation has not changed much recently, the premium is down. That's a good thing for those either invested in Philip Morris or looking to get in.
The other item most investors are concerned with regarding these names is dividends. All of these names offer high dividend yields, and these names grow their dividends nicely each year. With Philip Morris being the only name to see its stock decline since my latest article, that means that it is the only name to see its dividend yield rise. Philip Morris' yield is up about 3 basis points since then. Lorillard's yield is down by about 7 basis points, Altria's is down by about 8 basis points, and Reynolds' is down by about 14. Based on the latest closing prices, Philip Morris' yield has increased enough to pass Lorillard for third place, but just barely. You can see all of the current yields in the chart below.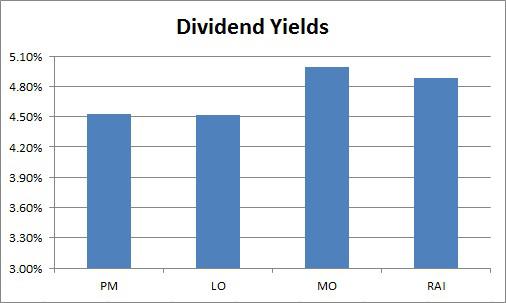 Final thoughts:
Philip Morris reported a mixed Q1. Revenues were a little light, but EPS beat, and the debt pile increased some more. The company spent a little extra on the buyback as shares were depressed a bit during the quarter. Perhaps the biggest news is that the company reduced its currency impact guidance, and that could be a positive for the rest of the year. If currencies continue to improve like they did in Q1, it will really help the company's earnings and cash flow for the rest of 2014.
We already know that 2014 is going to be a tough year as the company goes through a transitional period. New products will be launched later this year, and until then, revenues will be declining. Shares have come down from their yearly highs, which provides investors an opportunity to accumulate while shares are low. In my last article, I stated that my preferred buying range currently (based on dividend yields) was $78.80 to $82.95, with a midpoint of $80.87. Right now, that's an interesting midpoint, as the stock's 50-day moving average is right around $81. Should Philip Morris decline a little more as this earnings report is digested, investors might want to look at this name a bit more.
Disclosure: I have no positions in any stocks mentioned, and no plans to initiate any positions within the next 72 hours. I wrote this article myself, and it expresses my own opinions. I am not receiving compensation for it (other than from Seeking Alpha). I have no business relationship with any company whose stock is mentioned in this article.
Additional disclosure: Investors are always reminded that before making any investment, you should do your own proper due diligence on any name directly or indirectly mentioned in this article. Investors should also consider seeking advice from a broker or financial adviser before making any investment decisions. Any material in this article should be considered general information, and not relied on as a formal investment recommendation.