On Friday April 18th, the state department declared that TransCanada's (NYSE:TRP) Keystone XL pipeline will be delayed until additional clarity is obtained about the Keystone XL route stemming from the legal challenges facing the pipeline in Nebraska.
In February, a Nebraska judge struck down a state law that allowed the route of the controversial Keystone XL pipeline. From The Washington Post:
"Lancaster County District Judge Stephanie F. Stacy said the 2012 law violated the state constitution. She permanently blocked Heineman (NYSE:R) (state governor) and other defendants "from taking any action on the governor's January 22, 2013 approval of the Keystone XL Pipeline route," such as allowing land to be acquired by eminent domain for the project. Stacy concluded that the state legislature could not take the routing power away from its Public Service Commission and allow Heineman to make the decision. "
As a result of the above, an appeal has been filed with Nebraska's Supreme Court, with a hearing expected by September or October, and a decision by January 2015 at the earliest. What's next?
If the lower court decision is overturned, then the State Department would continue with its assessment and presumably issue a decision sometime in 2015. Assuming the pipeline is approved (still a 50/50 shot at best) and construction starts in the summer of 2015, Keystone XL would come into service in mid-2017 at the earliest - assuming smooth construction and no further legal and civil disobedience action.
If the lower court decision is upheld, TransCanada would need to file a new permit with Nebraska's Public Service Commission. Such an application would take 7 months to 1 year to be approved. Furthermore, if the new permit involves a rerouting of the pipeline to bypass the landowners who filed the lawsuit in the first place, this could trigger a new State Department environmental impact study, which could take a minimum of one year (the previous environmental impact study lasted several years). Only after all those steps are taken, the US administration will decide if Keystone XL should be approved. Thus, if the lower court decision is upheld, even if Keystone XL was to be ultimately approved, it could take until 2020 before the pipeline comes into service.
The State Department's decision on Friday to tie its approval to legal developments in Nebraska is truly a game changer and has opened the door for a delay lasting several years.
Northern Getaway & Alberta Clipper setbacks
Unfortunately, for the oil sands industry, Enbridge's competing project to move bitumen to the BC coast has also suffered a series of setbacks over the last two weeks.
On April 11th, a group of First Nations with territory covering a quarter of the route for the proposed Northern Gateway officially rejected the pipeline in no uncertain terms. From CTV:
"We do not, we will not, allow this pipeline," Peter Erickson, a hereditary chief of the Nak'azdli First Nation, told the six federal bureaucrats. "We're going to send the message today to the federal government and to the company itself: their pipeline is dead. Under no circumstances will that proposal be allowed ... their pipeline is now a pipe dream."
The next day on April 12th, the city of Kitimat, where the Northern Getaway is supposed to terminate, voted against the allowing the pipeline, with 58% voting against it and 41% voting for the project. While the Kitimat vote is not binding, it adds further fodder to the opposing the project and has already lead to calls for a BC wide pipeline referendum, where a rejection would completely doom the project.
Alberta Clipper
Even a relatively small expansion at Enbridge's Alberta Clipper pipeline system of 350,000 barrels a day, which was due to be operational by mid-2014, has been delayed to July 2015 according to an Enbridge statement to Reuters earlier this month. Yet even this date is not certain to be met, from the Orlando Sentinel:
"There's some trepidation about whether Clipper will run into the same problems as Keystone," a trader with a major Canadian oil producer said. "Apportionment is just going to move further upstream."
Bitumen Bubble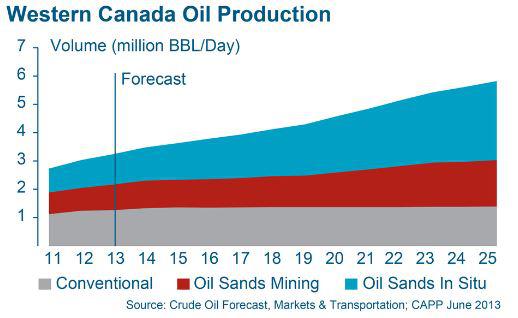 Meanwhile Oil Sands growth continues unabated at a 10% clip. On April 14th, Platts reported the following:
Canada's total crude oil output is expected to reach 3.9 million b/d in 2015, some 500,000 b/d more than the current output, driven primarily by small in-situ oil sands developments, each typically 35,000-40,000 b/d, an industry official said Monday.

Oil sands output in Alberta will account for 2.3 million b/d of the new barrels to be produced next year, followed by conventional light output in primarily Alberta and Saskatchewan at 1.4 million b/d and 200,000 b/d from eastern Canada, said Beth Lau, manager of oil supply and markets with the Canadian Association of Petroleum Producers..."Oil sands production is growing by an average 10% each year, and we also see a reversal in the trend for conventional output, with more light barrels being produced," Lau said.
The article further added:
Peter Howard, director of the Canadian Energy Research Institute, said on the sidelines of the conference that although a projected crude oil output of 3.9 million b/d next year is "certainly doable," 2015 will be a "critical" year as new pipelines that will assist in increasing the takeaway capacity of the heavy and light barrels of western Canadian crude are unlikely to be built by then.

"While on the one hand we see construction work at an advanced stage on adding another 400,000 b/d of oil sands output in Alberta and Bakken light crude in Saskatchewan to be produced next year, there will be a shortage in shipment capacity," he noted.
Rail Only Game in Town
With all key major pipelines delayed, stalled or bottlenecked, transporting oil/bitumen by rail is the only available and viable transport solution to accommodate production growth for the Canadian Oil Sands producers. Canadian Natural Resources clearly illustrates the growing role for rail in a world without Keystone XL:
1. Transport solutions with Keystone XL approved: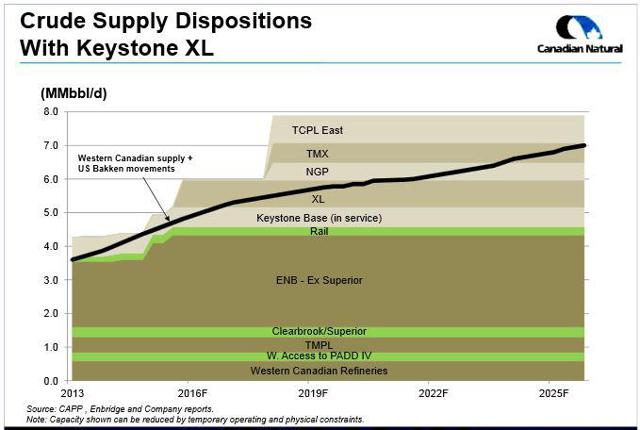 2. Transport solutions without Keystone XL (unavailable/rejected):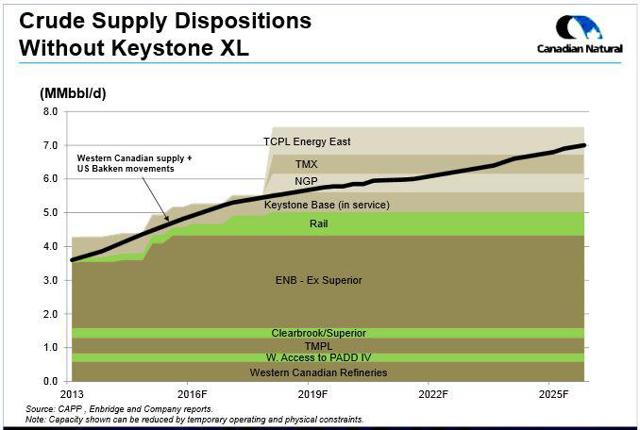 You will notice from the above that rail gains a much more prominent role in transporting crude out of western Canada if Keystone is delayed or rejected. This role could further expand if other pipelines were to be indefinitely delayed or cancelled.
How to get exposure to Rail?
Several players are building crude by rail terminals in Canada; however, investors have only a handful of players to invest in to gain exposure to this growing sector, since the majority of those terminals are either being built by private operators or major energy/infrastructure companies where those terminals present a marginal contribution to their business. From CIBC: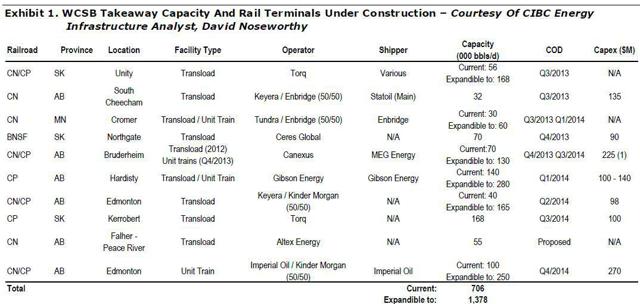 From the list above, there are only two companies with significant leverage to transporting crude by rail: Canexus Corporation (TSX: CUS) (OTCPK:CXUSF) and Gibson Energy (TSX: GEI) (OTC:GBNXF). Both companies are publicly traded and small enough for a surge in crude by rail transport to have a meaningful impact on their bottomlines. According to a February research note by TD, Canexus is the most leveraged name to crude by rail transport:

Upon the commencement of its crude by rail unit train terminal (NATO) operation, Canexus is expected to experience a 50% jump in EBITDA between 2014 and 2015. For more details, I have recently written an extensive Seeking Alpha article reviewing Canexus's business and arguing for a potential 30% rebound in its stock price. The State Department's decision to delay Keystone XL has further underpinned the case for Canexus and materially increased the value of its crude by rail terminal. Thus, for investors looking to profit from the Keystone XL delay decision, Canexus presents an ideal venue to position for the continued and increasing bottleneck for Canadian crude transport. If not an investment on its own, Canexus is a must-have hedge for any investor with significant exposure to the Canadian Oil Sands sector and Canadian energy sector as a whole.
Disclosure: I am long CXUSF. I wrote this article myself, and it expresses my own opinions. I am not receiving compensation for it (other than from Seeking Alpha). I have no business relationship with any company whose stock is mentioned in this article.