Apple (NASDAQ:AAPL) is set to do its Q2 2014 earnings report on April 23 but Amazon (NASDAQ:AMZN) is taking this week as an opportunity to annoy the iPad maker. Amazon is conducting another price war versus the Apple and Samsung (OTC:SSNLF) tablets by greatly discounting the Kindle Fire HD and Kindle Fire HDX.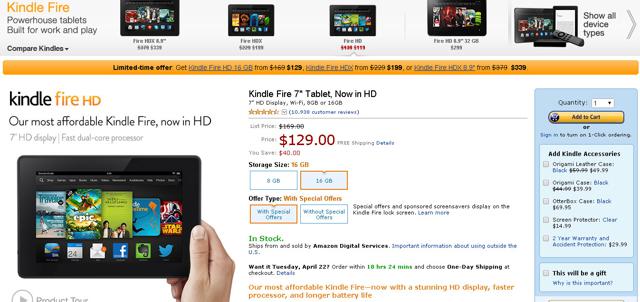 Source: Amazon
The 8GB Kindle Fire HD 7-inches tablet is now available for $119 ($20 off from its previous price tag), the 16GB Kindle Fire HD is $129 (-$40) and Fire HD 8.9" is $299. The newer models also received price-cuts. Customers can now buy the Kindle Fire HDX 7-inches for only $199 (-$30) and Kindle Fire HDX 8.9" for $339 (-$40).
This price-cut campaign is certainly not a coincidence but a deliberate dig against the world's biggest tablet maker, Apple which will report its Q2 earnings in two days' time. The iPad is a big part of Apple's earnings and Amazon has been a major reason why Apple has steadily lost tablet market share since 2012.
Amazon is a Formidable Tablet Vendor
For Q4 2013, Amazon was the top 3 tablet vendor in terms of global tablet sales. Amazon sold 5.8 million units of the Kindle Fire, representing 7.6% market share. Apple sold 26 million iPads and Samsung sold 14.5 million Galaxy Tabs for the same period. However, Amazon is not a real manufacturing company so its feat is very impressive.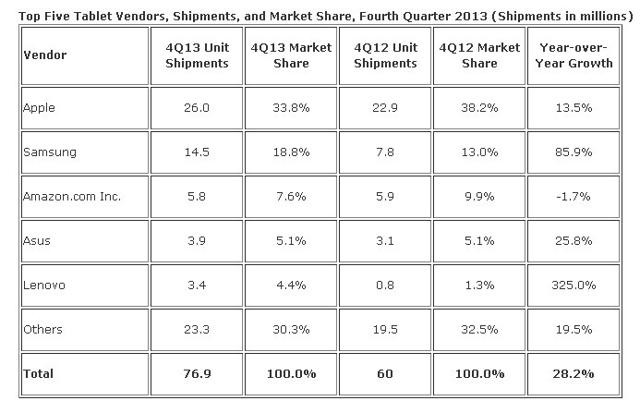 Source: IDC
Gartner's data also showed Amazon as the top 4 vendor for tablets in 2013. Gartner's numbers show Amazon sold 9.4 million Kindle Fire tablets, which represent a 4.8% market share. It should be noted that in spite of selling 1.7 million more tablets, Amazon's market share still dropped from 2012's 6.6%. This is mainly due to Chinese white box tablet producers from Shenzhen. Even Apple saw a huge 16% drop in market share due to the surge of $100 tablets from Shenzhen OEMs.

The new lower price tags of the Kindle Fire HD and Fire HDX should help Amazon stay on the top 5 of global tablet vendors this year. Amazon, if history is to be taken into account, usually makes permanent any limited-time sales promotion of its own products if there's a noticeable surge in number of buys.
The Kindle Fire HDX 7 Is Awesome
$199 Kindle Fire HDX 7-inch tablet is a great deal for first time tablet customers. The 2.2 GHz quad-core Snapdragon 800 SoC makes this bargain-priced tablet a better buy than the Samsung Galaxy Tab, Apple iPad Mini, and the $399 iPad 4th Gen. The Kindle Fire HDX has a 2GB of RAM for comfortable multi-tasking, and a new Adreno 330 GPU for serious 3D gaming on the go.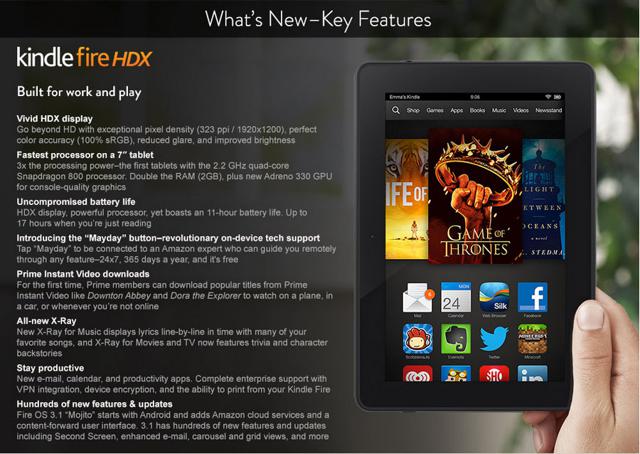 Source: Amazon
Ashraf made it clear that the Fire HDX has a better display than Apple flagship tablet, the $499 iPad Air. Ashraf called this fact a major screw-up by Apple. I agree, it was bad public relations for the iPad maker to be upended by the humble low-cost Amazon Fire HDX.
Due to the quad-core processor and 2GB of RAM, the Kindle Fire HDX also scored top notch benchmark numbers in AnTuTu and AndroBench tests.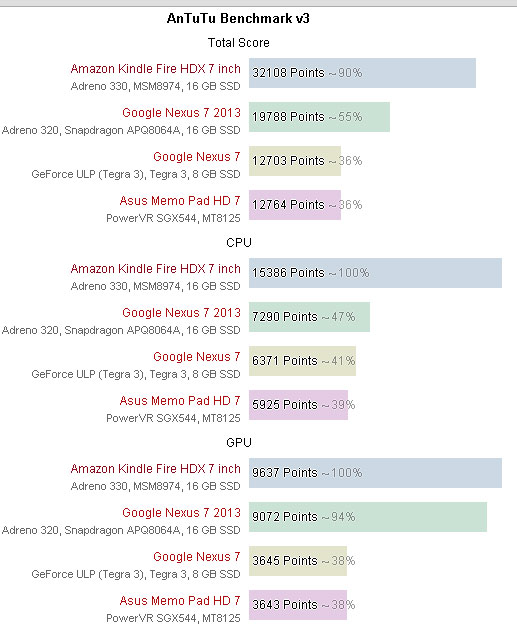 Source: Notebookcheck.net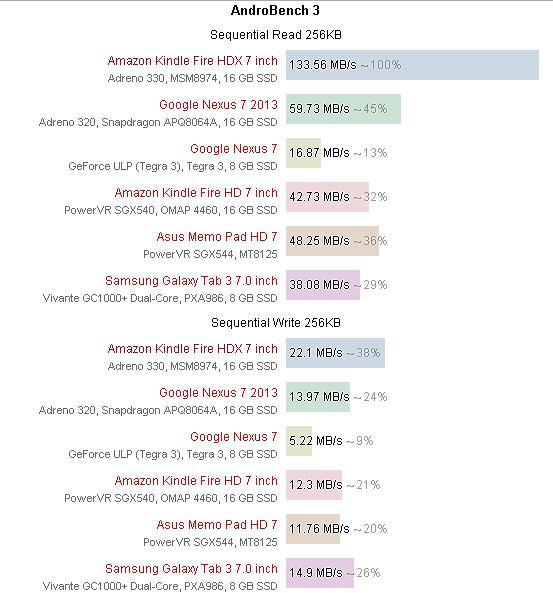 Source: Notebookcheck.net
I will gladly pay for a $199 tablet that achieves a 32,108 total score on AnTuTu. Amazon has a great tablet in the Kindle Fire HDX 7. The sub-$200 price tag makes it the current king of price/performance Android tablets. The lower asking price is also clearly an attempt to spoil the upcoming debut of the Samsung Galaxy Tab 4.
Samsung is a more famous brand for tablets but according to Boy Genius Report, the Galaxy Tab 4 will still have lower technical specs than the Kindle Fire HDX. The Galaxy Tab 4 will come in 7", 8", and 10.1 variants. All of which will share the same internal components of 1.2 GHz quad-core Snapdragon SoC, 1.5 GB of RAM, and 16GB of storage.
Conclusion
One of the biggest piranhas that can slowly kill Apple's iPad business is Amazon. Jeff Bezos is using his razor-thin operating margin tactic to gradually make expensive iPad tablets less desirable. Amazon's Fire TV is already an attempt to unseat the Apple TV from its leadership in U.S. households.
Bezos' charisma has made Amazon safe from the shorts. Despite this company's stratospheric P/E and weak EPS history for the last five years, the stock is largely free from aggressive sell-side speculators. AMZN is a HOLD. The shorts are too few in numbers (1.64% short float) to make any negative impact on AMZN. I like how Bezos run Amazon, his sales- growth-first-before-anything-else approach has made it the biggest online retailer in the world today.

Source: Finviz.com
Argus recently upgraded AMZN to BUY from HOLD and increased its price target to $480. AMZN closed at $324.91 last Thursday. Once again, Seeking Alpha users are advised to do their own due diligence. I recommended a HOLD on AMZN. However, I also felt that an experts' opinion, like those from analysts at Argus, should also be presented. Argus experts are seeing a 48% upside for AMZN.
Disclosure: I am long AAPL. I wrote this article myself, and it expresses my own opinions. I am not receiving compensation for it (other than from Seeking Alpha). I have no business relationship with any company whose stock is mentioned in this article.