When looking at its share/unit price performance, Kinder Morgan Energy Partners (NYSE:KMP) did not have a good Q1 2014. However, operationally, the company is doing well, with DCF for the quarter well exceeding estimates. In addition, several of its individual segments are showing signs of strong demand and organic growth opportunities.
A look at the overall Kinder Morgan group
Before we dive into quarterly results, a look at the overall corporate structure is necessary. Kinder Morgan Energy Partners is part of the much larger Kinder Morgan family of companies, which when combined, constitute the 4th largest energy company in North America by EV. Kinder Morgan Energy Partners represents the largest chunk of the group, with its assets spread out throughout the country.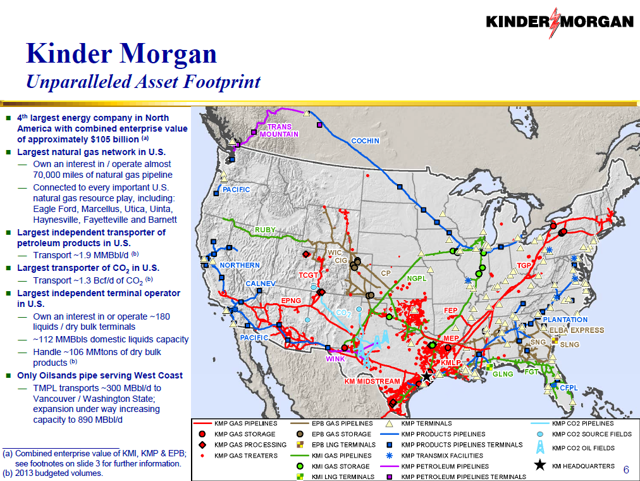 Kinder Morgan Inc. (NYSE:KMI) is the general partner, or GP, of Kinder Morgan Energy Partners and El Paso Pipeline Partners (NYSE:EPB). Also part of the group is Kinder Morgan Management (NYSE:KMR), which is basically the stock dividend paying peer of Kinder Morgan Energy Partners.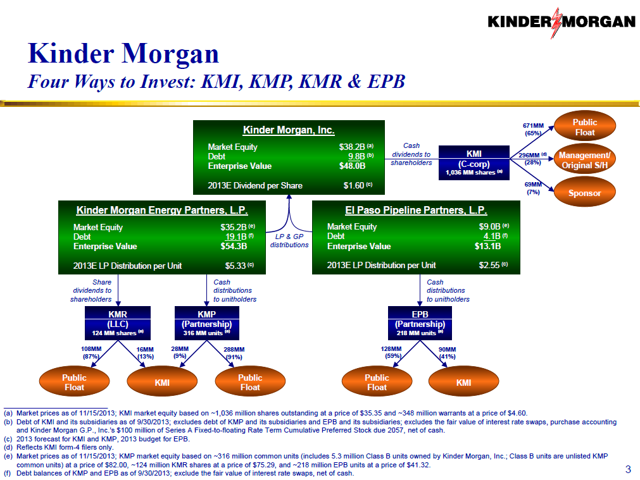 Q1 2014: A surprisingly strong quarter along with a two cent distribution increase
On April 16, Kinder Morgan Energy Partners reported its Q1 2014. For the quarter, the company posted DCF of $693 million, up 26% from the $550 million posted last year. On a per unit basis, DCF came in at $1.55, up a more modest 6% from $1.46 last year, largely due to the impact of a 19% y/y increase in units outstanding (448 million versus 376 million).
As a result of its increased cash flows, Kinder Morgan Energy Partners rewarded its unitholders with a distribution hike to $1.38 per unit, up two cents, or 1.5%, from $1.36 last quarter, and eight cents, or 6.2%, from $1.30 last year. This marks Kinder Morgan Energy Partners' 51st quarterly distribution increase since 1997.
Distribution coverage ratio is trending higher
It is interesting to note that the distribution coverage ratio for Q1 2014 improved to 1.12x, up from 1.06x last quarter, and in line with last year. Over the past twelve months, Kinder Morgan Energy Partners' coverage ratio has averaged 1.01x, though it has been trending higher in recent quarters.
While critics continue to claim that the company is having trouble finding growth, Kinder Morgan Energy Partners DCF and coverage ratio trends tell a different story. Even with near quarterly distribution increases, DCF has grown more than fast enough to keep pace, resulting in improvements to the coverage ratio as seen below.
Q2 2013: 0.93x
Q3 2013: 0.94x
Q4 2013: 1.06x
Q1 2014: 1.12x
Organic growth opportunities remain plentiful
When looking at Kinder Morgan Energy Partners' individual segments, some areas appear stronger than others.
Natural Gas Pipelines
The natural gas pipeline business saw a 46% increase in earnings to $723 million, largely thanks to last year's Copano acquisition. However, there also are organic growth projects coming online. The biggest by far would be the Tennessee Gas Pipeline ("TGP"), which is seeing increased demand from the Marcellus and Utica shale plays.
Also seeing new volumes was the El Paso Natural Gas ("EPNG") and Mojave pipelines. These systems transport gas from the Permian, San Juan, and Anadarko basins. The company noted that Mexican demand was the main driver, with that country shifting a large chunk of its electricity production to natural gas.
The company has noted that it has been signing new volume contracts for both of these pipelines, even hinting during the conference call that it may need to increase its DCF guidance as a result.
CO2
Kinder Morgan Energy Partners' somewhat controversial CO2 segment posted earnings of $366 million, up 7% from last year and in line with guidance.
Much of the increase in earnings was fueled by production growth, with oil production up 5% to 56,100 BOE/D and CO2 production up 8% to 1.3 BCF/D. As for realized oil prices, these were in line with guidance at $98.68 per BBL and up modestly from last year's $96.15 per BBL.
Do note that Kinder Morgan Energy Partners recently announced nearly $1.0 billion in additional CO2 related growth projects. While this will not help 2014 much, 2015's CO2 earnings should see a boost.
Products Pipelines
Every company has a laggard, and for Kinder Morgan Energy Partners, this would be its products pipelines segment. Earnings came in at $204 million, up 2% from last year, but way below guidance for 18% growth.
The company noted that volumes on the Kinder Morgan Crude and Condensate pipeline system ("KMCC") were challenged. While increased volumes would be ideal, the company does have contractual commitments for capacity utilization. In addition, Kinder Morgan Energy Partners has received the cash related to these contracted volumes, but cannot book it until the volumes move through the system or the shippers' makeup rights expire in about two years time.
Terminals
One segment that is showing large amounts of growth is Kinder Morgan Energy Partners' terminal segment. Earnings were up 22% to $228 million, beating guidance of 21%. The segment benefited from the addition of the American Petroleum Tankers ("APT") tankers, which were acquired late last year. However, 70% of this growth still came from organic sources.
As for specific products, coal volumes declined due to a weakening export market. However, ethanol and petcoke volumes both surged higher, due to increased demand from refineries as winter turnarounds were completed.
Canada
Lastly, Kinder Morgan Energy Partners' Canada segment posted $48 million in earnings, down 8% from last year. However, this decline was expected due to the sale of the Express-Platte pipeline system to Spectra Energy (NYSE:SE) early last year. Also impacting earnings were unfavorable forex, as the Canadian dollar weakened against the US dollar.
2014 Outlook: Unchanged, but could be heading higher
While Kinder Morgan Energy Partners did not specifically boost its guidance for 2014, the positive language in its conference call clearly indicated that one may be in order.
For starters, the company has already reaffirmed its distribution guidance for the year, with expected distributions of $5.58 per unit in 2014, up 5% from 2013's $5.33 per unit.
However, the company did note that it expects to exceed its internal projections for DCF. The current estimate is for $5.58 in DCF per unit. The factors leading to this expected increase are improved volumes on the TGP and EPNG pipelines as well as the APT tankers, which have proven to be much more accretive than expected.
I think it is safe to assume we will see the 2014 DCF estimate move higher. Annualizing the Q1 DCF leads to a full year total DCF of $6.20, $0.62, or 11%, higher than the current guidance of $5.58.
If I had to speculate, Kinder Morgan Energy Partners may be wanting to low-ball its estimates in order to manufacture a beat in future quarters. The current DCF guidance assumes a 1.00x coverage ratio for 2014, slightly too tight for comfort even for an MLP.
Conclusion
Given its forward yield of 7.10%, the stock is an attractive choice for income. However, while Kinder Morgan Energy Partners is clearly operating well, its share price remains in the gutter. This disconnect, while unfortunate, is likely a result of perceptions regarding IDR payments to KMI and their impact on future growth.
At the moment, Kinder Morgan Energy Partners trades at a massive 40% to 50% discount (based on DCF multiple) to other large MLPs without IDR obligations. I am of the opinion that something needs to be done to remedy this problem.
Disclaimer: The opinions in this article are for informational purposes only and should not be construed as a recommendation to buy or sell the stocks mentioned. Please do your own due diligence before making any investment decision.
Disclosure: I am long KMI. I wrote this article myself, and it expresses my own opinions. I am not receiving compensation for it (other than from Seeking Alpha). I have no business relationship with any company whose stock is mentioned in this article.