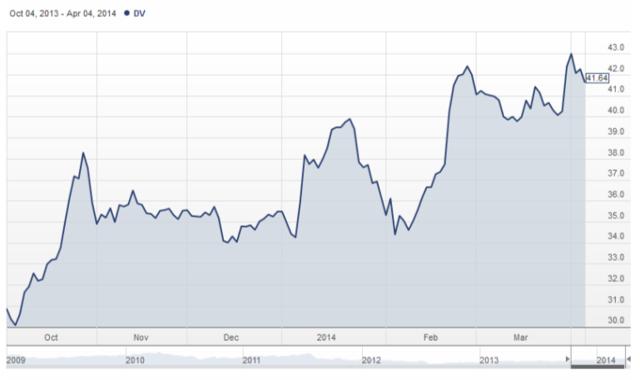 Click to enlarge
Despite declining operating margins and a shrinking student body, DeVry Education Group's (NYSE:DV) share price has unexpectedly climbed from $36.12 to $41, a 14 percent increase, since the release of its disappointing quarterly earnings on February 4th, 2014.
For the three months ending December 31st, 2014, total revenues decreased 1.9 percent to $491.3 million, while net income dropped 4 percent to $48.2 million. DeVry's Business, Technology, and Management segment had a particularly rough quarter, with revenues declining 14.4 percent.
Over a six month span, revenues dropped 3.9 percent to $942.2 million and operating cash flow decreased by $67 million. Net income decreased by more than 50 percent, falling sharply to $41 million. Revenues from the company's Business, Technology, and Management (BTM) segment decreased by 16.4 percent.
In light of these negative results, it begs the question why DeVry's share price continues to rise. The for-profit education sector is largely dependent on two factors; enrollment numbers and profit margin. Revenues are driven primarily by tuition, and because American tuition prices have steadily increased for decades, the independent variable when determining revenue is solely enrollment numbers. Secondly, the school must remain efficient and keep operating expenses down to maximize profit.
Unfortunately for DeVry, the company is failing on both accounts. Enrollments are down 2.6 percent as the total number of students has declined to less than 121,000 year over year. As a matter of fact, DeVry's executives admitted during its earnings conference call that "aggressive campus shutdowns" are a possibility.
Below is a detailed look at DeVry's undergraduate enrollment figures as of the latest January session:
| | | | | | |
| --- | --- | --- | --- | --- | --- |
| College | 2012 Enrollment | 2013 Enrollment | % Change | % of Total 2013 Enrollments | Revenue Growth |
| DeVry Medical International | 6,318 | 6,673 | 5.6% | 8.6% | |
| Chamberlain College of Nursing | 13,714 | 18,136 | 32.2% | 23.4% | 26.2% |
| Carrington Colleges Group | 7,405 | 7,358 | -0.6% | 9.5% | 3.4% |
| DeVry University | 53,138 | 45,097 | -15.1% | 58.4% | -14.4% |
| Total | 80,575 | 77,264 | -4.1% | | |
Not included in the above table is the total number of graduate students. This is because DeVry confusingly reports graduate students as "coursetakers" instead of "students." Simply put, this term refers to the total number of courses being taken by graduate students. It was stricken from the company's analysis as it is not normalized to the rest of the enrollment count. Nevertheless, DeVry's graduate program, including Keller Graduate School for Management, lost nearly 4,000 "coursetakers," which amounts to an 18 percent reduction from the prior year.
DeVry management points to the growth in its Medical and Healthcare segment, which consists of the first three schools, as evidence the company is turning a corner. However, it is clear that DeVry University, which falls under the BTM segment, is the real breadwinner. DeVry University accounts for nearly 60% of all undergraduate students, and its 15.1 percent enrollment decline is the primary reason why the company is constricting. And again, DeVry University's graduate program is also declining in numbers.
In regards to margins, the company's executives acknowledged that total operating expenses will be up $10 million in Q3 2014. Because of the weakening enrollment numbers, DeVry is expanding its scholarship program by $5-10 million as a means to attract more students. The direct byproduct of the scholarship effort is that revenue per student dropped by 1 percent in the current quarter, with that number possibly rising to a 2 percent reduction over the remainder of the year.
As a result of increasing operating expenses, Medical and Healthcare margins are expected to decline slightly over the second half of the fiscal year. In addition, margins from the Business, Technology, and Management segment are down from 9 percent the prior year to low-single digits. Issues with enrollment and margin certainly raise red flags for the company's short-term performance.
DeVry's Chief Executive Officer Daniel Hamburger blames the weak national economy, stating that prospective students' lack of confidence in the economy and hesitancy to make the commitment to go to college" is the reason for the company's woes. Then why are other for-profit institutions like Grand Canyon University (NASDAQ:LOPE) experiencing substantial increases in the number of enrollees? In the reporting year ending December 31st, 2013, LOPE's student body increased nearly 11 percent.
A brief comparison to LOPE shows exactly why DeVry is overvalued:
| | | |
| --- | --- | --- |
| | DeVry | LOPE |
| Net Income | $67 million | $114.1 million |
| Enrollment Growth (Loss) | (2.6%) | 11% |
| Ticker Price | $41.64 | $46.93 |
LOPE is also projecting an operating margin of 25 percent to be achieved by the end of 2014. On the other hand, the margin for DeVry's strongest segment, Medical and Healthcare, was 21.1 percent and expected to decline over the final two quarters of 2014. Furthermore, margin for the Business, Technology, and Management segment is projected to be in low-single digits.
Assuming that the ticker price for LOPE is fair market value based on its annual income, DeVry should be priced at approximately $28 per share, considering the education group is generating just 59 percent of the income of its competitor. Removing LOPE from the equation, the proof is in the pudding as it pertains to DeVry being overvalued. Over the last six months, DeVry's top executives are selling at a 5:1 clip.
Perhaps most alarming is that all the aforementioned financial issues are coupled with the long-term risk of government regulation of for-profit colleges. Under the Obama administration's proposed Gainful Employment regulations, for-profit colleges like DeVry would be required to demonstrate that bachelor's degree graduates in their first year of repayment have a debt-to-earnings ratio of 8 percent or lower. If a college does not meet these criteria, it will lose access to federal assistance in the form of student loans and grants.
This is an enormous risk to the for-profit education industry, as financial aid from the federal government is the lifeblood of companies' revenue stream. In lieu of the financial resources to pay for college immediately, the vast majority of Americans need some form of financial aid to pay for school. Without access to federal financial aid, tens of thousands of students would be unable to attend DeVry and its other schools.
To assuage the concerns of shareholders worried about government intervention, some for-profit institutions are releasing loan repayment data for post-graduates. For example, LOPE's two-year default rate on federal student loans is just 5 percent. Alarmingly, DeVry is silent on the issue, while high-ranking public officials including the New York City Comptroller have come out demanding that the company release some form of post-graduate repayment data. Until DeVry releases this data, investors should view this as high long-term risk.
That being said, there are a few bright spots for DeVry. The company's Medical and Healthcare segment, as well as its Brazilian operations, are performing well; revenue and enrollment are both up considerably. There is some growth potential for this side of the house, as new campuses are opening and demand is strong for the programs being offered, specifically nursing.
DeVry is reducing operating expenses via campus consolidations, optimization of school resources, process redesign and restructuring, and increasing efficiency. As a result, the Business, Technology, and Management segment alone has reduced costs by $35 million year-to-date. Overall, investors should be encouraged that the decline in enrollment is slowing, satisfaction of current students is high, bad debt rate is one of the lowest in the industry, and total cash balance increased $45 million to $262 million year-over-year.
Nonetheless, based on the current enrollment numbers and weak profit margin, there is little doubt that DeVry is overvalued at $41 a share. This is especially true when companies with solid balance sheets and performance data, such as LOPE, are available for a comparable price. Investors should sell before the substantial correction takes place.
Disclosure: I have no positions in any stocks mentioned, and no plans to initiate any positions within the next 72 hours. I wrote this article myself, and it expresses my own opinions. I am not receiving compensation for it (other than from Seeking Alpha). I have no business relationship with any company whose stock is mentioned in this article.