Deutsche Bank recently gave Hewlett-Packard (NYSE:HPQ) a Buy rating and a $40 price target. Sherri Scribner, analyst at Deutsche Bank, sees HPQ to be well positioned for margin expansion in its different business divisions. Hewlett-Packard has a strong product portfolio that makes it competitive in the Big Data services, storage and networking. Scribner believes that Hewlett-Packard's software business has the best potential for upside.
The software division can improve its operating margin to 30% from its current 22%. Scribner also called for HP to improve the 3% operating margins of its huge enterprise services division (21% of HP revenue). Hewlett-Packard can improve its services' operating margin to the industry standard of 8 to 10%.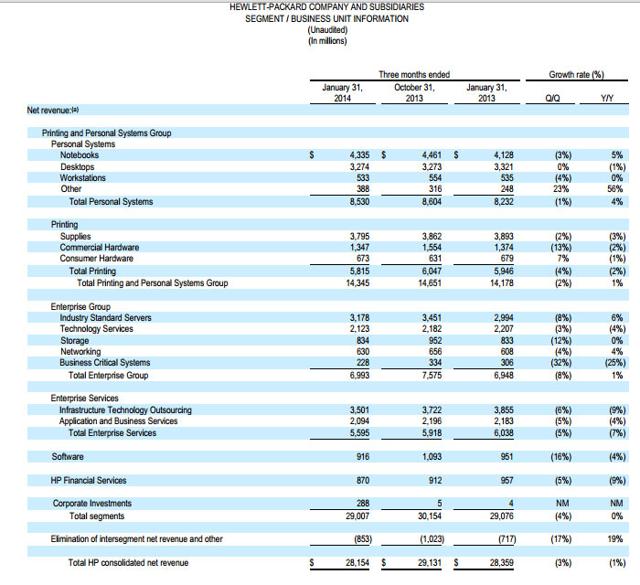 Click to enlarge
Source: Hewlett-Packard
Is $40 Realistic?
The Deutsche Bank analyst said HPQ is trading below historical levels and is currently less valued than its peer, IBM. Looking at the chart below from Finviz, I agree with Scribner's assessment that HPQ deserves a forward valuation of $40.

Click to enlarge
The low forward P/E of 8.31 and 0.54 Price/Sales makes HPQ a good long-term value play. The short float of 1.47% is negligible so HPQ is in no danger of erratic movements. The SMA50 and SMA200 numbers are also both positives so HPQ has a good chance of improving its current $31.93 price.
Recent developments may also help fulfill the $40 price target of Scribner. Microsoft is already giving away free Windows 8.1 to any gadgets that have display sizes of 9-inches or smaller. Hewlett-Packard can leverage its PC industry network to quickly become a force in tablets.
Intel's decision to also offer $5 Bay Trail chips to Shenzhen white box tablet makers is a strong hint that Hewlett-Packard can also get dirt-chip tablet processor deals from Intel. The oversaturation of $100 tablets in the world today requires HPQ to come up with similar-priced tablets.
HPQ has the resources and distribution network to quickly become a top 5 tablet vendor if Whitman really focuses on this product category.

Click to enlarge
Lenovo (OTCPK:LNVGY), the new world's number one computer seller, is already the fifth biggest tablet vendor last year. HPQ should redouble its effort to become a significant player in tablets. The future of hardware computing is in tablets and smartphones, not desktops.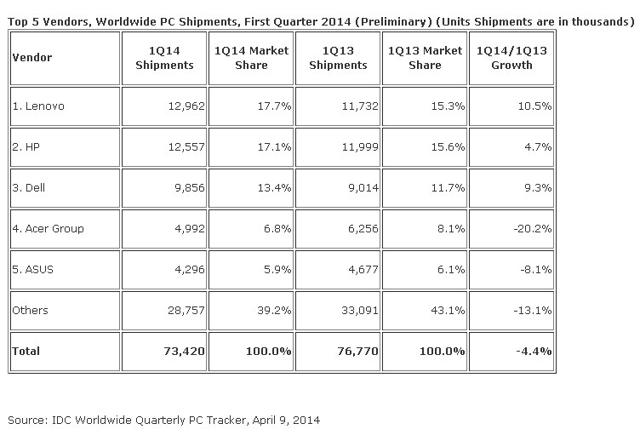 Click to enlarge
If HP can sell 12.5 million laptops and notebooks in 3 months, it should be easy for the company to sell 10 million tablets in one year. Given the vast distribution network and cash hoard of the company, HP tablets can easily proliferate across the globe. The future will ultimately confirm that tablets will replace the laptop as the main mobile computing gadget for most people.
Low-ASP Tablets Is Profitable When Volume Is High
Selling tablets, even those sub $100 products that come from Shenzhen white box tablet makers, is a profitable undertaking. Of the 200 million or so tablets sold last year, 80 million of them were made by Shenzhen, China companies. On a strategic level, Hewlett-Packard is better off focusing on higher-ASP Windows 8.1 tablets with BlueStacks Android emulator.
HPQ's strong presence in the enterprise means it can bundle its high-end Windows 8.1 or Android tablets with server or networking products. However, the $10 net profit from a $100 Android HP tablet can add up to a decent number if HPQ can do high-volume sales. Furthermore, HPQ can benefit from the good publicity that a top 5 ranking in tablets gives. Hewlett-Packard is suffering from an image problem.
Together with Intel, IBM, and Cisco, HPQ is still being perceived as a 1990s tech company that is near extinction. A good tablet business this year can do a lot in helping HPQ breach the $40 barrier. Whitman can ask Nadella for some distribution/marketing subsidies.
Microsoft can provide Hewlett-Packard with contra revenue if HPQ makes Android Open Source Project tablets that have embedded Microsoft services and apps. Nokia is enjoying early success with its Nokia X phone despite it having no embedded Google apps.
Conclusion
A serious tablet win this year can accelerate the fulfillment of the $40 target price from Deutsche Bank. The market will greatly reward HPQ investors if the company becomes a major player in global tablet sales. Hewlett-Packard is in the same boat with Intel, only a substantial win in tablets will force the stock market to give HPQ a serious upside run.
Like what Scribner said, HPQ is a BUY. I'm just waiting for Microsoft to complete its buyout of Nokia's D&S deal so I can raise some cash to make a buy-in on Hewlett-Packard. I firmly believe that HPQ has what it takes to become a profitable tablet and smartphone vendor. Whitman only needs to give serious efforts on these low-ASP products to make it happen.
HP made a lot of money selling money-losing inkjet printers but still made big money because of repeat ink cartridge sales. HP can hopefully use some of those printer profits to saturate the world with cheap HP tablets. Any contra revenue on tablets can be recouped through third-party tie-ups on advertising or apps.
Disclosure: I am long INTC. I wrote this article myself, and it expresses my own opinions. I am not receiving compensation for it (other than from Seeking Alpha). I have no business relationship with any company whose stock is mentioned in this article.