At first, it looked like Intel (NASDAQ:INTC) traders couldn't make their mind up about Intel's earnings. After the stock traded up on the news, it eventually pared back and settled near $27. The general sentiment behind earnings for Intel, however, was one of much needed progress and movement in the right direction:
The company showed they were making progress in tablets, shipping 5 million chips for tablet & mobile.
Chip revenue from PC sales made up $7.9 billion in revenue.
The bottoming of the PC market seems to be signaling continued strength for the company.
Analyst sentiment on Seeking Alpha seems to be as bullish as it's been in the last year.
Expanded focus going forward is going to be on Intel's "Internet of Things" group, which is going to be inclusive of personal appliances, home ecosystem, vehicles, and how they interact with your current PC/laptop/tablet/phone.
Last week Intel reported earnings of $0.38/share, beating the street's expectations by a penny. Revenue matched analyst expectations, coming in at $12.8 billion.
After earnings, Benzinga reported on 11 analyst groups that upped their price targets on Intel:
Topeka -- from $28 to $30, +7.1%, Maintains Buy
MKM -- from $26 to $27, +3.8%, Neutral
Susquehanna -- from $21 to $23, +9.5%, Neutral
Cowen -- from $23.50 to $24, +2.1%, Market Perform
FBR -- from $27 to $30, +11.1%, Outperform
Pacific Crest -- from $31 to $32, +3.2%, Outperform
Jefferies -- from $32 to $35, +9.3%, Buy
UBS -- from $24 to $28, +16.6%, Neutral
Roth -- from $25 to $28, +12%, Neutral
RBC -- from $26 to $28, +7.6%, Sector Perform
Goldman -- from $16 to $17, +6.2%, Sell
In addition to these analyst upgrades, a bullish flag in and of themselves, Intel's chart appears to show a major bullish move for the company.
I've laid out in a previous article exactly how I feel about charting:
Charting, as I often state, is a love/hate relationship. I dislike it because I don't like the notion of trading a company based on the chart without the fundamentals, but in the computerized algorithmic world of trading that exists nowadays, it's a necessary evil. You have to think like a machine in order to make moves that will preempt computerized runs and raids of stocks - and that's why I think charting is a necessary evil.
It's important to hammer home the sentiment that I use charting as a supplemental tool, and you should do the same, too. Never base decisions strictly on how a chart seems to look - RSIs can stay oversold/bought, stochastics the same. There are no definites with charting and technical analysis, don't forget that.
Having said that, Intel's chart looks extremely attractive, from a momentum and strength standpoint.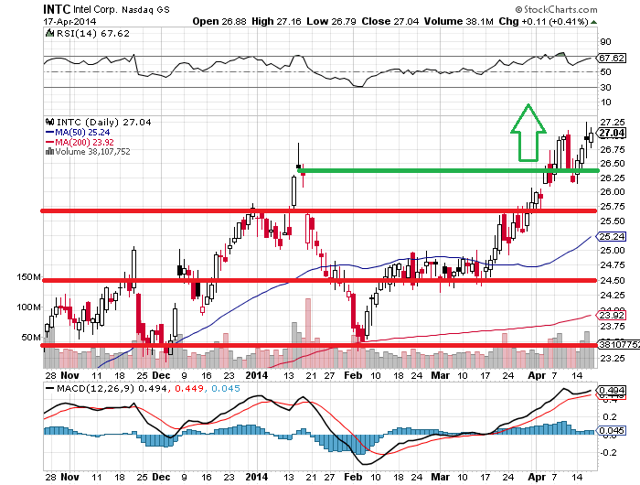 Click to enlarge
I'm not a chartist by nature, but this chart looks like it's signaling a significant upside bullish move for Intel. The stock has broken through resistance at the $24.75 level, then at $25.75, and has broken through the $26.50 level where it hung up in the middle of 2014. Intel's chart looks like a rocket that has just launched.
Continued movement upwards would further confirm a sustained long-term uptrend for Intel. There's a significant chance Intel could test $30 before this year's end.
However, there continue to be caveats. Over the weekend we learned the news that Acer (OTC:ASIYF) won't be using Intel chips in its "Liquid" line of smartphones - signaling that Intel could still be on the back end of the adoption curve with mobile and tablet:
Despite Acer's partnership with chipmaker Intel for its Liquid smartphones for emerging markets in Asia, the Taiwanese company does not have plans to use Intel chips for its upcoming 4G handsets.

Instead, it will stick to using Qualcomm and MediaTek processors for its upcoming 4G smartphones that are due in the next quarter, when Taiwan rolls out its LTE network.

Acer also declined to reveal details on why the company has not chosen to further its partnership with the chip giant. Meanwhile, Asus has chosen to launch its range of Intel-powered smartphones, the ZenFone series, in Asia.

Intel's upcoming Merrifield Atom chip will support LTE, but this is using a separate LTE radio instead of being integrated into a single package like Qualcomm's offerings.
Despite this news, Intel continues to look attractive here.
Although I recently sold my position in Intel, I'd continue to keep my eye on the company and look for potential re-entry if the stock should pull back.
Best of luck to all investors.
Disclosure: I have no positions in any stocks mentioned, but may initiate a long position in INTC over the next 72 hours. I wrote this article myself, and it expresses my own opinions. I am not receiving compensation for it (other than from Seeking Alpha). I have no business relationship with any company whose stock is mentioned in this article.