The next big news coming out of Tesla (NASDAQ:TSLA) is going to be due in just over two weeks from now. The company will be looking to let investors in on how things in the Tesla camp fared for the first quarter of 2014 on their upcoming earnings call.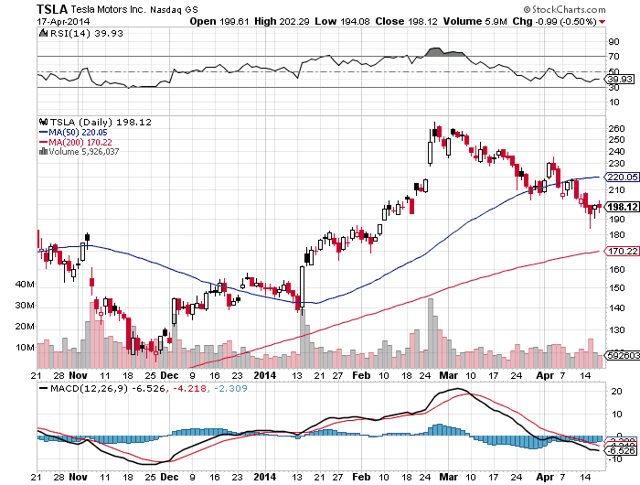 Tesla stock has been cooling off since the beginning of March, where it reached all time highs above the $250 level. Believe it or not, even with the stock's recent correction, it's still traded up 31.7% on the year 2014, and has provided 314.2% returns in the last 12 months alone.
The technical picture still looks intact for a continuation of the stock's bullish uptrend. The moving averages continue to glide upward and, so far, support at $200 has held relatively well.
Tesla is set to report first quarter results on Wednesday, May 7th after market close. Here's what both sides of the coin could potentially be looking for/arguing in Tesla's coming report:
Bulls
Continued positive progress with Tesla's Gigafactory - who are they going to be partnering with for funding and where are they going to be putting it?
Model S deliveries in China, which are set to start this week and have amassed a backlog since August - when are we going to get initial sales data?
Progress with China's charger network - an integral part of a successful story for Tesla in China.
Commentary on new news regarding the U.S. Department of Energy offering $4 billion in loan aid for renewable energy.
The implementation of Tesla Finance for business leasing, and the lending methods used therein.
What is the full year fiscal 2014 guidance going to look like after the company's first quarter?
Bears
Time is working against Tesla for their Gigafactory, and it's turning into some type of binary event for the company - it could ultimately be the "make or break" point for Tesla, bears think. Bears will likely cling to any hangups and suggest that Tesla isn't acting fast enough.
Continued news on states limiting direct selling of Tesla vehicles, as farcical as it is.
Continued adoption of some of Tesla's innovation in competitor's vehicles - the longer Tesla's technology is "out there," the less time it's going to take conventional automakers to start to adopt it.
Any news that could potentially rope in Tesla's stock price to represent a levelheaded multiple - bears continue to argue Tesla is way overpriced.
Bears have been batting around European numbers, notably Germany, suggesting they could be coming in lower than suggested, despite good numbers already in from Norway
Estimates, according to Yahoo Finance, are for $0.12/share on revenues of $700.2 million. These numbers are compared to $0.12/share on $561.79 million for the same quarter the year prior.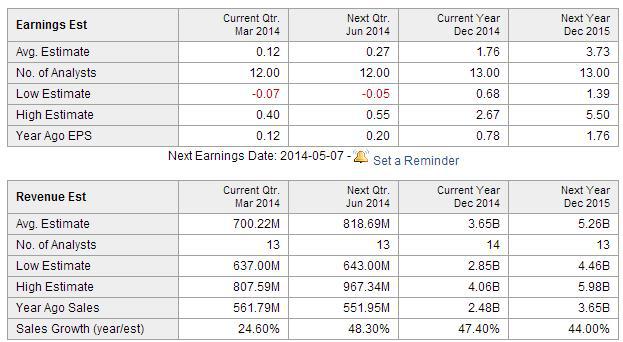 Much of this call is going to not only focus on the numbers, but the guidance provided by Tesla going forward. How are things faring in Europe? What is the roll-out plan in China? Are there updates to offer on the Model X?
Recent news for Tesla has been the belief that U.S. Model S sales could potentially be leveling off, and the focus on the company's continued growth in China, the world's largest automobile market.
Starting in Beijing, Tesla plans to partner with China Petroleum to blanket the country with chargers. Seeking Alpha reported last week:
Tesla Motor CEO Elon Musk will reportedly hold talks with China Petroleum & Chemical (NYSE:SNP) this month about constructing charging units in the refiner's nationwide network of service stations.
China Petroleum & Chemical, also known as Sinopec, would start in Beijing and then roll out the charging stations to the surrounding areas.
Musk is due in China anyway to start delivering Model S cars to Chinese customers.
Going into earnings, the bullish sentiment seems to be winning over some traders, as short interest in the company recently dropped by 10%. WKRB reported:
Shares of Tesla Motors were the target of a significant drop in short interest in the month of January. As of March 31st, there was short interest totaling 25,775,939 shares, a drop of 10.1% from the March 14th total of 28,660,129 shares, American Banking and Market News reports. Based on an average trading volume of 7,541,558 shares, the days-to-cover ratio is presently 3.4 days. Approximately 30.4% of the shares of the company are short sold.
Despite this evidence, analysts seem a bit wary, at best.
Nickey Friedman over at the Fool correctly picked Tesla's EPS and revenue last quarter, using some very simple calculations. This quarter, she's at it again - predicting that Tesla could actually take a hit after this quarter's report - her article in its entirety is definitely worth a read.
In addition, Baird is cautious going into 1st quarter earnings, but still likes Tesla for the long term.
Tesla is a perfect candidate for a long straddle into earnings, in my opinion. There's roughly 15% implied volatility priced in, but I've found some late May options that look attractive.
Interestingly enough, the early May options have roughly the same amount of implied volatility priced in as the ones that offer a couple more weeks of trading built in. For a long straddle on Tesla's earnings, one could consider the $200 puts and calls that cost $33.75 to buy.
They provide two whole additional weeks of trading post-earnings. The benefit of this is that Tesla, which tends to trend hard in one direction, post-earnings, could continue to move hard in whatever direction it's going.
Your breakevens for this straddle would be $233.75 or $166.25 - both are absolutely reasonable numbers for Tesla to trade at if you ask both bears and bulls.

While the sentiment of caution may hold some water heading into earnings - it's likely to be somewhat of an event for the stock price - I remain long-term bullish on Tesla, and predict the company will continue to execute.
If the stock dips significantly, aside from taking advantage of a potential options position, this could turn into the ultimate buy signal for those looking to add Tesla and hold for the long term.
Best of luck to all investors.
Disclosure: I have no positions in any stocks mentioned, and no plans to initiate any positions within the next 72 hours. I wrote this article myself, and it expresses my own opinions. I am not receiving compensation for it (other than from Seeking Alpha). I have no business relationship with any company whose stock is mentioned in this article.