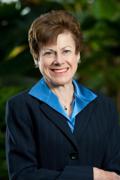 Lynn Reaser is Chief Economist for the California State Controller's Council of Economic Advisors. Previously she was managing director and chief economist for the Investment Strategies Group at Bank of America and a past president of the National Association for Business Economics.
Harlan Levy: In light of the extreme volatility in the stock markets, do you think a 10 to 20 percent correction is near?
Lynn Reaser: No. We are likely to see volatility through the year due to high Price-to-Earnings ratios and concerns about the Federal Reserve's tightening, but a correction is likely to be 10 percent at most and well below 20 percent. The economy is showing signs of picking up from its winter doldrums, and the Federal Reserve does not appear to be in any hurry to boost interest rates.
Q: What is the bond market telling us?
A: The bond market, with the drop in 10-year Treasury note yields, is expressing its view that the Fed remains focused on ongoing signs of weakness in the job market - high rates of long-term unemployment and low participation rates in the labor market - as well as inflation remaining well below its target of 2 percent.
Q: About 20 percent of U.S. companies have reported first-quarter earnings so far. What's your analysis and what do you expect for earnings this quarter and the rest of the year when all is said and done?
A: Earnings so far have been dominated by the banks, which were adversely affected by a decline in fixed-income trading profits, mortgage refinancing, and legal settlements.
Some of the first-quarter softness in the economy, which was substantially due to bad weather, will weigh on other firms. Overall, earnings in the first quarter could be down 3 to 4 percent from a year ago, which was quite strong.
An improving economy as we move through the year should produced about a 6 percent gain in earnings per share for 2014 as a whole.
Q: What sectors of the economy look strong, and which ones look weak now?
A: Biotech and Internet companies have been the market's weakest links this year following their earlier spectacular run-ups. Investors have rotated to safer havens, such as consumer staples and utilities. This move was consistent with the economy's first-quarter slowdown and softening in interest rates.
As the economy strengthens, investors are likely to take more risk, moving back into equities that have incurred sharp declines. Consumer discretionary, homebuilding, and capital goods firms could see more investor demand reflecting the prospect of better sales and profit gains.
Q: What do you see for the U.S. economy in light of the recent positive data on factory and business activity, initial jobless claims, and increased commercial lending?
A: Economic growth in terms of real Gross Domestic Product should pick up from a rate of around 1 percent in the first quarter to approximately 3 percent during the balance of the year.
In addition to weather, a need to reduce last year's run-up in inventories held the economy down in the first quarter. Rebounds from both of those forces should boost activity going forward.
Q: How does what's happening with housing affect your analysis of the economy?
A: Home sales have recently slowed due to the rise in prices and somewhat higher mortgage rates. Home construction will not be as powerful a driver of economic activity as it was last year but should still help growth. Meanwhile, commercial real estate is beginning to show more signs of activity.
Q: The Federal Reserve started reducing monthly purchases of Treasury notes and mortgage-backed securities by $10 billion a month in December and is expected to spend $45 billion this month. Will it keep tapering so that it ends the program in the fall, as projected?
A: The tapering pace should continue at about $10 billion at each meeting so that the program of additional purchases would terminate by December. However, the Fed shows no sign of selling any of its securities or reducing its balance sheet size.
Q: Is the weakening growth rate in China's economy leading to a hard landing, and how is China's situation affecting the global and U.S. economies?
A: China's economy is likely to still grow at around 7 percent in terms of real GDP, and a hard landing - significantly less than 7 percent - is unlikely, as the Chinese government would likely back away from some of its recent moves to tighten credit.
The slowdown in China is primarily affecting developing countries and some of the advanced nations, such as Australia, that export large quantities of raw materials to the nation.
Q: How destabilizing is the conflict between Russia and Ukraine, and what do you see happening?
A: So far it has caused limited concern in financial markets. European countries are reluctant to impose tough sanctions on Russia because of their dependence on Russian gas exports and other trade linkages. Tensions are likely to remain high and the eastern part of Ukraine is likely to eventually break away and either become part of Russia or closely aligned with it.
Q: How debilitating is what seems to be a permanent standoff between Republicans and Democrats in the paralyzed Congress?
A: Sequestration has at least been put off for two years. A budget is unlikely to be passed on time again with a Continuing Resolution put in place for at least some time.
The impasse and the focus on next year's election mean that tax reform and the addressing of long-term budget problems, including entitlement programs, will continue to be deferred.
Instead, the president and Congress will enjoy the benefits of higher revenues from an improving economy which will bring this year's deficit down substantially even though it may only be a brief respite.
Disclosure: I have no positions in any stocks mentioned, and no plans to initiate any positions within the next 72 hours. I wrote this article myself, and it expresses my own opinions. I am not receiving compensation for it (other than from Seeking Alpha). I have no business relationship with any company whose stock is mentioned in this article.