I took a long position in General Motors (NYSE:GM) last week, right around the time the stock dropped to $32. I had sold off my previous long position during the very beginning of the recall crisis, saving myself a couple bucks but definitely taking a loss from my buys at $41 down to the mid $30's. At some point, companies become so cheap, they get really tough to ignore. Thus was the case last week and why I own General Motors once again. Also, it's proven to be a good trade so far.
In the midst of an ugly looking chart, GM almost looked like it wanted to take a bit of a bounce last week. Whether the stock continues its long-term downward trend or finally bucks up will be in focus this week. The recall issue is anything but over.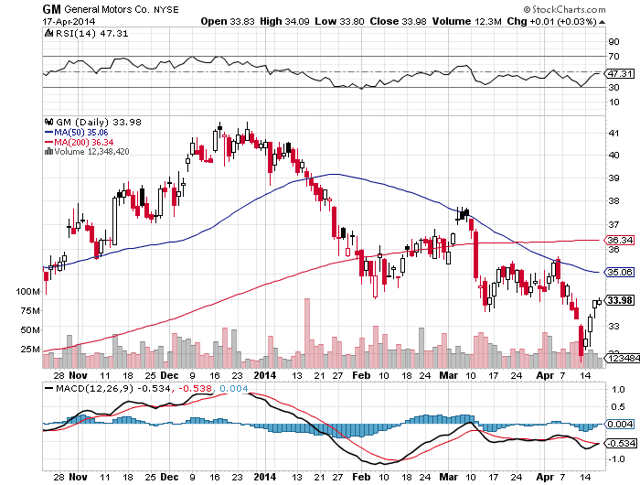 When you're trying to play something contrarian in the case that GM is in now, you have to wind up asking yourself some questions:
Is the company still going to be around in the long-term? In GM's case, that answer is yes.
Is the underlying sales beast that makes up the aggressive growth in the company still hungry? So far, all signs point to yes.
Is the company still aggressively investing in itself and looking to expand? Yes.
Is there still markets for the company to grow? Yes.
Has the brand name been negatively affected in a manner that is going to affect future sales? This remains to be seen, and can be filed under "caveats."
The biggest market for potential growth for General Motors remains China. Europe and the U.S. follow, and need to show growth as well - but a lot of the company's focus, as well as the shareholders' focus, is on China. If the company isn't negatively affected from the recall in China, it still has a chance to continue its outstanding performance in Asia.
And, according to Dan Ammann, GM's President on CNBC just this morning, China sales have not been affected by the recall. If true, monstrous news:
General Motors' massive recall of cars with defective ignition switches and power steering failures has not impacted the automaker's business in China, according to President Dan Ammann.

"We haven't seen any impact - I haven't heard a lot of discussion around that in my couple of days here," Ammann told CNBC on the sidelines of the Beijing auto show on Sunday.

When asked whether the company was doing anything specific in China to counter any potential fallout from the recall debacle, he said, "nothing specific, other than just doing what we're doing every day, which is making sure that we put the customers first from a service and product perspective."
Like its U.S. counterpart Ford (NYSE:F), news just came out over the weekend about General Motors looking to invest $12 billion in China in the next three years, to try and continue to capture the growth of the world's largest auto market. Reuters reported:
U.S. car giant General Motors Corp (GM.N) plans to invest $12 billion in China from 2014 to 2017 and build more plants next year as it competes with aggressive rivals in the world's largest auto market.

GM expects its China sales to expand 8-10 percent this year, in line with the overall growth of the Chinese market, where foreign firms, such as Volkswagen AG (VOWG_p.DE), and domestic players like SAIC Motor Corp (600104.SS) vie for more market share.

"We are investing wisely and accelerating our vehicle development and manufacturing to keep pace with market demand. In total we are investing $12 billion between 2014 and 2017," Matt Tsien, president of GM China, said at the Auto China show in Beijing.

GM plans to build five more plants in China next year, as part of its efforts to ramp up manufacturing capacity there by 65 percent by 2020, executives said on Sunday.
Sure, GM is a little late, but predictive sales numbers in China show that they aren't exactly going to be missing the bus.
The Beijing Auto Show started yesterday and it lays step one of many in a groundwork where GM can possibly start thinking about trying to go about business as usual, and feed the company's underlying sales beast. The recall has been a horrific and humiliating headline, but it can't last forever.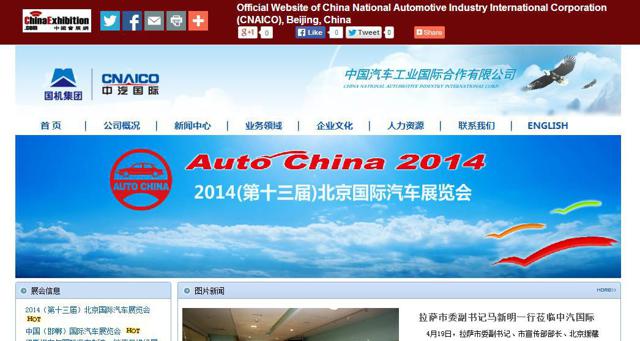 Apparently, a ton of the company's focus has gone to the Beijing auto show, as compared to the show in New York where GM apparently has had a tepid response.
2013 showed aggressive growth for GM in China: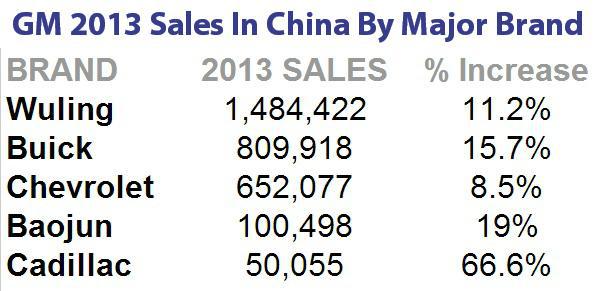 General Motors seems to know where its bread can be buttered - the Chinese auto market. And, as a shareholder, I think it's where the company should be focusing. Ford's investments in China have paid off big time.
As long as the beast remains hungry in China, GM should be able to use the country's sales as a crutch to rest on while the rest of this recall issue continues to play out. People are going to be looking for something to cling to, and China might just be it.
I contend that as long as the underlying sales beast isn't affected materially going forward from the recall, that General Motors does have a chance of eventually pulling itself from this muck and returning to where it once was.
I'll continue to hold General Motors for the time being and keep a close eye on how the company continues to fare.
Best of luck to all investors.
Disclosure: I am long GM, F. I wrote this article myself, and it expresses my own opinions. I am not receiving compensation for it (other than from Seeking Alpha). I have no business relationship with any company whose stock is mentioned in this article.