There are 3 paramount reasons I believe this is so:
Bonus round if you aren't convinced this is enough to destroy a perfectly good summer rally:
Then there are of course plunging retail sales, a China slowdown, problems with our large trading partners in Europe, and a government that, having spent all our money, now seems hell-bent on spending that of our children and grand-children – all before November. But I think the first 3 will be quite enough to destroy any market rally all by themselves, thank you.
I most recently debunked the whole idea of a "summer rally" on 29 June (here.) Since then we've had a little head fake, just enough to get us going the wrong direction from the primary trend. We may even have another today if Wall Street hasn't laid on enough short positions yet and needs to suck in more buying. Wall Street can still manipulate earnings (B of A (NYSE:BAC) feels so bad that they "inadvertently" forgot to mention that $2 billion that just happened to end up, somehow, golly gosh, WE sure don't know how, off the books.)
But they can't fake the housing numbers, the job numbers, the likelihood of a large tax increase, and the municipality, state and national debt. Let's take a look at each in turn:
HOUSING
Cheap and easy mortgages to anyone who could afford them -- OR anyone who couldn't afford them but was willing to lie on their mortgage application OR anyone who couldn't afford them and was not willing to lie on their mortgage application but who had a mortgage broker or banker who did so -- fueled the cyclical rally that began in the fall of 2002 and spring of 2003. This interrupted the natural secular decline which followed the dotcombomb in its tracks and, for those with myopia, made a hero of Alan Greenspan, who promised more happy days would soon be here again.
The result was a runaway rise in home prices – after all, "everyone" could afford their own home; just sign on the dotted line and don't worry about that pesky little interest-rate reset 2 years down the road. The total collapse of the Greenspan / Freddie Mac (FRE) / Fannie Mae (FNM) / Wall Street securitization of housing and construction, which led to declines in materials, massive layoffs in construction, and lowered retail sales of furnishings, flooring, appliances, etc., is what precipitated the current re-ignition of the bear. And without a rebound in housing activity, we will not magically recover. So how are we doing in this area?
Well, mortgage applications for home purchases just fell to a 13-year low. Without the taxpayer-to-homebuyer gift (with a little vigorish off the top for the overhead of the government agencies administering the program) home building, home sales, and home prices have all fallen anew. This next week we will see new numbers for the Home Builders' index, New Housing starts for June, and Existing-home Sales for June. I see less than a glimmer of hope that any of these will be positive. (That's not to say there won't be a positive spin placed on them by the government and the media – but, you know, I'm getting really tired of being told we're still in deep kimchi but, as long as we keep treading, it isn't as deep as it could be...).
PS: Beyond housing, there is the commercial side of real estate, which is not recovering as spiffily as the government predicted 20 or 10 or 2 predictions ago. As recently as May, the delinquent unpaid balance for Commercial Mortgage Backed Securities was $57.34 billion. That is 26 times higher than it was in March 2007.
JOBS

If you are looking for good news here, look elsewhere. The "official" unemployment rate stands at a shade under 10%. If you are inclined to believe that, I have some jumbo Pacific Ocean shrimp raised in a rocky little cliffside cove in Nebraska to sell you. Even the administration's own "fine print" level of unemployment, the broader "U6" measure, owns up to something more like 18%. And shadowstats.com, a great website devoted to truth-in-statistics, counts as unemployed those who no longer collect benefits or those who have despaired of ever finding a job, and reports it as closer to 22% (click on chart to enlarge).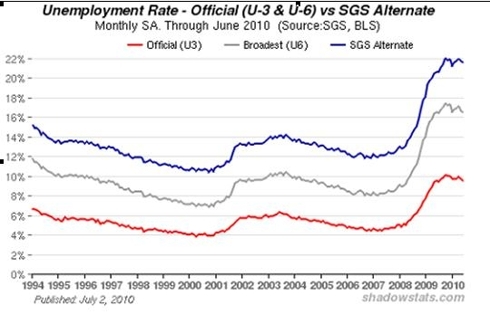 That comes closer to the empirical evidence I see around me every day – roughly 1 in 5 Americans who would like to get a job and earn a living cannot find one. (The government statisticians, however, have concluded that if you've given up all hope of finding a job, then you aren't looking, so therefore you aren't "really" to be included among the unemployed. I guess they figure those people are simply eccentric Rockefellers who have chosen to live in a cardboard box and eat cat food this year.)
Congress is deadlocked right now as to whether to extend jobless benefits beyond their normal expiration. One argument is that we must help these people. The other side simply says, "Great idea. We agree. But where is the money to do so going to come from?" When you and I run out of money, we tell our kids "We can't afford to go to Disneyland this year." Certain members of Congress seem to spend their entire lives there.
TAXES
"Read my lips. No new taxes." If you don't like that one, how about, "We need to spread the wealth in this country. But no one making less than $250,000 a year will see their taxes rise." There are lies and there are lies, but this last one was a whopper! In fact, if the Bush tax cuts are allowed to expire, today's six rate brackets of 10%, 15%, 25%, 28%, 33% and 35% will be replaced by five new brackets starting at 15% and progressing to 28%, 31%, 36% and 39.6%.

In addition, any profit on the sale of a house (profit on the sale of a house? What's that?) or a stock or any other capital asset will be taxed – for everyone, not just those making more than $250,000 – at 20%, not 15%. And dividends will be taxed at your marginal tax rate, not at today's 15%.
Further, those who never made more than $50,000 a year income in their lifetime but who built up a nice little nest egg to leave the kids will see the return of the Estate Tax That Ate Cleveland.

And married people filing jointly will lose the protection they have enjoyed from what was called "the marriage penalty" in our convoluted and lobbyist-endowed tax code. Beginning next year, the joint-filer tax brackets will contract, causing higher tax bills. That's for everyone, not just "the wealthy."
Finally, all those confiscatory losses of deductions and personal exemptions based upon income will be back with a vengeance and they will hit the middle class, not just those earning more than $250,000.
BONUS ROUND: DEBT

In my article on MINNOWs and CO-MINNOWs, states that are walking bankruptcies and whose debt should be avoided (here) we must now add another, even bigger debtor: the USA. As well as a number of other sovereign nations around the world.

As California, New York, Illinois, et al beg for money from the feds to bail them out, there will be a quid pro quo – some sort of plan to pay it back. If you think this won't involve layoffs, yes, even of public sector workers, you are a candidate to be a partner in that Nebraska ocean shrimp farm. Do you think another 100,000 or 200,000 unemployed former state workers dumped on the unemployment rolls will help or harm the jobs numbers?
And how long, for that matter, will the rest of the world run to US Treasuries, rather than Canadian Treasuries or gold or Chinese Yuan or whatever, every time there is a hint of danger in the world. The question is not whether the US will be forced to pay more on its Treasury obligations, but when. (The US government is actually doing something smart here – issuing lots of Treasuries now while interest rates are low. That doesn't auger well for attracting once-burned, twice-shy repeat borrowers down the road, but the more you can borrow when you – the US Treasury – know how little you are really going to be worth, I guess the better. It still feels smarmy, though, doesn't it? This is America. Is that how we do business with others?)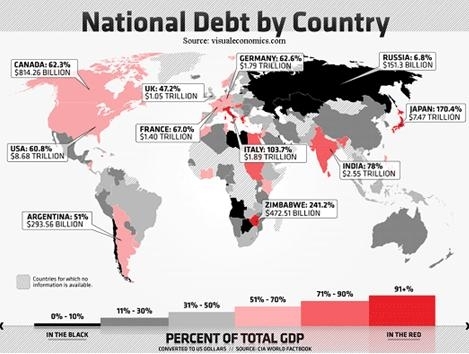 So what's the good news? I believe it is that Americans outside the halls of Congress, the White House and certain governor's mansions, get it. If we are out of money, we don't spend any more until we make more. Even those once hopelessly addicted to credit cards, credit purchases and no-money-down home loans are tightening their belts. U.S. families now have nearly $8 trillion in cash (by which I mean "cash" – currency, money market funds and CDs). Even our (non-financial) corporations are getting it, with close to $2 trillion in cash, not including receivables. That's the highest percentage of assets in a half a century.
Then there's November. We could do our usual trance-walk and vote the incumbents who got us into this mess back into office; after all, my representative got that new road expanded or got my pension increased or whatever. But if everyone thinks like that, we simply return all 535 and they take it as a mandate to keep heading us over the cliff. Cockeyed optimist that I am, I have faith that Americans will realize this and throw at least half of these polecats out on their ears to find a real job.
If you feel as I do in the short term – between now and, say, November 2nd, 2010 – you might want to protect yourselves. Here's how I advised a brand-new client, just today, how we would construct a defensive portfolio:
We form the foundation of the portfolio with inflation-protected bonds / bond funds that will pay a little above inflation and taxes today -- but will go up, not down as most bonds would, with inflation and rising interest rates. We also buy short-duration, short-maturity bonds / bond funds. Examples include PIMCO Enhanced Short Maturity Strategy Fund (NYSEARCA:MINT), iShares Barclays TIPS Bond ETF (NYSEARCA:TIP),SPDR DB Int'l Govt Inflation Protected ETF (NYSEARCA:WIP),SPDR Barclays Capital Short Term International ETF (NYSEARCA:BWZ), Western Asset Variable Rate Strategic Fund (NYSE:GFY), and Nuveen Floating Rate Income Fund (NYSE:JFR).

With that protection in place, we seek companies that are unaffected by recession -- but, fair warning, whose shares might still sell off in a panic. If they pay a good enough secure dividend, I believe they will still do well and may become core holdings over time. These might include some Canadian energy firms recently converted from royalty trusts, US coal MLPs like Penn Virginia (NYSE:PVR) and Natural Resource Partners (NYSE:NRP), or nasty old tobacco firms like Altria (NYSE:MO) or Vector Group (NYSE:VGR).

To these I would add some precious metals and food commodity ETFs. To every thing there is a season and this may well be the season to counter a skittish market with securities like Silver Wheaton (NYSE:SLW), a silver royalty firms, one or more of the gold ETFs, and, if it doesn't run away from us, the iPath Sugar Trust ETN (NYSEARCA:SGG).

I would also place the aggressive portion of the portfolio (the "top of the pyramid") in inverse ETFs that trade contra to the market. I particularly like the S&P 500 ultra short, the small cap and the emerging markets ETFs (symbols SDS, RWM and EUM) as well as the volatility ETF (NYSEARCA:VXX). Finally, I would continue to seek special situations -- stocks of companies that seem to have bottomed or be within a couple points of doing so that also look to have a catalyst on the horizon that will protect against further decline and perhaps move them even higher. The recipient of much criticism then and now for this thought, I believe BP may be a good example of a company whose fortunes will improve from where we purchased our shares, especially after tossing off the dead weight of their current senior management.

© Copyright Charles Schultz 2010
In 56 years, Charlie Brown never caught on. Will we?

Author's Disclosure: No change from previous articles. We are in cash equivalents like very short-term bond funds and inflation-protected securities, precious metals, select agriculture and energy ETFs, special situations, and a dollop of short-side ETFs. See article for some specific suggestions for your own due diligence.
The Fine Print: As Registered Investment Advisors, we see it as our responsibility to advise the following: We do not know your personal financial situation, so the information contained in this communiqué represents the opinions of the staff of Stanford Wealth Management, and should not be construed as personalized investment advice.
Past performance is no guarantee of future results, rather an obvious statement if you review the records of many alleged gurus, but important nonetheless – for example, our Investors Edge ® Growth and Value Portfolio beat the S&P 500 for 10 years running but we are flat in 2010. We plan to be back on track as the year progresses and we put our cash to work but "past performance is no guarantee of future results"!
We encourage you to do your own research on individual issues we recommend for your analysis to see if they might be of value in your own investing. There are only two ways you see our work at this site: by your choosing as a result of seeing an article or by taking the recommendation of another reader. In either case, we take seriously our responsibility to proffer intelligent commentary, but it should not be assumed that investing in any securities we are investing in will always be profitable. We do our best to get it right, and we "eat our own cooking," but we could be wrong, hence our full disclosure as to whether we own or are buying the investments we write about.