The confrontation in Ukraine continues to keep investors on edge over this long European holiday weekend. The situation remains precarious despite the unexpected four-party agreement in Geneva last week and even during the temporary suspension of the "anti-terrorist" campaign in observance of the Easter holidays. The "he said/she said" activity is quickly exhausting the West's Russian sanctions stand - it seems a more diplomatic approach with Russia is now required. Therefore it's no real surprise that forex ranges have been tight, volatility kept to a minimum and liquidity thin while watching and waiting for any positive developments on the geopolitical front.
The dollar majors have largely remained in a narrow holiday range with USD/JPY the most notable mover, rising to a 2-week high above ¥102.60 after a wider than expected trade deficit in Japan. The kiwi did manage to spike above $0.86 in the early Asia going but has since reversed all of those gains, while the AUD happened to match its Friday highs of $0.9340 before retreating and treading water ahead of the North American session. Last week's CFTC positioning data report happens to show that the net longs in both the AUD and NZD currencies have hit an 11-month high.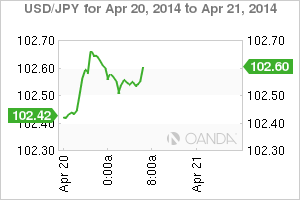 Japan's bigger-than-expected rise in its March trade deficit, where imports have surged and exports remain subdued, has encouraged some further yen selling. It seems that investors are somewhat happy to treat the latest disappointment in the Japanese trade balance as reason enough for more speculation over the Bank of Japan turning less neutral in favor of more easing. It's also worth noting that the BOJ's policy statement at the end of this month (April 30th) will also feature the release of semi-annual outlook on price and the economy. Japan's March trade deficit of $14B was four times higher than last year's print. Exports showed a negligible rise of +1.8% y/y - well below the +6.5% consensus - while imports spiked by +18.1% y/y mostly due to another double-digit rise in shipments of crude oil.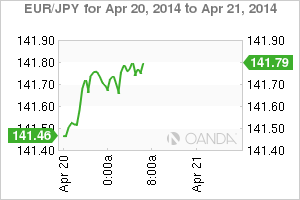 What's is the BoJ to do? Will they be proactive and provide further QE or should they be relying on price fundamentals headlines for direction? Japan trusting inflation prints can give a distorted view of what is currently happening. This Friday's Japanese inflation data is likely to show above target inflationary pressure, somewhat masking the BoJ's policy agenda as being successful. Both Tokyo's and Nationwide CPI are released together, and the market expects a 2.8% y/y inflation print in the Tokyo region - a reading well above the BoJ's +2% target. This higher reading does "not" equate to the BoJ's mission as being completed. Analysts note that the implementation of the sales tax hike on April 1st will have somewhat artificially boosted Japan's inflation headline prints (companies passing on the sales tax hike to customers). The BoJ has already recognized this and will adjust April's inflation print downward by -1.7% to reflect a truer picture of inflationary pressures in the region. The BoJ's aim is to generate "sustainable" inflation. Governor Kuroda's problem to date is that the uptick in Japan's inflationary pressures has been mostly due to yen weakness and with no "fresh" weakness for months the price of the CPI basket can only be expected to stall.
The Easter Monday holiday in Europe is expected to keep North American participation at a minimum.