Introduction
In today's article I will be comparing 3 fast food companies that appear to be having excellent businesses. My comparisons should make clear which is the best investment at the moment and how much upside it has. The companies I will be discussing are McDonald's (NYSE:MCD), YUM! Brands (NYSE:YUM) and Chipotle Mexican Grill (NYSE:CMG).
While I realize that there is a lot of individual information to be found about these companies, I feel that it is almost impossible as an investor to effectively compare them. After my article I hope this problem will no longer exist.
To start my thesis and to become acquainted with the three companies, I've made some simple Excel tables to compare a few factors of all three companies. (Difference in size, difference in last reported annual figures and difference in current valuation). Afterwards, I will make individual earnings models for all three companies and will conclude (with a point system) which company will 'win' the comparison.

McDonald's, Chipotle's and Yum's businesses are respectively valued at $2.42M, $10.82M and $0.83M per restaurant, making Chipotle's valuation look extremely expensive compared to its peers. However, on a sales per restaurant basis, Chipotle is the absolute king with $2.01M of sales per restaurant compared to $0.70M and $0.32M per restaurant for McDonald's and Yum Brands, making each restaurant almost 3 and 7 times as productive as those of its peers.
On a sales per employee basis however, Yum scores best with $173.336 of sales made per employee versus $70.798 and $63.886 for Chipotle and McDonald's respectively.

Comparable restaurant sales growth represents the change in period-over-year sales for restaurants beginning in their 13th full calendar month of operation.
As one can see, Chipotle is still reporting impressive growth figures as well in regular revenue as well in income and comparable sales growth. Old giant McDonald's is still growing, but mostly outside the US. Yum Brands disappointed after a pretty unlucky fiscal year. Its KFC China business performed very poorly after a serious dip in consumer confidence caused by an Avian Flu incident. However, despite of the China situation, Yum was still able to grow its same store sales (prior to foreign currency translations) by almost 10%.
When taking a look at Chipotle's 18% growth figure, I'm surprised that the company is achieving this while still not heavily expanding/growing outside of the US. 99% of Chipotle's revenue is still coming from the US and the company currently only has 9 restaurants in Europe.

When looking at the above valuation metrics, it is quite obvious that McDonald's is the more reasonably priced one. It has a nice dividend yield and a solid P/E ratio of 15.
Chipotle on the other hand currently enjoys premium pricing with a 34.64 forwarded P/E ratio. The market is seeing solid growth figures, high sales per restaurant and plenty of room for future expansion in new markets and it rewards it for that. Chipotle doesn't have debts, but it doesn't pay a dividend. This might be an important factor for dividend investors. On the bright side: its dividend can only go up from here.
Yum Brands investors seem to be enjoying best of both worlds. The company is an absolute giant (40.000 restaurants) but is still finding room for expansion and growth. The company offers a decent dividend yield of 1.96% and is quoting against a small premium price of 18.10 times next year earnings.
McDonald's earnings model
For my McDonald's earnings model, I've used very conservative assumptions as the company's growth is slowing and there seems to be a little shift in what consumers want. Therefore, I've chosen a slight revenue growth of 1.5% annually, far below its 4-year average of 5.89% and slightly rising operating costs; so an operating margin that declines 0.10% annually. For the income tax rate, I've chosen a 32% rate, which is in line with its normal rate. And for the number of shares outstanding, I suspect a decline by 1.6% annually, in line with its 4-year average.
These assumptions should lead to the following tables:



Following my very conservative earnings model, investors are slightly overvaluing McDonald's as it only offers 5% potential by 2017 (dividends excluded).
Chipotle earnings model
For Chipotle I've used completely different assumptions. Heavy growth and a stable operating margin are key for my earnings model. If McDonald's is able to hold a 31% operating margin, I believe a nice 15% operating margin must be doable for Chipotle. I've kept the company's tax rate at its 2014 forecast of 39% and I've in calculated a share buyback program of 200 thousand shares a year or at current price levels a buyback of around $100M per year.
For its revenue growth I've chosen 12.5% -> 17% -> 20% -> 20% for 2014, 2015, 2016 and 2017, respectively. I suspect impressive growth figures the following years as the company might start to enter Europe more aggressively.
This should lead to the following tables:



A fast growing company like Chipotle deserves a higher valuation, but I feel that there is a higher than normal chance that Chipotle is too expensive right now.
I not only used very high growth prospects but also an EPS multiplier of 30. And despite of these, the company would still only give you 5.40% potential (possible dividends excluded) by 2017.
Yum Brands earnings model
As for Yum, I've decided to take a 2% declining revenue growth, starting from 15% in 2014 to only 8% in 2017 as I believe growing will become a little harder once it is recovered from its fall-back in China. I've assumed a stable operating margin of 14%, in line with its historic performance and a tax rate of 30%, which is a little high compared to previous years but it is better to be cautious. Shares outstanding are supposed to go down 2.5% annually, in line with its 3Y-average.
This should lead to the following tables:



As one can see, Yum is offering some nice potential if my assumptions are more or less correct. The company could report $4.8 in diluted EPS by 2017 and if multiplied by 18 (its current forward P/E ratio) the company could be valued at $86.49, giving you a 13.29% potential (also excluding dividends).
Grand conclusion: Who wins the comparison?
While YUM! Brands seems to be most attractive right now as it is offering best of both worlds (decent growth, serious value and a decent potential of 13.29%), McDonald's is the best company to buy following my point system. McDonald's may not have most potential, but it is coming first in almost all of the important categories such as operating efficiency, dividend yield, brand value and low valuation multiples.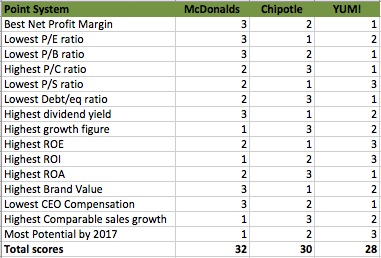 3 = Highest score
1 = Lowest score
Your conclusion can be completely different, depending on how much you value growth, CEO compensation, valuation and debts. I've chosen to equally value each aspect.
Disclosure: I have no positions in any stocks mentioned, but may initiate a long position in MCD over the next 72 hours. I wrote this article myself, and it expresses my own opinions. I am not receiving compensation for it (other than from Seeking Alpha). I have no business relationship with any company whose stock is mentioned in this article.