The last time I commented on crude (NYSEARCA:USO), the fundamentals had mixed with wild speculation to make it likely that the prices were headed significantly lower. They did, dropping by 15% or so over the next few months. Since then, most of the carnage was again recovered, and again we're witnessing wild speculation.
Interestingly, this presents a setup where, again, the most likely outcome will be lower prices. Let me explain why.
Record speculation
Much like during 2013, in the chart below we can see that large speculators and managed money are overflowing with oil, at or near historic records (Source: Barchart.com)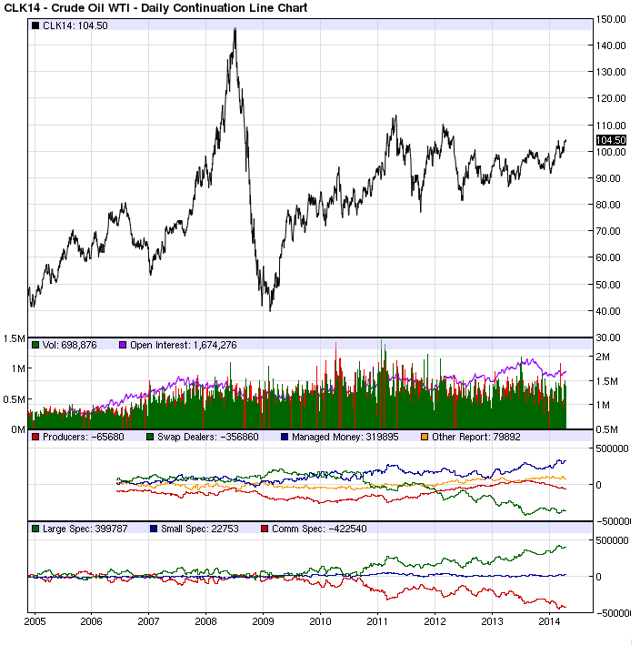 Every time this type of speculation peaks, crude peaks as well. It's easier for it to peak again now because, as we'll see, fundamentals are turning against long crude positions in a visible way.
The fundamentals
U.S. production keeps increasing
This was already a factor back in September 2013. Since then, crude production in the U.S. added another 0.5 million bpd. And it's still increasing 1 million bpd year-on-year. The U.S. is adding a Libya per year (Source: EIA).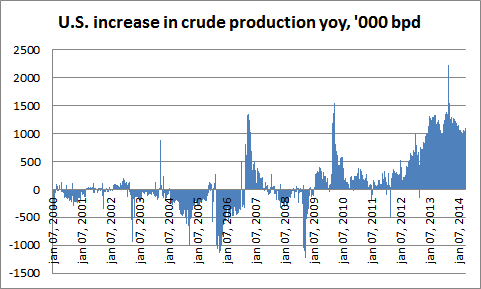 Very large inventories
Even with declining imports, the massive increase in U.S. crude production has led to an increase of crude inventories (Source: EIA)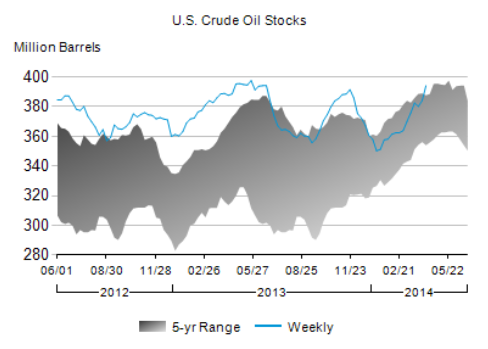 Cushing is lower, but the oil is inundating the Gulf
For a while, Cushing was swimming in crude, leading to much larger spreads between WTIC crude which settles physically in Cushing, and Brent. The inventories at Cushing have now normalized due to the opening of the TransCanada's Marketlink Pipeline. However, this led to a glut in the Gulf whose inventories are now at records (Source: EIA)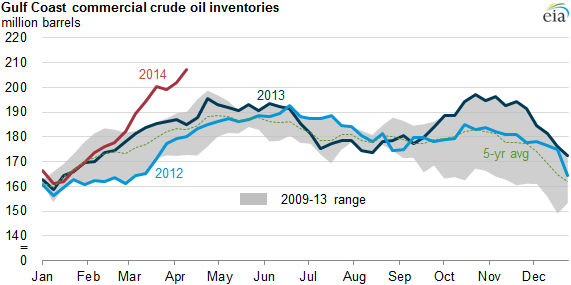 Libya is coming back
To make matters worse, Libya, which was a factor for higher crude prices back in Summer'13, is now coming back.
Exports are now resuming from that country's East ports. These moves will add 200000 bpd in the short term and potentially 700000 bpd in a few more weeks/months. It's a significant increase in crude supply.
Ukraine is not a large producer
Russia is a large producer, and that makes people wary of the developments in the Ukraine. But that's quite irrelevant in the sense that Ukraine has no way to threaten Russia's production; crude is fungible and no one in the West is thinking of embargoing Russian crude.
Put another way, the speculation in crude due to the Ukrainian situation makes no sense and is not likely to impact supply.
Conclusion
Much like during late 2013, a massive increase in crude speculation is hitting at the very same time crude supply and inventories are increasing. This is bound to lead to significant long liquidation in the short term. As such, crude stands to repeat its late 2013 performance, losing 10-15% of its price in a matter of months.
Traders can take advantage of this situation by selling short the United States Oil ETF. There are other instruments, but USO is the most liquid (assuming you're not into trading futures).
Disclosure: I have no positions in any stocks mentioned, and no plans to initiate any positions within the next 72 hours. I wrote this article myself, and it expresses my own opinions. I am not receiving compensation for it (other than from Seeking Alpha). I have no business relationship with any company whose stock is mentioned in this article.
Additional disclosure: I am short crude futures as of this last Friday.