While we may be unabashed in our enthusiasm for Socially Responsible Investing (SRI), that does not mean we look at green stocks with rose colored glasses. In truth, we devote more time and attention, plus number crunching, to make sure the holding is justified and meets our financial criteria.
Case in point is Gaiam Corp. (NASDAQ:GAIA).
Company description:
Gaiam, Inc., a lifestyle media company, provides a selection of information, media, products, and services to customers focusing on personal development, wellness, ecological lifestyles, and responsible media. The company engages in content creation, product development and sourcing, customer service, and distribution. It operates in three segments: Direct to Consumer, Business, and Solar segment. The Direct to Consumer segment provides an opportunity to launch and support new media releases; a sounding board for new product testing; promotional opportunities; a growing subscription base; and customer feedback and the lifestyles of health and sustainability industry's focus and future. This segment offers content through direct response television, catalogs, e-commerce, and subscription community services. The Business segment provides content to businesses, retailers, international licenses, corporate accounts, and media outlets. The Solar segment offers turnkey services, including the design, procurement, installation, grid connection, monitoring, maintenance, and referrals for third-party financing of solar energy systems. This segment also sells renewable energy products and sustainable living resources; and offers residential and small commercial solar energy integration services. Gaiam, Inc. sells its products in the United States, Canada, Mexico, Japan, and the United Kingdom. The company was founded in 1988 and is headquartered in Louisville, Colorado.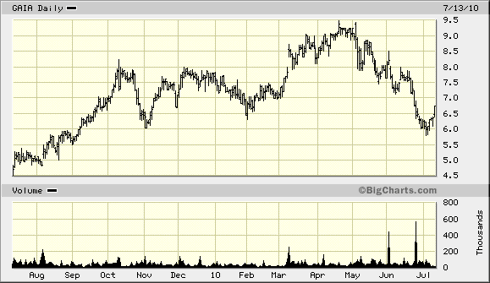 Click to enlarge
Current Price $6.61
NCAV $2.88
Intrinsic/Discounted Cash Flow Value $10.67
Price to Book: 1.0
Book Value $6.45
Cash per share : $2.07
LT Debt $0
Market Cap $156 million
Piotroski score: 7 out of 9 (which is good)
Altman score 5.7 (little chance of bankruptcy)
GAIA is a small cap retail stock focused on the lifestyle/yoga market/alternative energy in Colorado. The stock has pulled back along with the market, albeit at a faster pace for the past two months, and in our opinion is nearing a very attractive valuation as it begins to touch book value along with minimal expectations.
The company has met or exceeded analyst expectations for the past year and current and 2011 estimates have been firm. However this stock is thinly traded and there is only one analyst following the stock.
Back in late 2007 and 2008, when the consumer was empowered, the stock traded in the high $20′s and topped at $30. The company posted a loss of (.08) for 2008. The stock does seem to be volatile long term and has a bust / boom personality as it trades in sympathy with the economy. We don't envision that the US consumer is completely on its back. As Controlled Greed quotes: "Socially acceptable deleveraging needn't entail the pesky inconvienence of forgoing consumption."
Revenue growth does appear to be making an improvement, with sales improving 14.8% year to year.
A comparison to competitor Lululemon Athletica (NASDAQ:LULU) shows the contrast between the much loved LULU and the loathed GAIA. Eco-cachet has a cost in terms of potential return:
Current Price $38
NCAV $2.38
Intrinsic/Discounted Cash Flow Value $12.5
Price to Book: 10.4
Book Value $3.79
Cash per share : $2.45
LT Debt $0
Market Cap $2.7 billion
Piotroski score 7
Altman Z 44 (excellent)
To be a successful investor frequently means to cut against the grain of popularity and think in terms of buying a business cheaply. LULU is an excellent example of the price you pay to own what is currently in fashion and popular. No doubt there are many unhappy GAIA shareholders at present, but we believe there will be a reversion to mean valuation which, in our definition, would be appreciation above DCF valuation ($10+), a level GAIA sustained during the economic expansion of 2003 to 2007. In addition, GAIA is a candidate for tax loss selling within the next 3 to 5 months, which could be the catalyst to drive the price lower.
In sum, GAIA represents good value at present; the company's volatility requires an even greater discount to intrinsic value/DCF than the current price offers, but we're near those values. A move in price below $6 might just be the opportunity for longer term investors comfortable with the risk of a consumer cyclical company with a very green edge.
Disclosure: No positions