Morgan Stanley (NYSE:MS) surprised investors by posting better-than-expected earnings for the first quarter. Not that many years ago, Morgan Stanley had been left in the dust by big players like Bank of America (NYSE:BAC) and JPMorgan Chase (NYSE:JPM). However, the company's more thoughtful strategy is turning out to be a winner, at least in the most recent fiscal quarter.
Surprise Gains
Continuing operations for the company showed a profit, up $1.18 billion from the previous time last year to $1.39 billion. The company was expected to earn $1.22 billion. Even bond revenues were up nine percent. In contrast, Goldman Sachs' (NYSE:GS) revenues in the same area were down 11 percent.
The Competition
JPMorgan Chase and Bank of America have had problems of their own, which cleared the way for Morgan Stanley to shine this quarter. Recent settlements with the Department of Justice and Securities and Exchange Commission have put the two companies in the hole on payouts for past mistakes during the mortgage crisis.
JPMorgan Chase posted weaker-than-expected profits for the first quarter. Total net revenue dropped to $22.99 billion, down 8.5 percent over last year and significantly less than the expected $24.53 billion.
Bank of America, who recently settled lawsuits to the tune of over $10 billion, posted disappointing results for the quarter, and litigation expenses continued to be huge for the quarter.
The Company's Leadership
Morgan Stanley went from an also-ran to a star over recent years under the leadership of CEO James Gorman, who has held the position since 2010. Early in 2009, in his position as co-president, he proposed the acquisition of Citigroup's (NYSE:C) investment arm, Smith Barney. The move allowed Morgan Stanley to take back some market share, and afforded a measure of stability. As the consequences from bad decisions plagued other investment banks, Morgan Stanley was able to stay mostly above the fray.
The Australian-born Gorman's decision to focus the company on wealth management seems to be paying off. See our previous article on how this strategy appears to be paying off for BlackRock (NYSE:BLK), as well.
Outlook For Continued Gains
Many investment experts believe Morgan Stanley's gain can be attributed to the company's reliance on retail investors, who did well doing the market run-up last year but are slow to catch on to the changing conditions early in 2014.
In addition, the increase is also partly attributable to the company's commodities business, which may end up being scaled back by new regulations. JPM's commodities business has already been reduced due to weaker performance.
Morgan Stanley's return on equity is currently only 8.5 percent. This number is much lower than competitors' returns, and significantly lower than its return pre-recession. However, right now, Morgan Stanley is enjoying its favored status, with its stock up 45 percent from the previous year.
Conclusion for Megabank Investors
Given Morgan Stanley's freedom from regulatory scandals and impressive results, both inherently and relative to its peers, we recommend investors take some profits in JPM and BAC, in particular, and consider shifting their positions to MS and PNC Financial (NYSE:PNC), which has shown more consideration accruing money for its shareholders.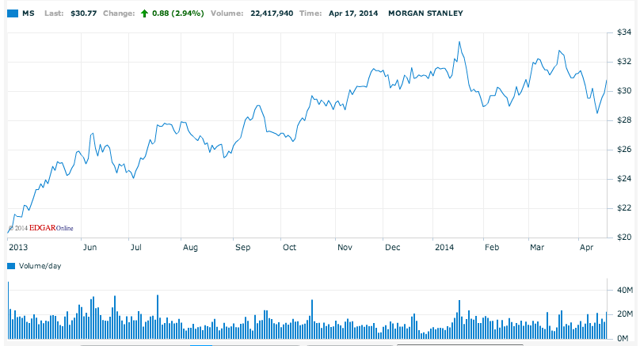 (Nasdaq.com)
Disclosure: I have no positions in any stocks mentioned, and no plans to initiate any positions within the next 72 hours. I wrote this article myself, and it expresses my own opinions. I am not receiving compensation for it (other than from Seeking Alpha). I have no business relationship with any company whose stock is mentioned in this article.