The Firsthand Technology Value Fund (NASDAQ:SVVC) is a closed end fund that invests in promising tech stocks, frequently before the company is even publicly traded. For example, it invested in Facebook (NASDAQ:FB) and Twitter (NYSE:TWTR), before those companies went public. The recent tech stock sell-off has put pressure on the share price of this fund and created an ideal buying opportunity which may not last long.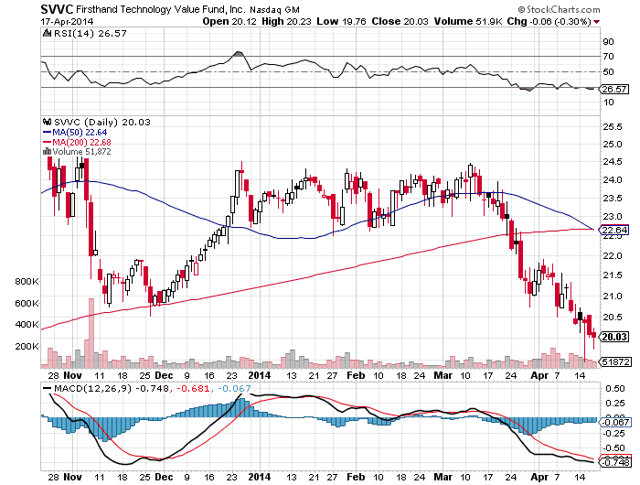 The Firsthand Technology Value Fund has significant stakes in companies like Twitter and it seems that the recent pullback in that stock has put pressure on this fund (since it is a large holding of nearly 20%). However, on April 17, the fund announced an update indicating a net asset value of $27.43 per share, as of March 31, 2014. That is not much lower than the net asset value as of December 31, 2013, which was 28.32 per share. This shows that the recent tech sell off has barely lowered the net asset value for this fund. However, the same cannot be said about the share price which was around $24, in January, February, and March. Today, you can buy into this for just over $20 per share which makes it a real bargain.
Even though some tech stocks (including Twitter) are starting to rebound from the recent sector pullback, this fund remains a dirt cheap buying opportunity. I expect that the recent net asset value update of $27.43 per share (which came out after the market closed just before the Good Friday holiday), will generate buying interest as investors realize the sell off is overdone. With the net asset value well above $27, and the share price at just around $20, this is a huge discount of roughly 30%. The chance to buy into stocks like Facebook, Twitter and many other publicly traded companies at a 30% discount should not be overlooked. However, when buying into this fund you also get a chance to participate in promising pre-IPO tech companies.
The Firsthand Technology Value Fund has significant stakes in pre-IPO companies like Jawbone which is a leader in wearable technology. A recent Barron's article points out that this fund invested about $10 million in this company at $4.75 per share. Based on a recent round of financing, the current valuation for Jawbone is around $11 per share and that could go much higher when the company goes public. This indicates that the net asset value for the fund could be significantly more than investors currently realize.
Aside from the extremely cheap current valuation, investors should also consider this fund due to the potential for shareholder activism to boost the share price. With the big pullback to just around $20 per share and with this fund trading for about a 30% discount to net asset value, the pressure could be back on for the fund to buy back stock. It could also see pressure to make the fund convert to being open ended, which would allow it to trade for the current net asset value of $27.43 per share.
"Bulldog Investors" has accumulated a stake of over 9% in this fund and it has started a campaign to create change and a "liquidity event" on the fund (such as converting to an open end fund). Bulldog Investors is a hedge fund run by Phillip Goldstein that has experience with activism in closed-end funds. Earlier this year Mr. Goldstein wrote an open letter to fund management in this Seeking Alpha article. When this fund was regularly trading around $24 per share in January, February, and March, the case for pressuring change did not seem as alarming as it does now. With the share price trading at $20 and for nearly 30% below net asset value, I expect that Bulldog Investors and many other shareholders will renew demands that management buy back stock, or convert the fund to open end. That is just one more reason why the current pullback is a buying opportunity that may not last long.
Here are some key points for Firsthand Technology Value Fund:
Current share price: $20.03
The 52 week range is $18.39 to $26.42
Earnings estimates for 2014: n/a on Yahoo Finance
Annual dividend: n/a
Data is sourced from Yahoo Finance. No guarantees or representations
are made. Hawkinvest is not a registered investment advisor and does not provide specific investment advice. The information is for
informational purposes only. You should always consult a financial
advisor.
Disclosure: I am long SVVC. I wrote this article myself, and it expresses my own opinions. I am not receiving compensation for it (other than from Seeking Alpha). I have no business relationship with any company whose stock is mentioned in this article.