For the past few weeks we have seen a seesaw battle between the bulls and the bears with the bears looking like they were in control. However, a nice summer rally from July 2-13, which took the TSX up almost 600 points and the Dow by 675 points, took some of the sting of the broad pullback we had been experiencing. Unfortunately, Friday's triple-digit losses in Toronto and New York took back a big chunk of those gains.
But the debate rages on around whether we are simply seeing the effect of the second-quarter slowdown or whether we're heading towards a double-dip recession and, dare I say it, deflation. There's plenty of ammunition for both camps. The bears can point to ballooning government deficits, anemic job creation, impending tax hikes, slowing China growth, sliding consumer confidence, and the sovereign debt mess in Europe. The bulls are zeroing in on a slow but steady improvement in employment rates, historically low mortgage rates, an improving credit environment, and generally healthy corporate balance sheets.
Historically, the odds of a double-dip recession actually run in favour of the bulls. There have been 33 recessions in the U.S. since 1854 and during this time frame there have been only three recorded instances of a double-dip recession. The first was in 1913, the second in 1920, and the most recent one was in 1981. So double-dip recessions are, to put it mildly, very rare. That said, so are recessions of the severity that we experienced in 2008-09. However, the international response to that massive slowdown was also unprecedented and in general the massive stimulus that resulted appears to have worked.
So if we reject the possibility of a double-dip recession occurring this year, what conclusions can we make about the prospects for the stock market for the rest of 2010? We have to acknowledge that even if we don't have a double-dip recession we are likely to experience a slow and choppy recovery with modest growth in the U.S. Overseas, we can expect little if any economic growth in Europe and a slowdown in the rapid expansion in China and India.
Canadian investors are scratching their heads, wondering what this means for them. The Canadian economy seems to be bouncing back quickly with recent job gains and firming commodity prices. So the possibility of a significant slowdown this year doesn't seem likely. In fact, the latest growth estimates from the International Monetary Fund (IMF) suggest that Canada will outpace most of the developed world in 2010. In a report released on July 8, the IMF predicted Canadian GDP would expand by 3.6% this year, up from an earlier estimate of 3.1%. The revised figure for the U.S. was 3.3%. However, the IMF lowered its 2011 growth estimate for Canada to 2.8% from 3.2% previously. So while the prospects for 2010 look good, the fact is the Canadian economy is still very dependent on America's state of health. And for the U.S. economy to really get going, consumers have got to start spending again.
Personally, I am cautiously optimistic that the S&P will finish the year higher than where we are now (it finished Friday at 1065), perhaps by as much as 15%. Naturally some exogenous event could derail the fragile recovery as could overreaction from governments regarding international debt levels. There is no question we're going to have to pay the piper eventually and start reducing public debt but in the short term we need to do so carefully.
Buy Verizon (NYSE: VZ).
So what would be a good stock to carry you through the rest of this year? There are number that I like but one beaten-down large cap with a substantial dividend yield and a strong balance sheet that has caught my eye is Verizon Communications Inc. (NYSE: VZ). I think this is a good stock to own no matter who turns out to be right in the bears vs. bulls debate.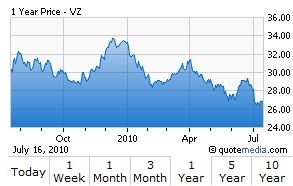 Verizon stock looks cheap right now at US$26.69 with the share price down 17% from its 52-week high. It is now yielding over 7% and it is highly unlikely that the dividend will be cut. In fact, the company has grown its dividend payout by nearly 4% annually for the past five years.
Canadian readers may not be familiar with this telecommunications giant. Although it operates in Canada, it has a relatively low profile compared to major players like BCE, Rogers, and Telus. But Verizon is a massive business with a work force of more than 217,000 and revenues of more than $107 billion (figures in U.S. dollars). The company was formed initially out of a merger of Bell Atlantic and GTE which was a $52 billion transaction at the time. In 1999, the company teamed up with U.K.-based Vodafone to form a national wireless brand. Verizon in its current form was launched in April 2000.
The company has 93 million customers in America and over 220 million worldwide. It offers the usual telco services of wireless and hardline along with broadband services and television offerings called FiOS, which the company claims offers the best picture quality anywhere because of the use of fiber optic cables.
In the most recent quarter, the company generated $7.1 billion in cash from operations which was up 7.5% from the first quarter of 2009. Free cash flow was $3.7 billion which was up 25.6%. The first quarter earnings were 14c per share, down from 58c in the first quarter of 2009. However, there were charges amounting 42c per share in operational costs which should not repeat going forward. The second-quarter earnings report is due July 23.
In the U.S., Verizon is widely believed to have the most reliable wireless network and the consensus is that offers some advantage against their main competitor, AT&T. However, AT&T has had the exclusive right to distribute Apple's popular iPhone and now the equally popular iPad. This has affected Verizon's wireless growth in recent years. However, all that is likely to change in 2011 when it widely expected that Verizon will begin selling Apple products. Most people believe that there will be a massive migration of iPhone users to the Verizon network when this comes to pass.
Additionally, Google's increasingly popular Android phones are starting to gain traction which is helping the company battle back against the iPhone. In fact, the domestic wireless business grew by 26% last year which greatly offset the 4.4% decrease in their wireline business. The company continues to aggressively build out their network, driving towards 4G technology which they will begin to deploy in the fall of this year. They have to continue to invest to keep up with the increased demand for data services which exceeded 33% of their service revenue last year while web and e-mail services revenue was up 43.5%. It is important note that Verizon's customer churn has been quite low, running between 1.07% and 1.46% depending on the business segment.
Another growth area for the company is FiOS which although still relatively small saw revenues grow by over 40% year-over-year. Not all communities offer this service including Laguna Beach where I live so I cannot provide a review. But since revenues continue to ramp up, it appears people like it and the company was able to add 170, 000 subscribers in the last quarter. Since they only have 28% penetration in their current TV markets, FiOS offers a significant opportunity to grow this business.
You expect a large telecommunications company to have a significant corporate base as well and Verizon reports that they are beginning to see that segment improve as the severe effects of the recession start to recede. This segment generated $1.6 billion in profits in the first quarter which was up 4.2% compared to last year.
What could go wrong? Their wireline business continues to decline at a slow but steady pace which will continue to be a drag on the business and the wireless side will continue to be competitive. But overall, I like Verizon's growth prospects and the healthy dividend of $1.90 annually provides good cash flow while we're waiting for the growth to be reflected in the share price.
Action now: Buy at $26.69 with a target of $34.
Disclosure: Author is long VZ