Excitement - and some nerves - are building as investors prep for the initial public offering of Alibaba Group Holding Ltd., the parent corporation for the largest e-commerce company in China, Alibaba. Analysts estimate that Alibaba could command a massive $150 billion market capitalization when its IPO takes place later this year.
Is Alibaba Too Big?
Since the announcement of its plan to file an IPO in the United States, investors have been debating whether Alibaba is worth the market capitalization predictions it is receiving. The two main concerns cited by analysts are Alibaba's size and competition, debating whether the company has the flexibility to deal with a fast-moving mobile marketplace.
Alibaba's main Chinese competitors include online portal Baidu.com, China's second-largest e-commerce site JD.com, and Tencent Holdings Ltd., a social media online gaming portal.
Alibaba's Inner Workings
Alibaba is a massive e-commerce company with operations in China and around the world. The company was founded in 1999 by Jack Ma, from his modest apartment in Hangzhou, China.
Unlike online retailers such as Amazon.com, Alibaba does not own the merchandise it sells. Alibaba operates as a type of middleman, offering an online portal for businesses and consumers to meet and conduct business. Alibaba earns commissions for each transaction, and also earns revenue from selling advertising space and marketing placement services.
Alibaba's flagship company is Alibaba.com, a business-to-business (B2B) online marketplace for both domestic transactions within China, as well as international transactions.
The most important engines for Alibaba's current and future growth are companies that arose after the founding of Alibaba.com: Taobao, TMall, and Alipay. Taobao is a consumer-to-consumer (C2C) platform similar to eBay, where users can set up an online shop to sell new merchandise or auction used goods. It currently boasts over 7 million merchants, 800 million products, and $240 billion in annual transactions between users. TMall is a business-to-consumer (B2C) platform, where established retailers, such as Disney, Proctor & Gamble, and Adidas sell their merchandise to consumers. Merchants pay annual fees in order to set up a storefront on the site, and TMall earns a commission on each transaction.
Finally, Alipay helps to tie all the sites together by offering a Paypal-type payment experience for users, as well as international payment currency translation services.
Despite Concerns, Alibaba Continues to Expand
Alibaba has made several investments and acquisitions in attempt to reach its tentacles even deeper into every aspect of the life of the average Chinese consumer.
Its acquisitions include Kanbox, an online cloud storage and computing company, and AutoNavi, a digital map content navigation solution provider.
Alibaba's investments include various online social media applications, such as Tango, Momo, and Weibo.
In addition, Alibaba is planning to make a splash in the U.S. market with 11main.com, an online e-commerce site that will feature high-end jewelry and fashion merchandise.
Wishes For Yahoo!
Alibaba's success or failure could also result in a make-or-break scenario for one of its largest stakeholders, Yahoo Inc. (NASDAQ:YHOO). Yahoo currently has a 24% stake in Alibaba, and its stock price tracks very closely with the fortunes of its investment in the Chinese giant. Yahoo's 2005 investment in Alibaba has turned out to be a very wise move for the online portal that has struggled to keep up with rivals, such as Google (NASDAQ:GOOG) and Amazon.com (NASDAQ:AMZN). Tracking the success of Alibaba over the last year, Yahoo's shares have jumped 40% over the same time frame.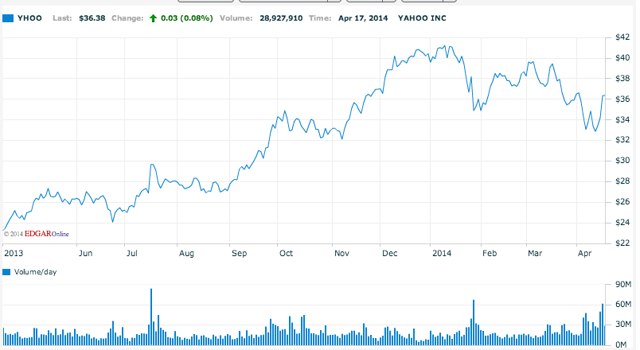 (Nasdaq.com)
Conclusion For Alibaba and Yahoo Investors
Before Alibaba's IPO, the required registration with the United States Securities and Exchange Commission is expected to be filed in late April to early May, with the IPO taking place sometime this summer. In the coming weeks - or sooner - investors should have a clearer sense of what the company will offer.
During this time, and before jumping at this "genie's" offering, potential investors in Alibaba and current or potential Yahoo investors should bear in mind the over-priced, botched IPO of Facebook, due in part to late-stage excitement and price hikes. In addition, if the recent negative environment for high-flying tech stocks persists, this could be a second negative factor.
However, the future does look magical for both companies in the months ahead. With Alibaba currently controlling nearly 80% of China's e-commerce market.
We recommend long positions in both Alibaba and YHOO.
Disclosure: I am long YHOO. I wrote this article myself, and it expresses my own opinions. I am not receiving compensation for it (other than from Seeking Alpha). I have no business relationship with any company whose stock is mentioned in this article.