Second quarter 2010 earnings for Valmont Industries Inc. (NYSE:VMI), a leading global manufacturer of engineered products, plummeted 61% to $17.1 million or 65 cents per share from last year's $44.2 million or $1.69 per share. Results also missed the Zacks Consensus Estimate of $1.04. Half-yearly earnings declined 58% to $33.6 million, or $1.27 per share, from $80.1 million, or $3.05 per share in the first half of 2009.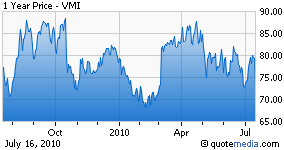 Total revenues were down 3.4% year over year to $481.6 million. Half-yearly sales were $849.0 million, down 11% versus to $954.0 million in 2009. The decline in Valmont's revenues and earnings was the result of a subdued performance by the Utility Support Structures and Engineered Support Structures segments due to weak commercial and residential construction market. Weak demand for wireless communication structures as well as poor federal spending on infrastructure, together have led to lower revenues. However, the Irrigation, Delta and Coatings segments results were encouraging.
Segment Review
Utility Support Structures Segment: The segment, which manufactures steel and concrete structures for the global electric utility industry constituted 23% of sales in the reported quarter, recorded a 48% decline in top line to $112.8 million driven by weak volumes due to lower government spending on transmission lines. Operating income fell 76% to $11.9 million and was 10.6% of sales.
Engineered Support Structures Segment: Under the segment, Valmont manufactures structures for lighting and traffic, wireless communication and other specialty structures. Though the segment produced 28% of the total sales in the reported quarter, revenues declined 10% to $134.7 million based on weak wireless communication markets. Lighting and traffic business sales were boosted by the extension of the 2005 highway bill to December 2010. Operating income decreased 30% to $8.1 million or 6.0% of segment sales.
Delta Segment: The segment yielded 15% of consolidated sales and deals with engineered steel products, steel galvanizing and the production of manganese dioxide. The segment was formed with the acquisition of Delta plc on May 12, 2010. Sales for the segment within the period May12 to June 26, 2010 were $74.2 million. Operating income was 9.7% of sales or $7.2 million.
Irrigation Segment: Sales improved 11% to 112.2 million in the segment, forming 23% of total sales. The segment makes mechanized irrigation equipment for the global agricultural market. Operating income increased 69% to $16.6 million. Operating margin was 14.8%.
Coatings Segment: The Coatings segment contributed 7% to consolidated revenues in the quarter. The segment produces hot-dip galvanizing, anodizing and powder coatings to protect against rust. Sales of $33.4 million were 17% above the last year's $28.6 million, reflecting improving demand. Operating income improved 19% to $7.6 million while operating margin was 22.7%.
Outlook
Valmont expects the Utility Structures segment to continue mounting pressure on the margins going forward. The company forecasted a 35% decline in earnings in the near term. The Engineered Support Structures is also expected to deliver modest decline in revenues.
Valmont is optimistic on the Irrigation and Coatings segment's performance. Results from the Irrigation Segment for the year should provide modest improvement in sales and a fair amount of uptake in the operating income.
Currently, Valmont has a short term (1 to 3 months) Zacks #1 Rank (Strong Buy) but a Neutral recommendation for long term (6 months and higher).