With most of Europe still on vacation today we would expect light trading on the session, especially in the early morning. There is a lot of news out regarding potential mergers and failed merger attempts which we think will gain traction in the news cycle. Readers should remember that one of our calls for 2014 was that the M&A market would pick up and if any of these deals go through they would put us well on our way of being correct with that prediction.
There is not a lot of economic data out today, but the data picks up later in the week.
Chart of the Day:
We are seeing another move higher in the yield for the US 10-year and are watching whether it breaks out over the next week. Our hope is that the yield does not rise above 2.80% before summer arrives.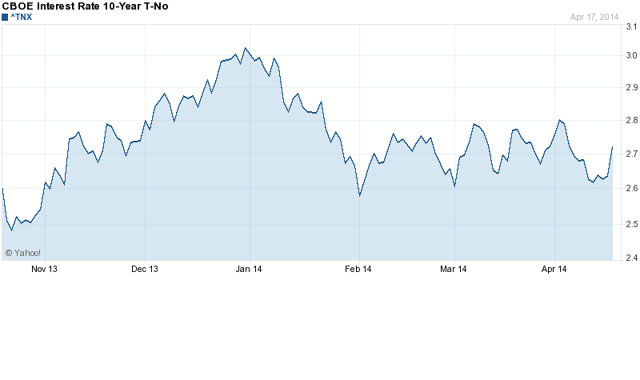 Click to enlarge
Source: Yahoo Finance
We have economic news today, and it is as follows:
Leading Indicators (10:00 a.m. EST): Est: 0.8%
Asian markets finished mixed today:
All Ordinaries -- up 0.63%
Shanghai Composite -- down 1.52%
Nikkei 225 -- down 0.03%
NZSE 50 -- up 0.25%
Seoul Composite -- down 0.25%
In Europe, most markets are closed this morning:
CAC 40 -- CLOSED
DAX -- CLOSED
FTSE 100 -- up 0.62%
OSE -- CLOSED
Pfizer Elephant Hunting?
We noticed that the big news breaking on Easter Sunday was that Pfizer (NYSE:PFE) had reportedly made a $101 billion informal bid for British pharmaceutical giant AstraZeneca (NYSE:AZN). This would be yet another mega-merger for Pfizer, something we have thought necessary due to the company's tendency to engage in more financial engineering than research for the future.
Many had taken comments made by the company's CEO that he was not of the thinking a large acquisition was needed to heart, but this report from the Sunday Times indicates that his recent wavering on that position might lead to some action. We are not Pfizer shareholders, nor have we recommended it in recent history, but they do need to do something to jumpstart growth and reinvigorate the company after their 'shrink to grow' strategy of the past few years.
Implications For Others
We would not be at all surprised to see this get the bidders back in the market for some of the hotter drug company names. Pfizer was apparently willing to shell out just over $100 billion for the right company and there is no reason why that deal's budget could not be applied elsewhere. Although the premium was nice for pharmaceutical companies, if one were to look at the biotech names Pfizer might be interested in it would seem that the premium would have to be at least 5-10% higher for the larger companies.
For investors looking to possibly play this as the next round of consolidation, there is no reason to start placing bets right away. These events usually have a lead time measurable in weeks or months; possibly even years. The way we see it right now Pfizer is the most likely acquirer in the industry but AstraZeneca also could be a buyer as they might need to fend off hostile acquisitions. We would look at the top tier biotech companies out there right now. The top names which come to mind are Celgene (NASDAQ:CELG) with a market cap of a little over $57 billion, Biogen Idec (NASDAQ:BIIB) worth nearly $69 billion and Amgen (NASDAQ:AMGN) at roughly $87 billion.
Many of the gains in biotech names have been washed away in the latest downturn in the sector as the chart below shows. It has made a number of these names more attractive for prospective buyers.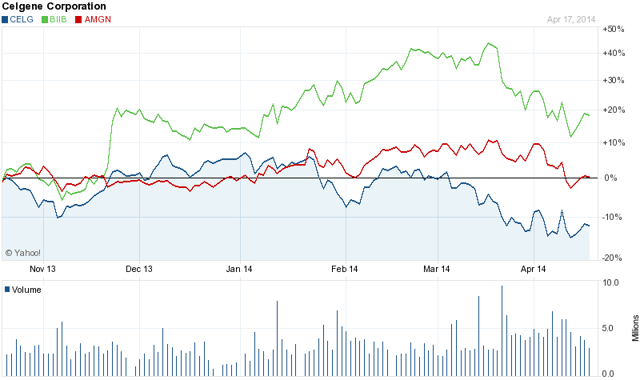 Click to enlarge
Source: Yahoo Finance
Out of the above listed names it is important to remember that Amgen just recently did a deal. With that said, it is also viewed as the slower growth type of name in the industry and could fit nicely into Pfizer's philosophy of buying drug portfolios and then cutting costs to drive the bottom line.
Where there is smoke there is fire, and rarely does news of this magnitude come out with everyone involved remaining independent. We expect some news in the next year in this industry as a result of this and think that either Pfizer or AstraZeneca will be involved as either a buyer or seller in a merger event.
Disclosure: I have no positions in any stocks mentioned, and no plans to initiate any positions within the next 72 hours. I wrote this article myself, and it expresses my own opinions. I am not receiving compensation for it (other than from Seeking Alpha). I have no business relationship with any company whose stock is mentioned in this article.