We originally recommended CVS Caremark (NYSE: CVS) on April 19/10 (IWB #21005) at $37.14. The stock closed Friday at $30.04 (all figures in U.S. dollars).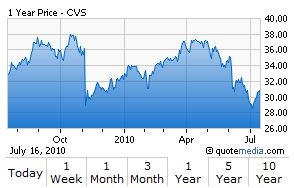 Carrying on in the drug/healthcare related updates, we now revisit CVS. It is the second largest drugstore chain in the U.S., operating 5,471stores in 37 states. They also have a large pharmacy benefit management business which provides a range of prescription benefit services to managed care businesses and other organizations.
Those other organizations include Walgreens (NYSE: WAG), which is the largest drugstore operator in the U.S. Walgreens recently settled a legal skirmish with Caremark during which they threatened to withdraw from CVS's pharmacy benefit business. This caused both stocks to drop, particularly CVS. This now presents us with an opportunity to add to our holdings.
I originally recommended the stock at $37.14 and it closed this week at $30.04. The company continues to outpace the industry in terms of generating revenue and improving earnings per share which grew by 7.8% in the most recent quarter over last year. CVS also increased their bottom line earnings to $2.80 per share vs. $2.28 in the prior year. Net operating cash flow increased by over 37% compared to last year. Their current debt to equity ratio is low and below the industry average so it looks like management has done a good job controlling costs and driving profits.
The company should benefit from the recently passed health care legislation as more Americans are covered and access to preventive care is expanded. I think CVS is the best of this breed and even provides you with a small dividend yield of 1.17%.
Action now: Buy with a target of $38.
Disclosure: Author is long CVS